Date/Location:

January 1, 2014 – Auburn, CA

Distances:

Hill Climb 1 – 3m Old Foresthill Rd
Hill Climb 2 - 1.2m Raley's Hill
Resolution Run - 10m Trails

Time / Place:

Hill Climb 1 - 15:17 / 1st (prior PR 16:17, 2008)
Hill Climb 2 - 5:20 / 3rd (prior PR 6:12, 2013)
Run 1:11:20 / 1st (prior PR 1:18, 2012)

Teammates:

Hill Climb: Charity Marshall, David Malicoat, Flor Hodges, Jeff Brooks, Jesse Warda, Karen Nickel, Kayden Kelly, Robin Soares, Charles Davis

10Mile: Bryan Hacker, Carolyn Goulding, Cheryl Haggerty, Dave Campbell, Dieter Stenger, Gary Carpenter, Jesse Ellis, Jesse Warda, Karen Nickel, Kayden Kelly, Lora Spangler, Mo Bartley, Scott Eckardt, Stephanie Holloway, Robin Soares

10K: Rebecca Marsh, Roni Jones, Tom Barrett

5K: Anna, Celie & Will Cranney, Emerson & Leah Booth, Mason & Christine Kelly, Stephanie Ganzenhuber
Every New Year's we get together with friends and push ourselves in a challenge of hills. I haven't done much hill training this season, but a few months ago Robin helped motivate me so I was able to get some good training going into today's challenge.
We all meet at the Auburn Overlook. Robin & myself, Karen Nickel, David Malicoat, Charity Marshall, Kayden Kelly, Jesse Warda, Flor Hodges, Jeff Brooks, and Charles Davis. Always impressive seeing the group materialize early on January 1st after staying up late the night before. Dedicated! Unfortunately, one of the top climbers, our friend, Lance, can't ride this morning as he's recovering from his bike accident. But we'll see him at his house for the post-race party. We pray and get on the road.
New Years Challenge Hill Climbs
First we ride a warm-up loop up Millertown Rd and then head down to the Confluence to prepare for the first climb. I've been working on creating a starting order that gives all of us the maximum motivation to excel on the climb. The goal is to stagger the start in order to get the riders as close as possible 2/3 up the hill where the road levels out. In this way, the strategy of drafting could come into play as an equalizer with 1 mile to go.
I spent a lot of time working formulas and national averages, but time ran out this morning and I had to use the starting order I had without reviewing it.
Rob Hodges (Flor's husband) is at the start with the clipboard and stopwatch sending us off on timed intervals. Right off the bat, some of the participants see a glitch in the order. Rider's stats were based on Strava PR's where possible which resulted in Charity Marshall starting first. A closer review of this and I would have remembered that Charity has become a very strong rider quickly, not indicative of the slow Strava time she recorded at the beginning of the year. Charles was right when he quickly commented, "No one's catching her." Charity was on her own to the top. The rest of us remained in closer contact.
I'm starting last. My goal is to get a Strava PR. I'll need sub 15 min. Karen, Leslie Hackett, Robin & I did 3 repeats up this hill months ago and I learned a lot about going faster. One tip was standing up more. I'm pumped, I'm ready, time to go!
The first pitch is tough. I focus on lifting my legs so they don't waste energy working against each other. Up ahead is Charles, Jeff, Kayden and David. It really helps having riders to work towards. I work really hard, encouraging each one as I go by.
At the 2/3 point when the road levels out, I pass Robin and she tries to latch on for a little bit. Good job, Robin! I have a mile left and give it all I've got on the flat section and then the final climb. 15:17! My fastest time for the New Years Challenges, but shy of my Strava PR. Still an improvement over the last 3 months.
Everyone worked hard up this tough climb. After a photo we cruise down to the Foresthill Bridge to finish off with the shorter climb. We paceline across the bridge, in order of fastest times up the first climb, and then go for it up Raley's Hill. Immediately, Kayden and Jesse pass me. I'm determined to stay on their wheels. But they're pulling ahead. I can't hold on although I'm doing everything well. I sprint to the top in 3rd and gather in the Raley's parking lot to catch my breath. On the 1st hill it was me, Jesse & Kayden. On the 2nd hill it was reversed: Kayden, Jesse, and me.
Whew! Glad the bike climbing is done. Now have to get back and recover for the 10mi Run.
Resolution 10mi Run
Last time I did the 10mi Run, I bonked at 3mi and struggled the rest of the way. This time Robin reminds me to fuel up and I also spend a good portion of time stretching and rolling on the roller. I'm going to go into this prepared this time.
We all gather back at the Overlook and it's a great reunion with many friends. The cyclist have turned runners (Karen, Kayden, Jesse, Robin & myself). The Relays have tagged their runners (David Malicoat tagging Dave Campbell, Charity Marshall tagging Stephanie Holloway). And then there are many reunions with other Auburn friends here to start the New Year out right: Jim Cranney, Tom Barrett, Bryan Hacker, Mo Bartley, Scott & Season Eckardt, Jesse Ellis, Gary Carpenter, and others.
Kids that we know from top Skyridge School Jog-A-Thon runners are here. Leah & Emerson Booth, Will & Celie Cranney and Mason Kelly. Anna is doing the 5k and appears well prepared. She wants to try for a medal but knows the important thing is just to try your best. Her previous best was 5th place.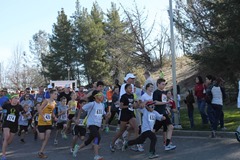 After an FCA Endurance prayer, we all start together. Anna and Mason take off and get far ahead of me. As does Dave Campbell. Dave is pretty amazing. 10 years older than me and he'll get to the bottom of this hill a minute ahead of me. As we start down the old road, splitting off from the 5k & 10k runners, I look but can't see Anna and Mason. I hope they do well.
2km: 6:09 pace. This was the first descent down to the gravel road. The road levels out a little. With me is Jesse Warda and Kayden Kelly. Ahead of me is Mo and Jesse Ellis. Ahead of them appears to be the lead woman who I don't recognize. And farther than I can see is Dave… just flying down this course. I'm trying to remain relaxed and efficient. Mile 3 is my focus.
2-4km: 6:27 pace. This was the flat gravel section followed by the long downhill. Now it's time for the big climb. I pull ahead of the group I'm with and try to stay light and fluid on the rocky trail up to the top. Last time I went too hard and bonked at the top. I'm hoping it goes better this time. At the top I'm feeling much better than the previous time and start across the flat section.
4-6km: 8:22 pace. This was the steep climb following by the flat. Now I have a little climb to the intersection and then a steep descent down the dam road to the beginning of the trails. I see that fast woman ahead. I'm amazed at the pace she maintains down the hill even though my legs are longer (this girl, Baily, turned out to be only 17 yrs old and finished only a minute behind the winning woman. Later she and her family joined us at track workouts. She's got incredible talent.).
6-8km: 6:43 pace. This was the steep descent down the dam road and onto the fire road, to the bottom of the course. Now for a short steep climb and then rollers around Robie Point. My heart-rate gets pushed way up again, but soon I'm getting under control on the rollers.
8-10km: 8:05 pace. This was the steep switch-backs up to the main trail and out to Robie Point. Now it's out to the turn-around and back. I see runners coming back now. There's Dave, and Bryan Hacker. Bryan is flying and motivates me to get ready to pick it up. I happily make the turn and start digging to catch up to Dave. I see Robin! She says to catch Dave!
10-12km: 6:58 pace. This was from Robie Point to the turn-around and back. Now to climb up and over Robie Point. This climb hurts. Heart-rate getting higher. No sign of Dave Campbell. I really thought I'd make up some time on him with this effort.
12-14km: 7:33 pace. This was up and over Robie Point and along the Western States Trail. Only a mile left. But it's uphill to the finish. I'm giving it everything I have. The last part is steep, dusty and getting warm. My heart-rate is at 98% max, the highest yet. My legs feel wobbly.. about to bonk.. but that's ok because there's less than a 1/2mi to go! I don't see Dave but I push with everything I got.. trying to beat 1:10.
14-15.6km: 9:12 pace. This was the final mile to the finish. It was my slowest pace yet and the hardest section for me. I finished in 1:11:20, 7th overall, but actually 1st in the 40-49. Turned out the older age group was much faster. This was a huge improvement over my last attempt. The stretching and fueling helped a lot. But most importantly, my biggest help comes from the Lord. He reminds me to encourage others despite the pain I'm feeling. And I know I'm a winner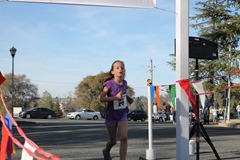 no matter what place I get when I make the effort for Him.
It was an exciting day for many in our group as multiple PR's and awards were achieved. Anna did get her medal, her first placing in a running race. She was really amazed to get it.
Combined Challenge Results
Robin & I were 1st for the individual Female and Male categories
Karen Nickel was 2nd for individual Female and Kayden Kelly and Jesse Warda tied for 2nd for individual Male.
The relays David Malicoat / David Campbell and Charity Marshal / Stephanie Holloway were 1st & 2nd respectively.
| | | | | | | |
| --- | --- | --- | --- | --- | --- | --- |
| Name | Hill 1 | Hill 2 | AG Total | Runner | Run | Total |
| Robin Soares | 16:56 | 5:52 | 17:27 | Robin Soares | 1:17:17 | 1st |
| Flor Hodges | 17:41 | 5:45 | 18:36 | | | |
| Charity Marshall | 18:17 | 6:08 | 18:59 | Stephanie Holloway | 1:38:53 | 2nd |
| Troy Soares | 15:17 | 5:20 | 19:12 | Troy Soares | 1:11:20 | 1st |
| Karen Nickel | 18:23 | 6:13 | 19:31 | Karen Nickel | 1:19:51 | 2nd |
| Jesse Warda | 15:36 | 5:15 | 20:17 | Jesse Warda | 1:21:15 | 2nd |
| Kayden Kelly | 15:48 | 5:10 | 20:24 | Kayden Kelly | 1:20:42 | 2nd |
| Jeff Brooks | 18:30 | 6:24 | 23:12 | | | |
| David Malicoat | 23:08 | 7:32 | 26:09 | Dave Campbell | 1:10:38 | 1st |
| Charles Davis | 29:25 | 9:59 | 38:20 | | | |
| | | | | Anna Soares | 36:34 | 2nd |
| | | | | Mo Bartley | 1:18:30 | 1st |
| | | | | Gary Carpenter | 1:24:40 | |
| | | | | Jesse Ellis | 1:41:19 | 1st |
Thanks God for a great day of training / racing and for giving us healthy bodies. Please help those battling injuries and illness to again feel like they can achieve their goals.