| | |
| --- | --- |
| Date/Location: | April 23, 2022 – Granite Bay Beach |
| Distances: | Swim .5mi – Bike 10mi – Run 4mi |
| Time: | 1:15:12 (13:43 – 4:04 – 30:00 – 0:25 - 27:00) |
| Place: | 1 of 17 (50-59), 10 of 136 (Overall) |
| Teammates: | Flor Hodges |
It's a short race this morning but the water is reported to be 55-60 deg. Because it's short, I think I can swim harder from the beginning and stay warm.
I park outside the part and bike into Granite Beach. The sun is bright, temp is 48, winds calm. It's a nice warm-up to the race site. I see our friend and FCA Teammate, Flor Hodges! She's an elite triathlete, but after taking a break, this will be her first tri for the season.
I get to my transition surprisingly with an hour before the start. Even with a difficult week and thinking I was late. Thank you, Lord.
I make transition ready with jacket, gloves, socks.. I don't know how cold I'll be after the swim.
At the swim finish I put a tub of water, shoes, and a jersey. I put on my wetsuit and booties. Usually I don't warm-up in the water when it is really cold but with a shorter swim I can swim faster and stay warm I hope. The sun is really warm, how cold can the water be? I dive in and am surprised it's colder than I thought. But I do a short fast swim, let some water in to re-position my suit better and then wait on shore. Soon I'm warm again. Thank you, Lord.
I see Flor ready to start in the 1st wave (I'm in 3rd wave). We pray together for the race, that we will look to the Lord, be good representatives, good sports, and give Him all the credit for the accomplishment. I also see, Michael, a Christian I met in transition who noticed my FCA shirt. He works with TBF and is doing his first triathlon.
As I wait for the start, I actually go in and swim a little more. I feel really ready, warmed-up and pumped up to give a better swim effort than 2 weeks ago at Napa.
Go! It's a shallow run-out. I'm careful not to crowd anyone ahead. But then an opening appears and I run forward. A couple dives and stand-up and now in deep enough water to swim. I'm with 3 guys, 1 pulls ahead fast which I can't stay with. It feels good to be pushing hard, but I have to make sure to get enough air or the effort will catch up with me and trigger that feeling of gasping for air. It's going well. A lot of swimmers are catching up to me. I'm not that fast but got a good start.
We all converge at the buoy so it's a little slow getting around, but it quickly sorts out on the next stretch. I'm trying to pull straight back with my hands and swim "downhill" – some things I just practiced in the pool this week. The best part is that I'm not getting too cold. But I am getting tired. Just have to push 1 more stretch to the finish. I'm careful to avoid inexperienced swimmers in the first waves.
I stand up, jog towards shore and now to get everything off. I'm terrible at balancing when I'm out of breath. I get the booties off and almost fall over. Other swimmers are running by me now. I finally get my wetsuit off. The volunteers are waiting for me to come ashore. They actually come out and get my tag. "ok, finally done!" I say, laughing at how slow I was. But I did kick 1 leg out of my suit which is an improvement. I stand in my tub of water, put on jersey, put on shoes, throw everything in the tub and start running with it. It's about a 1/4 mi to T1 and, to make use of putting shoes on, I use them for all they're worth and sprint by as many as I can. (I'm about 9th place now in my wave)
T1. With all the hard effort, I'm at a great temperature now. I skip the jacket, gloves & socks and just go! Wow, this feels like the old days of triathlon when I didn't worry about extra stuff.
Bike. Now I just have to bike as fast as possible to stay warm. I try to have efficient pedaling circles. Turning into the first camping circle I hear Flor's voice, "Hi Troy!" as she makes the sharp turn racing to the finish of loop 1. I'm also trying to push hard to make up for my slow transition at the water. But, more importantly, I try to be careful of passing less experienced riders, and not crashing with oncoming riders. The course is beautiful, challenging and quite technical with a lot of sharp turns. I hope everyone stays safe.
After the turn, still pushing hard, a girl goes by me. Wow, super strong, aggressive biking! Unlike most of the triathlete gals I've raced with. I pick it up and try to stay near her. At the sharp corner I'm able to maintain more speed and pass her at the exit, but that only lasted 10 secs before she blew by with even more resolve and left me in the dust. I'm pushing as hard as I can thinking I'm almost done.. and then I see the "Loop 2" sign. At that moment I hear Robin who biked down to the race to cheer me on. She says, "Loop 2, Troy" which really helps because I was still processing the fact that it's 2 loops.
That's ok, it was a fun loop, just got to push hard one more time. This time I see Flor again but a little farther into the course which means I'm gaining on her. She's a fast biker, too, so that's encouraging for me. Although, when she's training for 70.3 races, I wouldn't be able to catch her. The 2nd loop goes really well, and no close calls with other bikes. Thank you, Lord. Coming into transition I'm able to get my feet out and make a good dismount.
T2. Helmet off, shoes on, hat and race belt. A little hesitation on where to go but quickly I'm onto the trails. Robin is there and tells me, "try to catch, Flor". That's great motivation. (I'm in first place in my wave now)
Run. On the trails I'm so happy to be running fast. The Lord has been so good to me, helping make my foot better which used to be a bad problem. I do have an injured hip now which bothers me but that's much better than the bad foot I had. I remember to push off on my right toe and land with purpose on my left foot. Only on uneven terrain or sudden turns am I not able to and will feel a bit of sharp pain.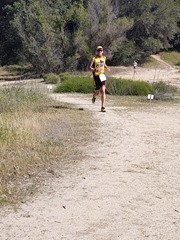 It is a really fun course! Through trees, across sand, dips, rises and turns. I have good energy, just monitoring the hip. Back through the race finish area I'm about 7:00 pace. That's great. The next mile goes pretty fast, especially the paved section. Then back on the trails. Even though I've been running & racing here for 15 to 20 yrs, some of the trails still seem new to me. Granite Bay Beach area is an awesome place for races!
I ignore the fatigue and keep pushing. No sign of Flor but every second counts when you're trying to do your best. Thank you, Lord, for letting me have fun and feel the exhilaration of going fast. I see a guy ahead, likely too far to pass in only a 1/4 mile left tot he finish, but always have to try, you just never know what might happen. I give a great effort on the last stretch thanks to God. I hear Robin cheer and then I sail through the finish looking to God who makes all this possible. Such a blessing to unexpectantly feel so good racing. I even felt good during a mile cool-down run which is really unusual. Robin and I then went for a 25mi bike ride together for the next few hours. A beautiful day, a blessing from God.