Date/Location:

July 26, 2014 – Windsor, CA

Distances:

2.4m Swim – 112m Bike

Time:

6:34:51 (1:07:51 – 2:34 – 5:24:22)

Place:

4th/18

Teammates:

Full AquaBike: Michelle Ridder, Rosie Kracher (FCA)

1/2 AquaBike: Dale & Tana Jackson; David & Cheryl Kurtze (FCA)
This is a great practice event for Ironman Lake Tahoe. Robin did it last year and I'm following the same plan this year. I expect to be a few minutes off on the swim since not training a lot in the pool since the crash. But I feel good about the bike and plan to go 4 minutes faster (actually 14 min faster) than my good ride here 2 years ago doing the Full Vineman. In that race there was a 10min delay due to a helicopter rescue of another athlete, so I'm adding that to the improvement goal.
It's also a lot of fun to leave work behind and go camping with the family. Of course it always sounds like it will be more relaxing than it really is. But it really is fun. We stay at Schoolhouse Campgrounds. We see our good friend, Michelle Ridder, at athlete registration. We're excited about her build-up to the Hawaii Ironman.
In the morning I ride 4 miles to the start in Guerneville. I have a light and blinker but at 6am it's getting light out anyway. I drop off my 2 other bottles of Sustained Energy (and other food in case I want it) at special needs where I see our friend Suzi Mattish. After setting up transition I meet Robin & the girls on the rocky beach for a FCA Endurance pre-race prayer. Kelly, David Frazer, and Mike from FCA are also here. I know there will be a lot of time out there, and opportunity to go to God for strength, so most of all I want to stay focused on Him.
Quick body marking, wetsuit on, and tried anti-fogging goggles but it didn't work so instead just leave a little water in them (that works pretty well). No time for a warm-up. I'm 2nd row, almost to the far side.
Swim (goal 1:09)
After a faint countdown… Go! Some swimmers don't even here it. So I'm off with the first ones. And then come all the rest.. banging into me and getting squeezed pretty good. It continues for a long time. Thank the Lord my goggles don't get kicked in. This is the most contact I think I've had in a race. Even after passing the bridge, still bumping.
I head up river between the buoys and the right shore. We hit many shallow spots where my hands scraped the gravel bottom and athletes are walking right beside me. At the turn-around, it gets congested again and the start down-river is VERY shallow. I won't walk, though, because that's against the rules. So I do my best to slither through the 14" of water. But then it's deep enough again and I finally find a draft and start working it back.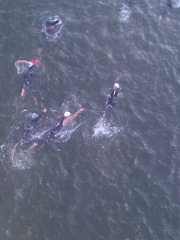 My ribs haven't hurt at all and the breathing is fine. In fact, the swim is feeling comfortable enough. Even enjoyable. I look up at the bridge knowing Robin and the girls are up there looking for me. I make the turn for the 2nd lap and check my time. 34min. Right on pace.
This time I follow the up-stream buoys exactly. Sure enough, the water is deeper near the buoys. This makes for a better swim. I follow a draft most of the way. There are still parts where I swim bumping in to the shins of athletes walking next to me.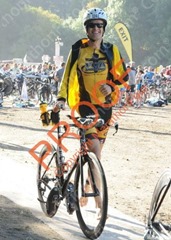 On the way back down my draft is zig-zagging so I go it alone and push it pretty good. Still enjoying it and happy about results. I've been letting water into my suit periodically to stay cool. Under the bridge and to the finish. I get in just before the guy I was drafting off. 1:07:55!
T1
I strip my wetsuit off quickly (before the water dries) and it goes well.. to a cheer from the crowd. Running by an aid station, my buddy, Dale Jackson, hands me water with a cheer! He's doing the 1/2 Vineman and doesn't start for another 1/2 hr. I prep for the bike quickly and put on my jacket knowing the foggy mornings of the wine country are chilly!
Bike (goal 5:20)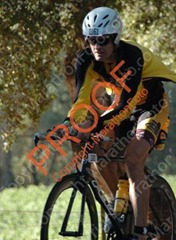 Everything starts well. Robin & the girls cheer me off. But then I can't zip my jacket up because my handle bars are doing speed-wobbles when I let go of them. Strange, will have to let the jacket flap. Hopefully the new aero wheels will make up for that. I quickly get into good position heading out of Guerneville. Another rider tells, "car back". I move out of the way realizing there are many vehicles on the road and I have to be careful to stay right. I alert other riders in front of me, too, about the cars.
It's not really chilly. Soon I'm getting warm. How will I take off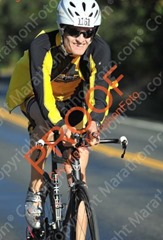 my jacket with the speed wobble problem? But by 15mi I try again and no more wobbles so I shed the jacket and stash it in my shirt. Ok, now to get serious and go fast. I feel the groove. I thank the Lord for allowing me to discover a new position in the Vineman 2 years ago which was strong, aero, and felt comfortable. It worked again this year at the Napa HITS 1/2 Ironman. I have a new Felt bike now but the setup is almost the same. Ok, I got it, it's feeling good, I'm hitting 30 on the slight downhills. My average is at 21.6. I need 21 for my goal. But I hope to get almost 22 for the first lap.. before the head winds pick up in lap 2.
Mile 29: 21.9mph ave. Up the big hill. I use a new climbing form which works well. Light feet. I climb it well and soon am down the back. Now for the long flat section to Chalk Mtn. It's going well. Drinking my SE and water. Neck getting a little sore. Getting tired. But I climb Chalk well, pushing harder than usual because today it's about ending the bike with nothing less. Once down chalk, we finally turn West toward Windsor and the wind is at my back and it feels great. The South-wind is building up which means the 2nd loop will be more difficult.
Mile 54: 20.9mph ave. I come through town, finish my bottles and prepare for the special needs. Arriving, the volunteers are so helpful in holding my bike and handing me my bag. One of them is Kim Young, another friend that Robin did the 40 @ 40 marathon with. I put my jacket in the bag and tell them my wife will pick it up and they say, "Yes, we know Robin, don't worry, will take care of it". It's so rewarding to have people take extra care of you because they like your wife so much!

I'm back n forth with a few other riders I've seen a lot on the first loop. But I'm not feeling as comfortable in my position now and starting to fall behind. The other riders I've been used to seeing are getting farther and farther into the distance until I can't see them. It's downhill, shaded and smooth heading to the Raford Inn where I know Robin & the girls will be. I'm taking it easy, hoping I'll be ready to push again after seeing them.
There they are, my wonderful family with loud cheers. Kristi Ridder is also there cheering. Thanks, Lord for the all the support. As I hit the roads I fly on earlier, I'm not flying this time. I had a 6min lead on my goal after the 1st lap and already have lost that. It's getting really hard.
Assessments: My neck hurts. Need more time training in aero. And glasses require me to look up farther. My left outside foot has a numbing hot-spot. I have to massage it at one point. I need to change shoes or get an insert. My hamstrings are tight. I need to address that. My knees are hurting because I'm uncomfortable in the saddle. I need a new seat. My elbows hurt from the pads. I need to adjust or change them. I'm really thirsty. Need to drink more water, not just SE. I'm getting sunburned. I need to get better coverage or apply sunscreen.
Mile 85: 21.1mph ave. Whew, only 30 mi to go, 1-1/2 hrs. But it's going to be a headwind. But first I get to see my family. There they are! At the top of the hill. I remember telling Robin when I saw her to "keep pushing, you can still do it" even though she was very uncomfortable. Now I have to dig deep.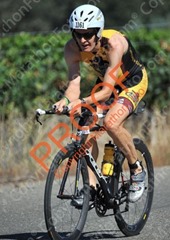 Heading back is not fun. I eat a banana & get Gatorade. I'm miserable & exhausted. My new estimates for finishing have been everywhere from 5:20 to 5:34 (my time last year). My neck is so sore that I don't want to look up. Part of me doesn't care but I know I have to or I could hit something or get hit and possibly get paralyzed like a guy did a long time ago crashing into a truck. I think about how our racing is supposed to help us learn to dig deep to fight for bigger things like our marriage or Christ. I think, "If this is were for my marriage, I'd have to pick it up and suck it up!".
It really looks like I'll be 10 min off my time. But I can't think about that now, I have to focus on each mile. Over Chalk Mtn again. This time there are about 6-7 female athletes pushing their bikes up it. It goes well again for me. I realize the ups and downs have been good, but the long flats are what get me.
Finally turning West to Windsor I pick it up. This is it. You never know what's going to happen. I know this is what the Lord wants me to remember. Just put in the effort and let Him sort everything out in the end. I see Robin & the girls 3 miles from the finish. Big cheers. And their it is! The arch, the finish.
Finish 112mi: 20.7mph. I dismount and start to run, but that's it, the finish is right at the dismount. And, hey, I got 5:24:22. Only 4min off my goal! Thanks, God. I was 6:34:51, 4th in my age.
I realize I have a lot of training to do to be able to ride like this and still run! Because right now my body is completely taxed and sore. Good day, good learning experience, good starting point.
| | | | | | | | |
| --- | --- | --- | --- | --- | --- | --- | --- |
| Name | Race | Time | Age Group | Place | Swim | Bike | Run |
| TROY SOARES | FULL AQUA BIKE | 6:34:51 | M45-49 | 4th | 1:07:55 | 5:24:22 | NA |
| ROSIE KRACHER | FULL AQUA BIKE | 9:00:54 | W45-49 | 6th | 1:34:56 | 7:19:42 | NA |
| MICHELLE RIDDER | FULL AQUA BIKE | 9:24:15 | W45-49 | 10th | 1:18:19 | 8:00:09 | NA |
| | | | | | | | |
| DALE JACKSON | 1/2 AQUA BIKE | 3:08:46 | M50-54 | 1st | 31:47 | 2:35:12 | NA |
| TANA JACKSON | 1/2 AQUA BIKE | 3:24:08 | W40-44 | 1st | 36:09 | 2:45:25 | NA |
| DAVID KURTZE | 1/2 AQUA BIKE | 3:40:00 | M50-54 | 9th | 39:34 | 2:56:03 | NA |
| CHERYL KURTZE | 1/2 AQUA BIKE | 5:16:34 | W55-59 | 11th | 48:24 | 4:21:53 | NA |