| | |
| --- | --- |
| Date/Location: | July 11, 2021 – Herald, CA |
| Distances: | Swim 1.5K – Bike 40K – Run 10K |
| Time: | 2:22:54 (24:52-1:12:04-45:58) |
| Place: | 3rd, M50-54 |
| Teammates: | Andrea Ivan, Dana Haldeman, Troy Outman, Troy Soares |
It really is comforting experiencing God's grace so often. With my bad foot (heel), I am never guaranteed ongoing training and it is very humbling because I can't control it. But as I continue to be hopeful and give God my best effort, even if it means walking, He continues to make races a time of closeness with Him and appreciation.
Today Anna & I arrive at Rancho Seco Park, site of the giant nuclear reactor towers, and the Tri-4-Real series which has a history of almost 40 years. Arriving 1 hr early (my traditional timeframe) proves again to not be enough. We both get only a 1/4 mile bike, a 1/8 mile run, and no swim warm-up. But that's ok. I did discover my shifting was really bad and thankfully in 8min I was able to fix it.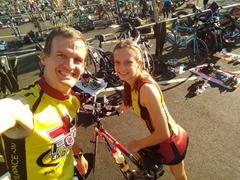 I rush to the water as Bill Driskill annouces "we'll be starting in 3 min". Wetsuit on, a fellow racer zips it for me, and I fill it with as much water as possible because it's super warm! I look for Troy Outman but he's at the other end of the start line.. a smile to each other let's us know we're praying for our races. I pray that I can compete for Christ in the way the pleases God. I look around at the other athletes, appreciating all that they have overcome or are anticipating to push through. Triathlons are an opportunity to suffer a little, and an opportunity to look for strength.. I'm so glad I can find that in Christ!
Swim
Start feels good. Sighting straight. Feels SO much better than the last triathlon (my first of the season) where I felt out-of-shape. Not much draft until after the 1st buoy when the Lord seemed to give me a couple people to swim behind. This long stretch is usually hard to see. I notice others stopping to look up. But fortunately I don't really have a problem. The SPIT de-fogger is working well (goggles are clear) and I happen to see the far white buoy, despite the closer orange buoy being off-course.
Trying to use my left arm more is working well. My right shoulder had been sore earlier. I have the feeling of moving well though the water which is really encouraging. On the final stretch I even pull ahead of a few swimmer I was drafting behind. There's not too many ahead of me now. This is exciting! I get 24:52 which is one of my fastest
T1
As soon as I'm able to stand, I unzip and this time quickly fill my suit with water. It didn't help with my left arm which got caught on my Garmin, but it really helped with the legs which kicked right out this time! Happily I run for transition and hear Sara Outman cheer for me. That means Troy is behind me but he opted for only a partial wetsuit due to the heat which can add a couple minutes. My transition goes well, staying barefoot, and onto the bike
Bike
I have 2 lg bottles of Hammer Heed and will definitely finish them both. It's nice now but heating up quickly. I try to get into a groove. I try a couple different positions. After a while the one that works the most is slightly offset on the saddle and using it to pull up the opposite leg. If I don't do this, I start getting knee pain. But using the seat to lift the leg, rather than the other leg, helps calm the knee down. The ride is going well although seems long. Over the train tracks I know I'm getting close to the turn-around. I think of Anna and pray that her bike works well and she doesn't have an accident. I count the riders coming back and I'm in 10th place.
Coming back I see Troy Outman pretty close, then Dana Haldeman, and, after a while, there's Anna! I'm so enocuraged to see her smile and that all is going well. I ask the Lord that if a bike problem needs to develop, may it be me rather than her.
I pass one and someone else passes me so my position is maintained. My average is about 20 mph but it sure is hard to maintain this. I can see the towers easily but they're still remain far away. Finally I'm glad to turn into the park. It's a slight climb and my I have to really focus to keep my knee from hurting.
Over the speed bumps, feet on shoes, and a great dismount without a shoe falling off. I get just under 1:10 (without transition) which is good for me.
T2
I sit down this time to get my socks and shoes on. It goes well except for my arches cramping. Maybe I should have stretched my calves coming in. Grab my hat and Hammer gels just as Troy Outman enters T2. Again Sara is in the perfect place to cheer us on.
Run
Ok, new form is to lean forward and let legs fall ahead, while at the same time trying to swing my rt heel forward quickly to the ground. It's not the easist way to run but my heel likes it better. Compared to my last tri, I'm already feeling better, faster, and with more energy. I thank God for this, especially since I didn't get much sleep last night working on my Dad's caregiver schedule. It seems like God is blessing the effort and I'm grateful.
It's hot but I hear they have ice water at the aid stations so I can't wait for that. The volunteers are great.. 2 waters.. very cold. I drink most and put a little on my hat flap.
Back to focusing on my form as I undulate up and down the rolling road. Ahead are a couple runners I saw ahead on the bike. I'm gaining slowly. Usually I would also have Dave Campbell catching me from behind but he's at a different race today. There's just something missing when Dave isn't here.. it's a great rivalry we have.
I catch a runner right before the next aid. The run sign is pointing the wrong way but a volunteer is off to fix it. I really appreciate all they and the race directors do in marking the course. Hammer gel, lots of water, and now onto the paved road. I look for Anna. Ah, perfect, I see her riding in right as I make the 3mi turn-around. "How's it going, Anna?", "Great!" I'm so happy. Thanks God for timing that well!
Wow, there's Troy right behind me! That is a blessing because he's been battling running injuries. I'm handling the heat well. Trying to remain positive and ignore it. We take a hard right into a trail loop. I pass another runner and he's really concerned with his age placing. He asks me twice what group I'm in and he's very relieved I'm not in his 55-59 group.
I'm getting tired and hot, but I'm also reminded how God is blessing my run! I smile and trust Him and remind myself I'll get there. I hope I can see Anna again. I finally come off the trail onto the main road and there's Anna! Perfect. She says she's still doing great and I remind her that God is with her.
I'm going to really hydrate, cool off and fuel up at this last aid station with a mile to go. The water is so nice and cool. Ok, now time to go! I tell myself the last climb is actually the finish line. Because the next 1/3 of a mile is within earshot of the finish line. I'm so glad to get up that climb, celebrate momentarily and now the final push. I get one more water just 200m from the finish (and I'm glad it was there!). Thank you, Lord, that was a great day and I'm so glad to be done!! I finished the run in 46 min which is great with my heel.
God answered another prayer bringing Anna in safely