Date/Location:

December 7, 2014 - Sacramento, Ca

Distance:

12.9mi (Marathon Relay - 2nd Half)

Time:

1:27:49 (3:06:44 total relay time)

Place:

3rd, Coed Open

Relay Teammates:

FCA Endurance
Karen Nickel & Troy

Other Teammates:

Relay
*CIMfast: Stephanie Holloway & Friends
*Catch Us If You Can: Robin Soares, Leonie Alesci, Megan Sebra
*First Big Run: Jason & Hope Shykowski
*Sovereign Sandals: Todd Osterberg, Nick Elcock & friends

Track/Local Friends
*Pacers: Jim Kepfer, Lee McKinley Michael Cook, Jamie Frink & Tim Twietmeyer

*Racers: Bailey Shykowski, Beth Bourne, Melissa Penwell, Sandy Baker, Scott Eckhardt, Troy Outman
It's a tradition. We do the CIM Relay every year. Robin does it with her UC Davis buddies and I do it as a FCA (Fellowship of Christian Athletes) Endurance team. This year I'm a 2-person team with Karen Nickel. I'm doing the 2nd 1/2.
My goal is 7:00 pace for a 1:31 1/2 marathon. But that's 30 secs a mile faster than my last marathon pace. I'm hoping my achilles and hamstrings issues will hang in there. But mostly I want to run with my focus on the Lord. I know in that case, it will turn out just as He wants it.
The weather is great. Ariel and Anna are with me scooting around while I wait for Karen to arrive at the exchange. She's probably going to run a 1:37, her previous best. Robin is also doing the first 1/2 of the marathon on her UC Davis Team so I'm expecting to see her and Karen come in together.
I see Dave Campbell go by on the EliptiGO bikes leading the pros. I also see the rest of Robin's team, Leonie and Megan here. I get a good warm up in. Achilles and hamstring feel good.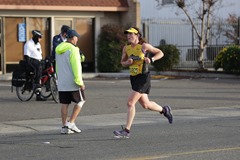 Here comes Karen! Ahead of pace. Hand off goes great but she tells me Robin's hamstrings have flared up and to pray for her. As I take off I immediately pray for her. I know how uncomfortable that can be for her and it's a bummer because she's been working on them so much lately.
Mile 1: 6:47. I figured the first mile would be under my 7:00 goal, so won't assess until a couple more are behind me. I'm trying to run tall, efficient and relaxed.
Mile 3: 6:56, 6:45. After a few miles, I'm surprised to be maintaining a sub-7 pace. I see friends along the route like Reed, Sean, and others. I hope they realized I'm only running the 2nd 1/2. While surrounded by many runners, I look to my side and see Bob Erhardt from work! We're both amazed to be running side-to-side in this crowd. He's doing the whole marathon and going for 3:19.
Mile 5: 6:52, 6:51. Bob settled back as I pushed forward. Still so happy, and thankful to God, to be averaging sub-7 pace! Another marathoner (Jacob) matches my pace and says it's really helping him to stay with me. I encourage him and even pray for him.
Mile 7: 6:47, 6:53. At the famous 20 mile mark. The "Wall". But fortunately for me it's only mile 7. I'm amazed Jacob (the guy I met) is still with me. He's negative splitting his marathon which is really hard to do.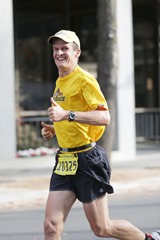 Mile 10: 6:54, 6:46, 6;47. 3 miles to go and so happy and appreciative to be at sub-7 pace. Maintain I can even pick it up a little bit…
Mile 12: 6:40, 6:39. This is going great! After the bridge I picked it up. Jacob held on for a mile before dropping back. With 1 mile to go, I'm really sore but try to pick it up even more. That's when I feel the hamstring start to go and quickly slow it down a little. I hear Dylan Cook and Nicole cheering for me. It really makes my day. Now I just have to run as smart as possible to keep up the pace without blowing a hamstring.
I come around the corner and thank the Lord as I finish.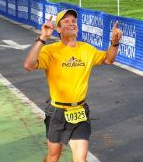 Mile 12.9: 6:37 pace. Actually was able to negative split! Thank you, Lord. Our team finished 3rd in 3:06:44. Thanks, Karen!