May 15, 2016 – Auburn, CA

Swim 1.5km – Bike 40km – Run 6.2km

2:34:54 (25:21 – 2:19 – 1:21:00 – 1:10 – 45:04)

1st (4th Overall)

Teammates:

FCA TEAMMATES: Robin Soares (Half), Dave Fraser (Mini), Mike Bradley (Mini), Flor Hodges (Int'l), Mike Pirnat (Int'l), Trixie Bradley (AquaBike), Troy Outman (AquaBike)

More: Dave Campbell (Int'l), Elise Winter (int'l), Farah Avasarala (int'l), Jim Silk (Int'l), Richard Kane (Half), Keith Hansen (Half), Andrea Ivan (Half)
Love having a great local triathlon tradition. Don't like being undertrained. But that's not a big deal, just do the best I can for the Lord.. that is the goal.
Really cool having Mike, Trixie & Dave to ride to the start with! It's light out at 5:45 when we start down the hill. Great to see so much water at Rattlesnake Bar swim start! Of Course the first people I see are Francie Campbell, her daughter and grand-daughter, and Sarah Outman, all volunteering. I complete body marking, transition set-up, warm-up run with my favorite triathlete, Robin, and a pre-race prayer with FCA Endurance TeamMates, Robin, Dave Fraser, Mike & Trixie Bradley, Flor Hodges, Mike Pirnat, and Troy Outman.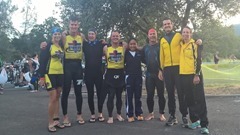 Robin is doing the World's Toughest Half. Her start is 5min before mine so we get to swim out to the start together which is cool. Water temp perfect. Swim course director (Boost Swim?) is on a paddle board and very good at explaining the course. Robin takes off and I pray she has a good race on such a difficult course.
I'm floating near some friends, Dave Campbell and Jim Silk who also make the race competitive, even being 10 yrs older than I! They are impressive athletes.
Swim
Go! I hope to be with the pack for a while like at HITS. But instead I'm quickly getting left behind. Everything seems to be working right, but I just must be going slower. I'll just do the best I can and keep hoping I'll move up. To the first buoy is beautiful. Easy to sight, cool clean water, and a slight downstream current. But around the turn it's directly into the sun. Can't see the buoy so try to follow others. Eventually I have to stop for a moment to get a bearing. Don't like loosing time. Soon I'm feeling confident again that I know where I'm going. Some 1/2 Ironman athletes are passing me. I wonder if I'll meet up with Robin, the timing is about right. [Later I find out she was about 100 yds behind me].
After the 2nd turn, it's a clear shot to the finish boat ramp. I push hard. Thinking about the steep bike ride ahead.. but first gotta finisht the swim well. As the bottom of the boat ramp comes into view below the water, I prepare for a smooth exit. Up, goggles off, sleeve off, pull Garmin off, other sleeve off, then run to transition.
Coming into T1 I go right by my rack and stare at the unfamiliar bikes. Troy Outman is nearby at the same time and yells to me where my bike is. Thanks, Troy! Ok, warm day, no socks or jacket, just helmet, glasses, pack my bag and go!
Bike
I recently changed my seat position. It's working better for these steep hills. I feel like I'm going pretty fast. I focus on being efficient and fast without over working. I see Rob Hodges on Newcastle Rd. Then Greg Winter on Shirland Tract. Huffing and puffing up the switch-backs I'm glad to see Dave Campbell. He's a faster swimmer and runner than me so I have to get ahead on the bike. Along Auburn-Folsom Rd, the only flat part of the whole course, I'm thrilled to see my girls with our good friends, the Nickels (Jeremy, Karen, Ellie & Ben). They cheer loudly and my speed picks up. Through the finish area and then into the twisty neighborhood roads that we know so well.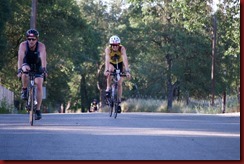 One thing is very evident, there are a LOT of volunteers patrolling every turn and cheering enthusiastically. Police at all the intersections. I try to thank them all. They make me feel special by looking out for me so well. Up past the sweet smells of Ikeda's and then onto the Hwy 80 frontage roads.
At the first aid station on Bowman Rd I always look forward to see my friend from High School, Doug Olson, he's always on the ball, cheerly loudly. He also has a wonderful family. This time he tells me that he thinks my wife is ahead of me! Wow, can that be? I start going even harder. I sure want to see her before she continues on toward Colfax and I turn-around on the shorter course.
I see guys coming back and start counting. I'm 7th at the turn. No sign of Robin. Hopefully behind me. Coming back I catch one guy. Then I'm so glad to see Robin, Troy Outman, and Trixie Bradley about 2min apart. I pass another guy (Philip Clark). But he comes back time and again. I go by fast on a downhill and then as soon as it pitches back up, he's right there. Is he drafting me? Coming into town I go by real fast onto Borland Dr. and then look back to check. Nope, he's not drafing. He's just really strong on the flats and goes by as soon as we start climbing.
Through the twisting neighborhoods. Great volunteers calling out the corners. I can't catch him and roll into T2 in 6th. 4th place (Jesse S.) is 1-1/2 min ahead. Good dismount. Painful barefoot running in the Overlook Park lot. Shoes, hat and gels and I'm off running on stiff legs.
Run
Looks like I passed Philip in transition as I'm now in 5th. It's a beautiful run behind the Overlook Park (very green) and down across the Dam Overlook to the turn-around. I see the 4 leaders coming back. Philip is only 10 secs behind me. I push all the way back up the road. And even more up to the Maidu Aid Station where our church will be helping later. I'm pushing hard, all the way to the top onto the canal trail. But then my hamstring starts to pull. I ease off a little and keep rolling. Everything else has been great. The right achilles hasn't given me any trouble. And the hamstring only came on after really pushing.
I'm very conscience of the roots and rocks and am telling others, too. I've fallen about 3 or 4 times out here. Once in this race last year. Coming through the finish area is great. The crowd and the announcer are enthusiastic. I get more water and head back into the beautiful trails. I'm tired but know it's a shorter loop this time. Piece of cake.
Looking up to the FCA Endurance tent at the Maidu Aid Station, I'm thankful for the day the Lord has given me. I've been able to push, I'm not injured, and He makes something hard actually fun. This is the last time up this hill. I still have to push because I never know what might be around the next corner. Maybe the 1st place guy in my age.
Gasping, I descend onto the Canal Trail for the final mile. Up ahead are 2 guys and 1 looks like he's in my race. Do I have enough course left to catch him? And if I come up on him, will he surge ahead? Be calm, steady as she goes. I know they're tired just like me and I start thinking of their safety. Feeling a little push from the Lord, I yell to them, "Watch out for the rocks and roots!"
Surprisingly, when they hear me, they start to concede and move over some to give me room. "No, you're ok" I say. But the more I try to help them, the more they make it easier for me. I pass and thank them. Still surprised that it didn't turn into a painful sprint for a 1/2 mile! However, the pace is still high and it really hurts getting up that final steep wall before the street. But then I turn into the park and the finish is close. I have a good sprint and finish very happy! I'm 4th overall. Turns out to be 1st in my age.
I congratulate some of the guys behind me and then get to witness Dave Campbell (59) out-sprint a young guy, Jeremy Pond (17). That's quite an age difference and made for some great photos.
After praying and thanking the Lord, I head to the FCA Endurance aid station on Maidu Dr. On the way there I see a girl in the International race running the wrong way. I get her back on track. And then I see a young couple running together finishing the Sprint for their 1st tri. We met them yesterday and got them a couple helmets as they didn't own any. I'm so glad to see them making it.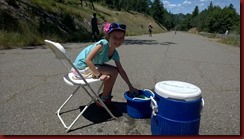 The rest of the day was really enjoyable with Anna and Ariel and our church helping at the aid station, especially helping Robin as she ran through on her way to 5th overall for the women!
Thanks, God, for a great day!