| | |
| --- | --- |
| Date/Location: | 5/8/16, Granite Bay |
| Distance: | 1mi R – 3miB – 1mi R |
| Time: | 28:20 ( 7:49 – 12:19 – 8:12) |
| Place: | 1st Age / 2nd overall |
| Teammates: | Ariel |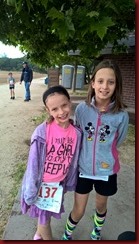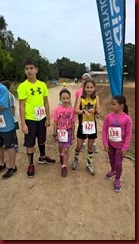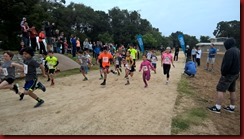 Go! Off we go! I'm running fast and there is a girl next to me. She's setting a good pace. We keep going and I stay ahead of her. I don't want her to pass me. We get onto the dirt path and I keep running up and down the hills.
I stay in front of the girl and keep the pace. I'm second overall so far. I see the leader, a boy, in front of me and the lead cyclist in front of him. We cross a road and keep running.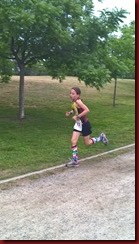 Soon, I see the finish line for the end of the run. I get to transition. I get my helmet on quick and jump on my bike. Now I'm first because I passed the first place boy in transition. He is putting on his bike shoes so it slows him down. Pretty soon though he passes me on the bike. I keep biking and come to the bridge and bike across.
Once across, I bike on a weaving road. The course makes a big loop. I go downhill, uphill, downhill and then turn. Now I'm heading back. I see little kids on their bikes heading towards me. One of them has a bike with fat tires. Then I see pink and I know that it's Ariel. She looks sad for some reason. I say, "Good job". I'm sad for her because it's her first duathlon and she's sad. I ask Jesus to give Ariel some of my strength to keep going.
I'm on the bridge now and I see the first place boy ahead of me. Soon I am off the bridge and I'm coming down the hill to transition.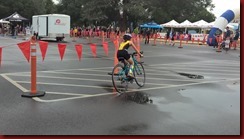 I put my bike back, take off my helmet and start the run. A boy passes me going out of transition. I didn't think I have the strength to pass him back. Then I see the fast girl from race #2 and #3 cheering me on.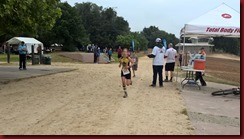 I feel motivated and pass him. I keep running and I'm back on the same dirt trail I was on before. Then I go uphill and downhill for a while. I go across the road and I'm on another trail. While I'm running I see the finish line. I run strong and finish. I get first in my age group and second overall! Thank you Mom, Dad, and that friend for cheering me on!