Date/Location:

December 8, 2019 - Sacramento, Ca

Distance:

13.5 mi (Leg #1 & 2 of the 26.2 mi Marathon Relay. CIM relay races started in 1995)

Time:

3:26:25 (3 person relay)

Place:

12th out of 143 Female Open

Relay Teammates:

Megan Sebra (Leg #3: 7miles) and Bailey Cossentine (Leg #4: 5.7 miles)

Other Teammates:

Relay

*FCA Endurance: Isaac Josifek & Troy Soares

*EV Cain Speedsters: Hunter Glass, Leah Booth, Anna Soares & Holden Robertson

*Old Man and the Lobster (Jason and Libby Shykowski)

Track/Local Friends

*Pacers: Jim Kepfer, Michael Cook, Tim Twietmeyer

*Racers: Wyatt Hamilton
This year my main teammate/college roomie, Leonie Alesci, couldn't make the relay last minute. Fortunately a longtime friend from our track group and local college phenom, Bailey Cossentine, was available to take Leonie's spot. She'll be running the last leg and will be giving my other teammate, Megan, and I a big boost to the finish. I'm running the first two legs of the relay, 13.5 miles.
The "Soares Shuttle" to the start is off as usual at 5:30am! I'm driving Anna's teammate Hunter, Troy's teammate Isaac and Anna's coach and CIM pacer Jim Kepfer to the start. They have closed down more of Auburn Folsom Road near the start so I have to take some back roads to my secret parking spot at Beal's Point. We park and jog to the start. I can tell this race has grown by the wall of people we run into. We also see big dump trucks at both ends protecting where the people are gathered, and a SWAT team with fully armed officers keeping their eyes out. A sad reminder of races and events affected by violent individuals. Thankful that no matter what happens, the Lord will be there to help me and others…even if that does mean I loose my life.
The starting line seems different this year. The start is on both sides of the road. I don't remember it mattering which side of the road you lined up on. I lead Hunter to the wrong side but we figure it out in time. Hunter and I pray and then pray again once we find Isaac. As we wait a few minutes to start, I look down and notice all the bright and strangely shaped Nike shoes. They are everywhere and apparently they give a big advantage! Today, i mainly just want to run under 8 min per mile. I don't have anything else specific planned. I have a rain coat wrapped around my waist in case it rains. I am also wearing a long sleeve FCA shirt and tights.
Ready, set, go! I can tell right away that I don't have my jacket wrapped well and try to adjust it. I drop my water bottle but am able to recover it quickly and re-tie the jacket so it's snug.
I am feeling surprisingly great but I know I have a long way to go.
Mile 1 is 7:41. We are on Oak St. for a long way now. I hear a lot of footsteps behind me so I know some pace group is approaching. Sure enough it's the 3:20 pace group. It's probably a little fast for me to stick with but I feel pretty good! I did average 7:40 pace for a hilly 10K in Auburn on Thanksgiving so maybe this pace will work.
Through Mile 3 I'm averaging 7:42 and still feeling strong. 10 more miles! I wonder how Hunter and Isaac are doing. Isaac is doing the first two legs like me. Hunter is doing the first leg and has about 3 miles more to go. He's probably pretty far ahead now.
I hear someone call my name and I look over and see Andrea Glass, Hunter's mom, and his sister, Ashley, cheering. That is nice of them to find a spot and cheer us on!
Mile 4. The 3:20 pace group (7:38 pace) starts to pull away. I'm now holding 7:41 pace and feel any faster would be too much. I don't even know if I can hold this for the next 9 miles! It's sad to let them go because the pace leader was going to tell some stories.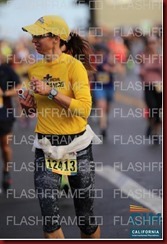 Mile 6. I'm holding 7:41! The race finally makes a turn onto Fair Oaks. This is where the first relay exchange used to be. There are a lot of folks here cheering I should be getting a text message on my watch from Anna's group pretty soon indicating that Hunter is done! Praying for their team to feel strong and content with their efforts. Anna rolled her ankle recently and has been really busy with school so today could be a challenge. The whole team has some big goals.
Just before Mile 7, I get the notice that Leah is off! The course is now rolling and making it hard to push. I can feel the Lord keeping me calm and in good spirits so I'm not stressing about it. I look for familiar runners from the beginning and try to keep tabs on others I've noticed along the way. It's a nice distraction.
Mile 9. My average has creeped up to 7:43. I can see I'm heading down towards downtown/old town Fair Oaks. There are a lot of folks here. I see a small high school band playing and I run by and give them a high five. Too bad Anna didn't get to see them. I think about her getting ready to run soon.
I am so surprised that I'm able to keep up my pace.
Mile 11. It is back to 7:42. Wow, thanks God! Sensing the end is close, I pick it up.
Mile 12. I'm at 7:41. Wow, maybe I can get it to 7:40 and match my 10k average. I am waiting to hear that Anna is off.
Mile 13. I get the notice about Anna's exchange. I hope Anna doesn't feel pressure to have to blast her leg of the race.
I make it to the relay exchange at 7:40 pace! Thank you Jesus! I find Megan and pass on the timing chip. My job is done. Phew!
RELAY HISTORY
Year

Team Name

Relay Div

Place

Time

Teammates

2019

Catch Us If You Can

Open Female

12th/

143

3:26:25

Robin Soares (Leg #1/2), Megan Sebra (Leg #3), Bailey Cossentine (Leg #4)

2018

Catch Us If You Can

Open Female

13th/

169

3:37:34

Robin Soares (Leg #1), Liesbeth Magna (Leg #2), Leonie Alesci (Leg #3), Megan Sebra (Leg #4)

2017

Catch Us If You Can

Open Female

11th

3:38:23

Robin Soares (Leg #1), Leonie Alesci (Leg #2), Liesbeth Magna (Leg #3), Megan Sebra (Leg #4)

2016

Catch Us If You Can

Open Female

10th

3:34:22

Leonie Alesci (Leg #1), Liesbeth Magna (Leg #2), Robin (Leg #3), Megan Sebra (Leg #4)

2015

Catch Us If You Can

Open Female

8th

3:32:27

Megan Sebra (Leg #1), Leonie Alesci (#2), Robin (#3 & #4)

2014

Catch Us If You Can

Open Female

8th

3:27:15

Robin Soares (Leg #1 & #2), Leonie Alesci (Leg #3), Megan Sebra (Leg #4)

2013

Catch Us If You Can

Open Coed

10th

3:31:23

Liesbeth Magna (Leg #1), Kevin Magna (Leg #2), Robin Soares (Leg #3) and Megan Sebra (Leg #4)

2012

Catch Us If You Can

Open Coed

6th

3:32:57

Leonie Alesci (Leg #1), Robin Soares (Leg #2), Kevin Magna (Leg #3) and Liesbeth Magna (Leg #4)

2011

Catch Us If You Can

Open Coed

3rd

3:05:14

Robin Soares (Leg #1), Troy Soares (Leg #2), Liesbeth Magna(Leg #3) and Leonie Alesci (Leg #4)

2010

Catch Us If You Can

Open Coed

2nd

3:13:32

Robin Soares (Leg #1 & 2), Richard Alesci (Leg #3) and Leonie Alesci (Leg #4)

2009

CATCH US IF YOU CAN

Open Coed

3rd

3:08:47

Kevin Magna (Leg #1), Robin Soares (Leg #2), Richard Alesci (Leg #3) and Leonie Alesci (Leg #4)

2008

CATCH US IF YOU CAN

Open Coed

21st

3:27:28

Robin Soares (Leg #1), Courtney Loveday (Leg #2), Richard Alesci (Leg #3) and Leonie Wynhoven (Leg #4)

2007

RIONIE AND SOARES

Open Coed

3rd

2:58:55

Robin Soares (Leg #1), Troy Soares (Leg #2), Richard Alesci (Leg #3) and Leonie Wynhoven (Leg #4)

2006

CATCH ME IF YOU CAN

Open Female

1st

3:00:54

Robin Soares (Leg #1), Megan Canova (Leg #2), Liesbeth Brouwer (Leg #3), Leonie Wynhoven (Leg #4)

2005

DAM GIRLS & GUYS

Open Coed

2nd

3:00:36

Robin Soares (Leg #1), Dick Kirkpatrick (Leg #2), Liesbeth Brouwer (Leg #3), Leonie Wynhoven (Leg #4) (?)

2004

DAM GIRLS & GUYS

Open Coed

14th

3:32:15

Troy, Robin, Liesbeth Brouwer, Leonie Wynhoven (?)

2003

DAM GOOD RUNNERS

Open Coed

21st

3:06:50

Troy-Robin-Leonie Wynhoven-Liesbeth Brouwer

2002

DAM GOOD RUNNERS

Open Coed

76th

4:13:14

Robin, Dave Funston, Kristin Funston, Leonie Wynhoven

2001

DAM GOOD RUNNERS

Open Coed

21

3:56:56

Robin Heidt, Dave Funston, Kristin Funston, Leonie Wynhoven

2000

Un-Named

Open Coed

49

3:48:04

Kristin Matthews, Liesbeth Brouwer, Leonie Wynhoven, Robin Heidt (?)

1999

DAM GOOD RUNNERS

??

8

3:44:09

Kristin Matthews, Liesbeth Brouwer, Leonie Wynhoven, Robin Heidt

1998

DAM GIRLS

?

5

3:28:58

Kristin Matthews, Liesbeth Brouwer, Leonie Wynhoven, Robin