Date/Location:

December 6, 2015 - Sacramento, Ca

Distance:

Marathon Relay - 26.2m (My leg is just under 13m) – Legs #3 & 4
Note: The CIM Relay Races started in 1991.

Time:

3:32:27

Place:

8th, Female Open

Relay Teammates:

Leonie Alesci & Megan Sebra

Other Teammates:

Relay

*Catch Us If You Can: Leonie Alesci, Megan Sebra & Robin Soares

*FCA Endurance: Trixie Bradley, Karen Nickel & Stephanie Holloway

*Good Job: Janell Peterson and Friends


Track/Local Friends

*Pacers: Jim Kepfer, Melissa Johnson, Lee McKinley, Jamie Frink & Tim Twietmeyer

*Racers: Annette Korn, Christine Val, Dave Campbell, Elizabeth Kastura, Helen Martin, Jason Shykowski, Ken Campbell, Melissa Penwell, Todd Osterberg
This is my 17th year in the CIM Relay. It's great to have such a long streak going. I cannot stop now! This time my teammate Liesbeth cannot make it so I'm attempting to run the last two legs of the marathon.
I drive our girls to the 2nd relay leg to meet Leonie finishing her leg and Troy finishing his 2 legs. Troy and our friend, Troy Outman, are each running a half of the marathon as "Team FCA Troy Squared." We meet up with Troy O and his wife, Sarah. Troy O and I warm up and watch the top runners come through. They are amazing athletes! I know I cannot even do one lap at their pace.
My phone rings and it's my friend Karen! I'm surprised because I know she's in the middle of running the 2 middle legs of the race. She tells me her calf is really hurting and she won't make it past her 1st leg. She wants to know what to do. If her team forfeits, at least her final teammate, Stephanie, may be ok with it since she hasn't left home yet. After some deliberation, in an effort to keep her team in the race, I tell her Troy can most likely finish her final leg after he finishes his.
I run into our friend Lee McKinley. He is helping the 3:00 pace group on the second half.
Troy comes in at sub-1:30 and Troy O heads out. I tell him the story about Karen's team and he feels like he can continue for one more leg...at a much easier pace since he gave it his all to finish his part of the Troy Squared relay.
While waiting we see Melissa Penwell fly by. And soon, Tim Twietmeyer comes by pacing the 3:35 group.
Twenty minutes later we see Karen AND Leonie running in together...cool! Troy and I start out together for a moment but then I have to say goodbye and pull ahead.
I feel pretty good starting out. I hope to be able to run 7:30 pace. We'll see!
Mile 1 is 7:29 (around 14th mile). Feels good!
Mile 2 is 7:27 (around 15th mile). Still feeling strong! It's nice to race hard again after many months off!
Mile 3 is 7:26 (around 16th mile). Going good! I rarely get to run this part of the relay and it's a nice change.
Mile 4 is 7:33 (around 17th mile). My body seems to feel the strain now but the sweet potato I had earlier this morning seems to be fueling me well. I can still push despite the fatigue.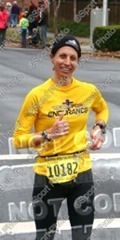 Mile 5 is 7:29 (around 18th mile). I can see the 3:40 group ahead. Cool!
Mile 6 is 7:28 (around 19th mile). Mentally getting harder but catching the 3:40 group helps! I start to plan out the last few miles... Keep up 7:30 pace until the 22nd mile. Then go 7:25 pace until the 24th mile...and then sub-7:20 pace.
Mile 7 is 7:30 (around 20th mile). At Mile 20, they actually have the "wall" set up with foam bricks. I tap it as I go through.
Mile 8 is 7:35 (around 21st mile). Wow, I feel like I'm running faster than 7:30 pace. Can I really pick up the pace?
Mile 9 is 7:38 (around 22nd mile). Running across the H St. bridge is cool though it is a bit uphill. Got to pick it up the last miles now. The legs are tired but the energy is still good..sweet potatoes!
Mile 10 is 7:28 (around 23rd mile). I'm a little slower than expected but good to be under 7:30!
I see a familiar stride ahead. It's Jason Shykowski! I catch up and say hi. He's ahead of his PR pace but feeling like everything is seizing up. "I'll pray for you then" and have the privilege to do so. We part ways.
I push it and start to see the pace drop more...yeah.
Mile 11 is 7:23 (around 24th mile). Okay, let's go! I dig deeper and my legs have a bit more to give!
Mile 12 is 7:19 (around 25th mile). Less than 1 mile to go! I've caught up to Tim Twietmeyer's 3:35 pace group...yes! I say hi and keep pressing on! I then pass his pace partner Jamie. Go,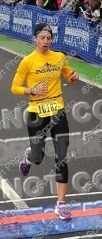 go, go!
I can see the capital building! I can hear the cheering! I round the last corner and see the finish! I give it all I have and finish at just under 1:37. Alright! I hear the announcer and friend, Eric Gilsenan, tell me good job and ask about Troy. I give him a thumbs up and am unable to communicate that Troy is racing, too.
I don't see Troy and the girls and know they are on their way. The sacrifice of him not being here so he can help out Karen was so worth it! Thanks God for working it all out!
RELAY HISTORY
Year

Team Name

Relay Div

Place

Time

Teammates

2015

Catch Us If You Can

Open Female

8
3:32:27
Megan Sebra (Leg #1), Leonie Alesci (#2), Robin (#3 & #4)

2014

Catch Us If You Can

Open Female

8

3:27:15

Robin Soares (Leg #1 & #2), Leonie Alesci (Leg #3), Megan Sebra (Leg #4)

2013

Catch Us If You Can

Open Coed

10th

3:31:23

Liesbeth Magna (Leg #1), Kevin Magna (Leg #2), Robin Soares (Leg #3) and Megan Sebra (Leg #4)

2012

Catch Us If You Can

Open

Coed

6

3:32:57

Leonie Alesci (Leg #1), Robin Soares (Leg #2), Kevin Magna (Leg #3) and Liesbeth Magna (Leg #4)

2011

Catch Us If You Can

Open Coed

3

3:05:14

Robin Soares (Leg #1), Troy Soares (Leg #2), Liesbeth Magna(Leg #3) and Leonie Alesci (Leg #4)

2010

Catch Us If You Can

Open Coed

2

3:13:32

Robin Soares (Leg #1 & 2), Richard Alesci (Leg #3) and Leonie Alesci (Leg #4)

2009

CATCH US IF YOU CAN

Open Coed

3

3:08:47

Kevin Magna (Leg #1), Robin Soares (Leg #2), Richard Alesci (Leg #3) and Leonie Alesci (Leg #4)

2008

CATCH US IF YOU CAN

Open Coed

21

3:27:28

Robin Soares (Leg #1), Courtney Loveday (Leg #2), Richard Alesci (Leg #3) and Leonie Wynhoven (Leg #4)

2007

RIONIE AND SOARES

Open Coed

3

2:58:55

Robin Soares (Leg #1), Troy Soares (Leg #2), Richard Alesci (Leg #3) and Leonie Wynhoven (Leg #4)

2006

CATCH ME IF YOU CAN

Open Female

1

3:00:54

Robin Soares (Leg #1), Megan Canova (Leg #2), Liesbeth Brouwer (Leg #3), Leonie Wynhoven (Leg #4)

2005

DAM GIRLS & GUYS

Open Coed

2

3:00:36

Robin Soares (Leg #1), Dick Kirkpatrick (Leg #2), Liesbeth Brouwer (Leg #3), Leonie Wynhoven (Leg #4) (?)

2004

DAM GIRLS & GUYS

Open Coed

14

3:32:15

Troy, Robin, Liesbeth Brouwer, Leonie Wynhoven (?)

2003

DAM GOOD RUNNERS

Open Coed

21

3:06:50

Troy-Robin-Leonie Wynhoven-Liesbeth Brouwer

2002

DAM GOOD RUNNERS

Open Coed

76

4:13:14

Robin, Dave Funston, Kristin Funston, Leonie Wynhoven

2001

DAM GOOD RUNNERS

Open Coed

21

3:56:56

Robin Heidt, Dave Funston, Kristin Funston, Leonie Wynhoven

2000

Un-Named

Open Coed

49

3:48:04

Kristin Matthews, Liesbeth Brouwer, Leonie Wynhoven, Robin Heidt (?)

1999

DAM GOOD RUNNERS

None

88

3:44:09

Kristin Matthews, Liesbeth Brouwer, Leonie Wynhoven, Robin Heidt