| | |
| --- | --- |
| Date/Location: | February 14, 2015 – San Leandro, CA |
| Distances: | 1/2 Marathon |
| Time: | 1:39:28 |
| Place: | 5th, 40-45 Women |
I'm up early. After gathering my things and making my breakfast to go, I have one last task…set out Valentine's Day gifts for my wonderful husband and girls. As I get in the car, I see a vase of roses from Troy…ah, he's so sweet and planned ahead well! I'm off at 4:30am to the Bay.
I arrive within 2 hours, get great parking and trouble-free registration. I take the time to warm-up well and for the first time incorporate mobility exercises ahead of the race. My hamstrings are a big question mark today. Lately, they seem to be getting better but how will they feel today? The course is an out-and-back, flat as a pancake, and mostly on dirt paths. I hope I can go fast!
I call Troy and the girls and we pray. My first goal is to honor the Lord in action today. I thank the Lord for the woman who saw the license plate (IM4CRST) on Troy's car I'm driving and said "I like your license plate". We each got the chance to encourage one another before she headed out to warm-up. We pray that my hamstrings will do better and that I will be content with the outcome.
I line up and am surprised to see pacers. I see the 1:35 guy and plan to keep my eyes on him. My instructions from Coach Troy are to take it out slower than 1:35 pace (7:20per/mile pace) for the first 2 miles. Then resume the planned race pace of 7:15.
The race announcer explains the route and that we are running on shoreline. He tells us not to litter and, in fact, to pick up trash if we see it. I chuckle because from experience it's really tough to stop and bend over in a race…and in Troy's case last year, he hurt his hamstring while stopping to pick up a gel he dropped.
Okay, it's time to go! Ready, set, go! It's a pretty fast start but I keep to the plan and hold myself back. I feel like I'm going slow which is a good sign.
Mile 1 is 7:20. Perfect! The 1:35 pacer is in sight.
Mile 2 is 7:20. Okay, now it's time to reel in the pacer. Some ladies go by and I pick it up to follow them. I soon realize that they are going a little too fast for me so I have to let them go. There are about 6 women in my sight and I hope to catch them eventually.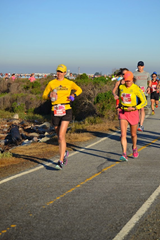 Mile 3 is 7:15. Great! The hamstrings are doing well and I'm feeling strong. I'm holding my position.
Mile 4 is 7:15. It's going well and I'm still feeling strong. I've caught up to a girl. When I try to pass, she picks it up. I just keep my pace even and I'm able to stay close.
Mile 5 is 7:13. This pace is definitely feeling tougher with each mile. The 1:35 pacer continues to elude me. I hope to gain some ground at the turn-around.
Mile 6 is 7:18. That same girl and I seem to be running the same pace. Now we are switching off leading one another. There is another gal in pink that we are closing the gap on. The rest of those girls are still way out there.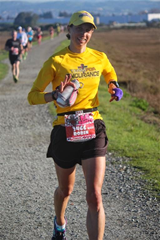 My Garmin seems to be off a bit. It said I was running 7:30 pace for part of the last mile and now it says I'm running 7:05 pace. My perceived effort seems the same so I hold the pace.
Mile 7 is 7:05. So my watch was right. That last mile was too fast and I hope it doesn't mess up the rest of the race! I pass that same girl and I hear her laugh…this yo-yoing we are doing is kind of funny.
Mile 8 is 7:15. Still on pace but I'm starting to feel wiped out! My "running buddy" starts slipping away as I can feel myself fading. Negative thoughts start invading my mind…this stinks, I'm blowing it…and I feel the Lord telling me to keep pressing on and look to Him.
Mile 9 is 7:41. Oh boy! I switch my watch over to see my heart rate….I'm hovering around 180! I've been trying to wear my heart rate monitor the last few weeks so I can start incorporating it into my training. I don't know anything about my "zones" but I do know in the least that 180 is high!
Mile 10 is 7:53. It's survival mode now. I can see that picking up the pace the last 2-3 miles is not going to happen. I decide to focus on keeping my heart rate at 180 for the rest of the race instead of trying to stay at an impossible 7:15 pace.
Mile 11 is 7:51. The 1:35 pacer and many of those gals are long gone now. Lord, may I keep my focus on You!
Mile 12 is 7:56. Wow, this is tough! I just have to make it one more mile!!
I can hear the 1:40 pacer closing in on me! I just want to finish under 1:40 now! Looking at my watch, I should be able to do that. The pacer comes along side and encourages me to push it. I'm now over 180bpm! I'm maxed out! Weird to be running all out at 7:54 pace!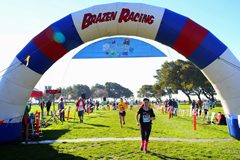 Mile 13 is 7:54. I run side by side with the pacer all the way to the finish chute. I look up to the Lord as I cross the line. Thank you, Lord! I am spent!! I have a lot of work ahead and the Napa Marathon is in 2 weeks. I pray I can run a 3:30.