| | |
| --- | --- |
| Date/Location: | March 31, 2012 – Granite Beach, Granite Bay, CA |
| Distances: | 2m Run - 6.5m Road Bike - 2m Run - 6.5m Mtn. Bike - 2m Run |
| Time: | 1:37:20(14:14-20:32-14:17-33:39-14:38) |
| Place: | 2nd, M40-49 |
I was excited to try this new event. With 4 transitions, it would be good practice for quickly changing shoes. But the best part, for me, would be not having to swim and be cold. Sounds wimpy, but I hate being cold. In this case, I'll get to start with a run, insuring I'll be warm. Then, I'll hit the road bike when it starts raining and start getting cold in time to run again and warm up. Then the mountain bike through the water crossings and finally onto the run again to fight the chill. This will be great!
Robin & I practiced the mountain bike course. It's a great course with lots of turns, but the rocky descents are my only concern. I'll want to take them fast, but without loosing control and crashing.
I rode my tri-bike for the first time yesterday. And rode it to the start this morning. I feel prepared. But the legs are feeling sluggish during my warm-up run.
The sky is in the process of going from clear to ominous black. The wind is gusting and threatening to blow over the registration tents. The lake is all churned up like an angry sea. I didn't realize there was a sprint mtn-bike triathlon going on. They're actually swimming amidst those white-caps!
I watch as the swimmers run up the beach, white-faced from the cold, and start the bike. Ken Hale, a 500+ tri finisher, says it was the 3rd hardest swim, just behind the Utah disaster, that he's ever done.
Robin & the girls arrive and drop off my mtn bike. We gather and pray. Now it's time to start. Only 20 of us line up. Small group. Makes for no pressure - another nice thing about my race. Robin, on the other hand, will be swimming in 48 degrees water tomorrow, competing against XTerra athletes from all over No. Cal. Too intense for me right now, but she's been training for it and feeling ready.
Run #1: Go! I want to negative split the run legs so trying to run within my ability. 9 guys go ahead. But I catch 1. The trail is perfect condition. Then pavement. Then trail. We all dodge the puddles and arrive, feet dry, back at transition. 2 guys finish fast in 12:11. Then Bobby Carpenter at 13:12. Then 2 (a guy and a relay girl with dreadlocks) at 13:50. And then a guy at 14:11 with me, 3 secs behind him (6:55 pace) in 7th place.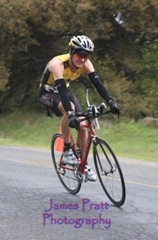 Road bike: It's starting to rain hard. It's a technical course so this increases risk of slipping. I'm good at the corners but will try to be careful. Fortunately the many little climbs help slow the speed before some of the corners. I'm not losing any time to the rain. I pass a few riders. But then a descending wet corner requires me to slow way down. Then another corner I take too fast and have to almost come to a stop in the other lane. Finally, the 180 turn also takes away a lot of speed. But I manage to pass a guy right after it. Other than that, sill a fast time.. except for the last .5mi straight section right into the wind… pushing as hard as I could, it still kept me to 16mph. I finish in 19:04 (21mph) and 3rd place.
Run #2: Anna yells that a Hammer Gel is waiting for me at my transition. Ariel says, "You're stepping on it". I start the run and miss the high-5 from Anna so she tries to catch up to me running across the park to cut me off.. but I'm still just out of reach. She sure can run fast now. I feel good and want to run just a little faster than the first leg. I'm by myself. I make the turn, eat my gel, and notice that the puddles have doubled their size since the first lap? It's harder to avoid them. .5mi to go and the last guy I passed on the bike passes me back. He's fast. I can't re-pass him. I finish in 14:21 (6:42 pace) in 4th place.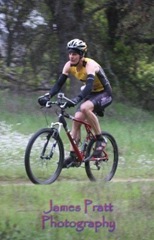 Mountain Bike: It's still raining hard as I hit the trails. I passed the fast runner in transition. Robin & the girls are positioned by the first stream crossing. "Whoa!" I hear as I splash through it. I've got the GoPro camera on the handlebars which adds some pressure.. I want to make a good video. I'm really focused, trying to calculate each hidden hole beneath puddles or the right lines through rock-gardens. One wrong move and I will fall off my bike and waste time. I'm not wearing glasses because they'll get covered in mud and rain drops. So far it's going good. I grunt and try to pull a wheelie into each unknown puddle or mud bog. Maybe it's wasted energy but I don't want the front wheel to sink.
Crossing the paved road, volunteers cheer and I thank them. Up the long climb. The gradual descents are fun. This course really is cool. Over the bridge and up the first rocky section.. I make it, barely. 1/2 way through, my brakes are starting to weaken which makes my lines a little more erratic. 3/4 through and I'm getting cold and my eyes are stinging from the mud flying in them. Can't let it slow me down. I'm happy that I've cleaned all the sections, which I didn't do in practice with Robin. Now I'm almost to the finish and thinking, "Man, I'm glad I don't have to do 2 laps like Robin will do tomorrow!" All the obstacle dodging and steep climbs are exhausting and stressful.. and fun.
The final mud puddles and Robin,Anna, and Ariel are positioned right above it. "Whoosh!" and they all scream with excitement. Wow, what a boost. I finish in 32:02 (12.3mph) in 3rd place.
Run #3: The final run. We get the high-fives perfect this time. I notice my feet are feeling numb and my legs are weaker. I push through. This time the puddles are impossible to avoid. But I'm covered with mud anyway so I run through them all. I'm running hard also because that fast runner is behind me somewhere. Heading back, though, I don't see him anywhere. In the final 1/4 miles I see Anna positioning herself before the finish line. She starts early and I sprint to catch up and make the connection… we both cruise across the finish. My final run was 14:39, 6:50 pace. Close to negative splits (6:55, 6:42, 6:50). Total was 1:37:20 and 2nd place individual (1 relay was ahead).
It was a blast, great course! But soon after finishing I started getting super cold. Fortunately, Robin swooped in, got my stuff into the car and cranked up the heater. Thanks, God, for a great first multisport race for the season.