| | |
| --- | --- |
| Date/Location: | 3/6/22 – Calistoga to Napa, CA |
| Distance: | Marathon (26.2 Miles) |
| Time: | 4:07:35 |
| Place: | 41st of 92 (50-54 Men), 385 of 809 men overall. |
| Teammates: | 1/2 Marathon: Melissa Penwell |
To summarize: it was painful and ugly at times. But it was only because of God that I was able to keep going. And He gave me a wonderful family that encouraged me and really helped get the legs going… but the hip not going out was completely God. That was amazing. Praise God!
I ride the bus to the race start. It takes about 2 hours with delays. My family will see me out on the course. My hip's been bothering me and I don't even know if I can run the whole thing. But I also don't know what amazing things God may do out there. Because of that I must always look forward to it.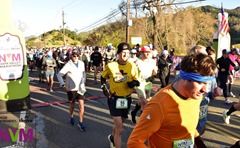 The first 5 miles of the race I try to run as efficiently and the easiest possible. I try to stay with the 3:45 Pace group. the hip is already holding me back. I longingly think of training runs a month ago that seemed so easy.
Miles 5 to 10, I start seeing my wonderful family. They ask how I'm doing and I tell them the pain level is about a five. It's so great to see them. It is getting very hard to run. I haven't seen anybody I recognize or talked with anyone because of trying to baby my hip. I pray that God will have me meet someone I can witness to or share with. After my family prays for me, as I told them my pain level and then start running again a man named John comes up to me while running and prays for me too.
We run together till about mile 14. It is great conversation about what the Lord has done in his life and mine. The answer to prayer. The miles go by quickly. Then John sees his family and his new granddaughter and pulls off to visit them.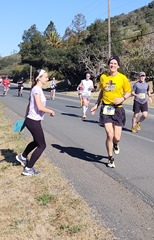 I'm way back at the 4-hour pace group now and it's really hurting. I'm praying for some way to run. I start leaning forward more and driving my legs and I start picking up the pace. From 15 to 20 miles, I'm amazed how well I'm doing. I'm thanking God and feeling how close he is because of the way He's helping me continue on. I thought I'd be walking by now. Ariel goes by on a bike to check on me which so great. Then Anna also runs by. Now it's just me against the mile 20 hill and I feel confident and motivated. At the top of it when it should get easier all of a sudden I get sharp pains in both legs and the good running comes to an end. I try to stretch but everything hurts too much. Miles 20 to 23 are the hardest ones yet and I'm walking more and more.
At mile 23 Ariel asks about my status, Anna tells me "I know it hurts but look to God, press on". Then Robin runs with me and recites Psalm 23 to me. I pick it up and give it my all and it's working I'm running!
The next 2 miles are so long but I don't stop. I thank the Lord for making something out of nothing. Hips, knees, calves, all ready to go.. I can't believe I'm still running! It's a beautiful day it's perfect temperature and soon I'll be with my family at the finish.
When things don't go well and it's painful it's an opportunity for God to be glorified. it's an opportunity to see God lift me up and do things I didn't think are possible. It's another awesome memory of God's faithfulness in my life. I finish and give him all the credit. I know I can count on him because of little experiences like this. They prepare me for bigger experiences in life to trust Him in. It reminds me how blessed I am and also reminds me of how supportive my family is of me.
4:07 was my time. My hip wasn't any worse the following week. No harm done, but an amazing memory. Thank you, Lord!