Date/Location:

May 17, 2015 – Auburn, CA

Distances:

Swim 1.2M – Bike 56M – Run 13.1 (2.2m + 11m)

Time:

5:29:08 (31:56 – 4:35 - 3:05:50 – 1:35 - 1:45:12)

Place:

2nd/18

Teammates:

Mini: FCA TEAMMATES Trixie Bradley
International: Brett Rosane, Dave Campbell, Elise Winter, Farah Avasarala;FCA TEAMMATES – Connie Wilson, Flor Hodges, Katy Rosane, Mike Pirnat, Pete Hradecky, Robin Soares Troy Outman
Toughest Half: Lee McKinley
It's been 4 years since I've done the World's Toughest Half. I'd been very content to do the International Distance and cheer on Robin as she attempted to win the WTH 3 years in a row. I knew this was my year and felt a lot of pressure to perform well in the wake of Robin's great success. But the race is here and my running is not at it's best. It's going to be harder but I've got a LOT of motivation: to follow in Robin's footsteps, to see my Teammates at the FCA Endurance aid station, to be cheered on by family, Church, and track friends at the Maidu aid station, and to try to make the local paper by getting top 10 overall.
Robin & I ride down to Rattlesnake Bar for the start. We meet up with Troy Outman, Dave Campbell, Mike, Flor, Elise, ….. We warm up and then finish with our transitions. I have my jacket ready even if I don't need it.
We pray with a couple FCA Endurance Teammates before the start and then I jump in and line up near Lee McKinley. Keeping up with him will be a challenge.
Swim
Go! It's a good mass start. Only about 140 so not crazy. Right away I find myself falling behind, watching draft after draft pull away. 1/2 way to the first buoy and I feel like I'm midway in the pack. I don't feel so bad. Maybe everyone else are really good swimmers. I think of my good swim and draft at Wildflower. But it looks like I may be alone this time.
After the turn I do find a draft and work hard to start in it. He's pretty good but speed isn't consistent so I hit his toes some times. I'm trying not to because I know it's annoying. Soon the International Distance athletes merge gradually into our path. More opportunities to draft.
By the 2nd buoy I'm feeling good and push ahead thinking I can leave my draft guy behind. Now he gets in my draft and for the last few hundred yards home is tapping my feet some times. I don't mind, it has all evened out.
I push the last bit, climb out, run along the grassy path and then strip my wetsuit… by chance, right next to the race director, Colleen Pace. Swim time (32:36) isn't too bad. 26th place
T1
Good transition. Socks on. No jacket. Ready to start climbing. Now in 23rd place
Bike
The first 6mi is a tough climb. Plan is to push less hard than the past. Save it for the later hills.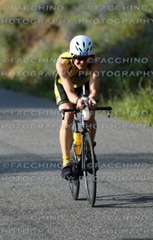 I try to stay in control. I see Rob Hodges at the Newcastle Rd Y. Up the switch-backs I stand but efficient. Up Shirland Tract I focus on good form and not pushing my legs too hard. On Auburn Folsom I'm excited to see Anna & Ariel and the Nickel family with signs cheering like crazy! They stayed at Ellie & Ben's house last night and woke up a little early to see us go by. Robin will probably only be 10min behind me.
With a big boost now, I cruise through Auburn. There are a lot of spectators and great volunteers. Then, on Bowman Rd, at the 1st aid station, I see my friend Doug Olson, just like the last 4 years! He's always volunteering and cheering us on in a big way. I look forward to that.
I'm surprised how many International Distance athletes are already coming back! I think for a moment maybe they are in the sprint. They started 10 min after me and are already 4 miles ahead! Amazing. I'm riding well and trying to be aero on the descents. A guy in my age group goes by. Eventually I pass him. But then he pulls farther ahead and joins 2 others.
Near Colfax I cross the overpass and start eating my bar. I've been drinking Sustained Energy, Heed and water. Bubba from Bicycle Emporium is calling out splits and says, "You're 15th". Ok, I've got to move up 5 places. I'm already anticipating the crazy fast descent to Bear River and the brutal climb up. I hope to gain on them in the tricky descents and catch them on the climb.
The first roller-coaster descent on Tokoyoma Rd goes well and then bombing down to the Bear River.. I hit a bump and hear a weird noise. It's enough to lose some confidence and slow down. I know the Lord has bigger responsibilities for me than racing so giving up some speed is ok. On the last corner I remind myself over and over.. "fight for the turn, don't let it go" because that's what I did wrong last summer when I broke my ribs.
I get through fine and there ahead I see 4 riders now! On the steep Plum drive I push it and pass all of them. 11th place now! This is great. I keep pushing the corners down to Placer Canyon Rd. But on the long stretch up to Weimar, the guy in my age group, #27, passes me again and I can't hang with him.
I chase him through Applegate and just about loose sight of him by Placer Hills Rd. I drink and prepare myself for the 5mi out-n-back. I've practiced this and hope to catch up. Here I can see all the leaders coming back (except for the first 2 already gone through). My seats getting sore and my legs are getting tired but I try to keep speed without pushing hard on the pedals. #27 is still same distance ahead after the turn. Even with a good surge coming back down, he still keeps out of reach.
I see Doug again and he tells me "Come on, Soares, get up there". I do want to get 2 more places ahead, but I may have to make that up in the run. I hope I can. Into Auburn, down Lincoln. The officers at the Hwy 49 intersection don't see me and continue letting cars through so I slow down. Not a big deal, better safe than sorry.
I finish through the neighborhoods well. My friend, Doug, from work is patrolling the Mavic corner. I hope no one goes down on the gravel. 12th place, 3:07:08.
T2
Good transition and I come out ahead of #27 in 11th place
Run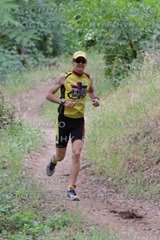 The knees are sore. Tough even going down. This is a great trail going out. It won't get really hard until the climb up the Dam Rd. There's not really anyone around me. I can't wait to get to Murphy's Gate where the FCA Endurance aid station is. That will help me for the next part of the run. Just about there, with no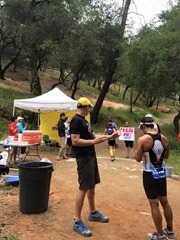 one around, I take a quick break. I reach the turn-around aid station and they have banners that say "Press On!" and lots of cheers and water. Great! But then I see all the runners behind me! I'm running scared now. A short younger guy goes by. Then a tall guy in my age group! He asks calmly where the next turn is. I try to stay with him but can't.
5 mile. About to head way down to the bottom when I drop a Hammer Gel. I stop and go back up to get it. Ugh. As I start down I'm happily surprised to see a course change - we turn right on the Railhead Trail! Thanks, Lord. My legs were hurting and this means less climbing later. I love this trail, too. But then I hear #27 coming up behind me. I try to hold him off but he passes me on a climb. Wow, this guy can bike AND run! Ok, now I'm 14th, with at least 2 guys ahead in my age group (anticipating more like 3 or 4).
It's ok, I'll make up ground on the Dam Rd. A grueling 1 mi climb almost straight up. In 2008 I climbed this wall and used Robin's pending childbirth as motivation. I new if Robin could go through natural childbirth, I could push through the pain of this hill. I run strong but #27 still pulls away. I want to give up and walk, or really slow down, but I feel the Lord telling me, "always give your best, you don't know what will happen, things can change.".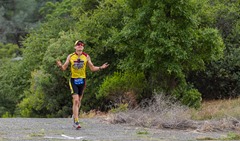 7 mile. Running along the gravel road above the dam footings. Again I see the leaders coming back. I'm really tired and not looking forward to "Stu's Loop" through the brush at the end. Nearing the end of the road, there's no one ahead but then I see a turn-around. Thank you, Lord, again, we don't have to do the "Stu's Loop". But I make the turn on the inside of the cones and ask the volunteer as I'm running away if that was right. He says it's supposed to be the outside so I go back and do it again, right. Not a big, deal, right? But looking up, there's Lee McKinley. Wow, how did he get there so fast? He's a good friend but I'm going to do everything possible to not let him catch me. But after a mile he does. We talk a bit. He's got some cramps and I've got a sore hamstring. Then he pulls ahead.
Again, I want to slow down, give up on pushing hard. I'm 15th and losing more ground than gaining. My hamstring is on the verge of going out. But the Lord reminds me that I never know what can happen. Just give it my all and use the hamstring to remind me to look to Him every step of the way.
8 Mile. Climbing up to the Maidu Aid Station, Lee is far ahead, and there's my girls, and Robin and all my friends! Anna, Ariel, Ben and Ellie all come running down to meet me. Can't beat that. Adam hands me an orange and that really hit the spot. On the canal path now my hamstring feels a little better. I keep a good pace all the way back to the race finish line where I get to head out for 1 more 2 mile loop.
10 Mile. I've got to push this downhill, then 1 climb and then a 1 mile sprint to the finish. Going by the aid station again is great! I get another orange. I've finished my 3 gels. The weather is perfect and not too hot. And there's a couple athletes walking ahead. Yep, you never know what might happen.
I pick it up, my best pace yet, all along the canal. Someone might be catching me and somenoe might be just ahead. The last drop down from the canal is a fun winding trail. But I focus all my attention on not tripping. Watch the rocks & roots! I think I see each one of them and am confident I'm make it when.. whack! Something trips me. I'm flying through the air. I look down and see I'm heading right for an exposed flat rock. I'm going to break my collar bone. That's the one clear thought I have before I hit. Boom. I roll. Then slowly get up and immediately see if my arm still moves. It does! Thank you, Lord! I dreaded going to the hospital again so much that now I'm elated. There's nothing wrong, just a bruised arm. Now, with adrenaline and a huge appreciation for the Lord's help, I run up the final hill and finish with a 1:43:33 run, 5:27:19 total time and 15th overall. I'm so happy to be done! Thank you Lord! Later I find out that 1 of the guys ahead of me was a relay and the other, #27, was the 1st in my age group. Also, the local paper listed the top 25 so I did make it after all. God is always right, you just don't know what will happen.
| | | | | | | | |
| --- | --- | --- | --- | --- | --- | --- | --- |
| | Race | Time | Age Group | Place | Swim | Bike | Run |
| LEE MCKINLEY | TH | 5:24:33 | M50-54 | 2nd | 33:42 | 3:08:13 | 1:37:28 |
| TROY SOARES | TH | 5:27:19 | M45-49 | 2nd | 32:36 | 3:07:08 | 1:43:33 |
| | | | | | | | |
| DAVE CAMPBELL | INT | 2:39:01 | M56-59 | 1st | 24:33 | 1:26:06 | 43:32 |
| ELISE WINTER | INT | 2:42:19 | W40-44 | 1st | 25:11 | 1:24:54 | 48:55 |
| FLOR HODGES | INT | 2:43:57 | W25-29 | 1st | TBD | 1:25:59 | 48:53 |
| ROBIN SOARES | INT | 2:49:05 | W40-44 | 2nd | 25:00 | 1:29:27 | 50:02 |
| TROY OUTMAN | INT | 2:57:24 | M45-49 | 6th | 30:08 | 1:32:53 | 49:40 |
| KATY ROSANE | INT | 3:11:45 | W50-54 | 3rd | 29:59 | 1:39:18 | 57:31 |
| FARAH AVASARALA | INT | 3:20:40 | W40-44 | 3rd | 34:11 | 1:48:04 | 52:24 |
| PETE HRADECKY | INT | 3:26:29 | M50-54 | 6th | 23:16 | 1:47:56 | 1:05:04 |
| BRET ROSANE | INT | 3:34:06 | M50-54 | 7th | 36:03 | 1:50:38 | 1:02:20 |
| MIKE PIRNAT | INT | 3:4335 | M50-54 | 8th | 30:18 | 2:03:04 | 1:04:32 |
| CONNIE WILSON | INT | 4:25:42 | W65-69 | 2nd | 33:33 | 2:13:01 | 1:29:21 |
| | | | | | | | |
| TRIXIE BRADLEY | MINI | 1:18:23 | W40-44 | 1st | 11:45 | 35:49 | 25:55 |