Date/Location:

June 29, 2014 – Pleasanton, CA

Distances:

1.5km S - 40km B - 10km R

Time:

2:27:37 (29:46 - 1:57 - 1:05:42 - 1:27 - 48:45)

Place:

17th / 56

Teammates:

OLYMPIC: Chad Moore, Dale Jackson, Dave Campbell, Dave Leroy. FCA TeamMates – Carrie & Steve Chavez, Flor Hodges, Karen Nickel.
SPRINT: David Slothower. FCA Teammates - Christy & Cory Floyd, Clyde Floyd, Steve Corrales, Timothy Hess.
Shadow Cliffs Regional Park in Pleasanton is a great race venue. A beautiful lake, at the perfect temperature. A bike course that isn't hard and a run on meandering trails with some shorts climbs. It also brings back memories from the Tri-4-Fun races held 4x a year here while I lived in Silicon Valley. The greatest part of this weekend, though, is being with my family and racing with so many of our FCA TeamMates and Silicon Valley friends!
For me, this race is a test. 4 weeks ago I crashed at the Auburn Omnium circuit race at Montserrat, breaking 6 ribs and puncturing my lung. I thank the Lord for the steady, fast improvement I've had each week. Biking is pretty comfortable now, but running is still difficult, and swimming is the hardest. A few days ago I swam 500yds. Today I'll have to do 1.5 km. That's the part that concerns me, and my daughter, Anna, who doesn't want me "to drown". I'll be ok, it's just a question of how often I'll have to stop and float in my wetsuit for a moment. A few people keep telling me the hardest part will be getting the wetsuit off but I really don't think that will be a problem at all.
Race announcer, Nick Tuttle, alerts everyone to the FCA pre-race prayer on the beach. A group gathers round and we pray for athletes in general and specific needs. It's really great taking some time before a big event to talk to God, remembering who makes all this possible and who helps us through all hard things. Others have told us at the FCA booth that when they've seen athletes praying before a start, it makes them stop to say a quick prayer themselves.
I carefully get in the water and breast stroke to the deep water start. The added compression from the wetsuit around my torso feels good. Water's perfect & the course is set up to avoid swimming into the sun. Going to be great.
Swim
Go! It's nice not having to sprint at the front. I can go at my own pace. It feels good. Better than I was expecting. Love the flotation the wetsuit gives. I just relax and try to keep good form so I'll glide more. It's sore pulling through with the right arm so I emphasize the left. The breathing is slightly limited but it's not a problem if I remind myself to relax and not force it.
My goggles are fogging, but I'm glad to see the giant yellow shape of the buoy come into view. 1/2 way across the 2nd leg of the triangle, I look at my watch and am surprised to only see 16 min. Maybe I can get in around 25! Normally I'd swim 23-24 minutes and was expecting to take much longer this time. This motivates me a lot. After the final turn I get a little more excited and find my first draft. It helps not having to navigate, even though he's zig-zagging. It's getting more difficult to pull through and breathe but I'm excited to get a good time. 25, 26, 27min.. it's longer than I thought to the shore. Finally I carefully stand up. 29:46 swim split, 20th in my age. I did it! Anna is excited, too, and runs with me up to the transition area.
I usually take off my wetsuit right at the water's edge. This time, with catching my breath, I leave it on all the way to transition. Shouldn't be a problem... Ugh! Can't get the sleeves off! I can't believe everyone was right. It takes me probably 20 secs longer to get it off. Factors were letting it dry as I ran and not being able to jerk my arm out.
Bike
Now I'm on my bike, the best part! I climb up to the road with my feet on my shoes. Jim Silk, who started 8 min behind me in the Aqua-bike division goes by while carefully letting me know. On the street I finally, carefully, get my feet into my shoes. Now.. let's push it! Let's try to catch Jim. It feels good. I thank the Lord for allowing me to race my bike again so soon.
I'm thinking of keeping my feet light on the pedals. There's no discomfort to the rib muscles. Onto the main road, Isabel, and North to the new bike course. I pass Jim Silk who says, "I knew you'd be back". Then I pass Dave Campbell, telling him, "Jim is coming for you." They're big time rivals, even though they're in different divisions today.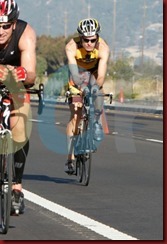 The road turns rural and gradually climbs into the hills. I hear a kid's bike bell, "Ding, ding.." Jim passes me and we both laugh. A cheap bell, on an expensive bike, to alert riders ahead. It's a great idea to keep from yelling "On your left!" all the time.
I'm doing real well up the hill. It's hard to breathe deep but I do it periodically just to stretch out the lungs. I think the "light feet" technique is keeping my heart rate and breathing down. I gladly make the turn-around at the top and enjoy breathing easier coming down. I keep the intensity up, I'm really hoping to have a competitive bike split. I look for TeamMate Karen Nickel and friend Chad Moore on the way down. I drink a lot and stay focused - definitely can't have another bike incident now!
Back onto the main Rd and over the Hwy 580. I like the new course but am concerned about the amount of law enforcement it requires to control the large intersections and on-ramps. Now we climb another slight grade, which I push well, and then turn down a fun road coming back to Isabel again. I'm getting tired. I calculate my average to be around 22 something. Seems low for how fast I feel. I put one last big effort on Stanley into the wind and do real well. And then coast down into the park for the run. Oh boy. Bike split was 1:05:52, 22.7mph ave, 11th in my age.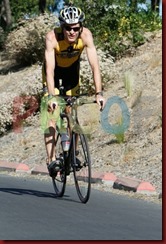 T1
At the dismount, Francie Campbell sees me and adjusts her repeated warning to, "Dismount at the line.. very carefully!" She knows getting off the bike is still hard for me. I'm careful and with a smile I jog into transition. This is so cool to be racing again and the body doing well.
Run
Starting the run my family here giving me great support! Anna runs quite a ways with me giving me advice and encouragement. Onto the gravel trail. I take small steps because the jostling is still uncomfortable. I try to relax as much as possible so I don't strain my back from being tense. I encourage others going by. A couple guys are already on their 2nd lap.
Mile 1: 8:55. Great. If I bring it down some, I can break 2:30 at the end! My friend, Chad Moore, is here from Texas. He's a great guy I've known since middle school. We played baseball together. He's been improving in triathlon lately and told me his goal is to break 2:30 today. That's where I got my goal from. I really hope he comes by so I can cheer him on. He will be running 7:45's so should be catching up to me.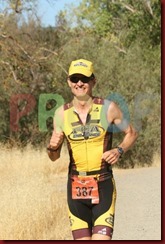 Dave Campbell goes by. He's always so fast on the run. The hill up to the turn-around is steep. I slow but don't stop running. Great. Going downhill is fine. I'm just careful not to fall. That would bite.
Mile 2: 7:58. All right! Along the creek, through the trees, excited that I'm doing it and it's not feeling bad, actually getting better as I go. A friend, Steve Woo, goes by and excitedly tells me this is his come-back year after 6 yrs off. That gets me motivated, too.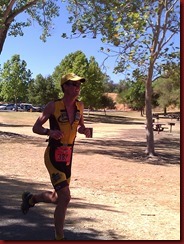 Mile 3: 7:56. At the end of the 1st lap I come through the finish area. Many friends are cheering. Robin & the girls are in full support. Ariel has a great sign she made for me and flashes that big smile. Even Karen's daughter, Ellie, is cheering for me. Robin asks my pace and I'm happy to finger "8" to her. She's happily surprised as it's faster than we expected.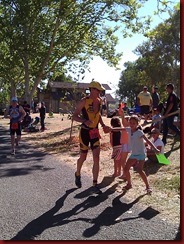 The 2nd lap feels better than the first. I'm taking a little bigger steps. I'm drinking water and sports drink.
Mile 4: 7:47. I take a Hammer Gel. I keep looking for Chad but don't see him. He can still do it if he catches up because I'm on track to break 2:30. One more time up the steep hill. I go by a 56 year old guy who looks like 40 and is built like a Marine. He says, "Praise God", when he sees my FCA kit. "God is good!"
Mile 5: 8:11. I'm pushing. It's like the last mile at the track.. and maybe I can pass someone. This has been a great day. Hard enough to stretch me and loosen up the tight muscles, but not too much to do any damage.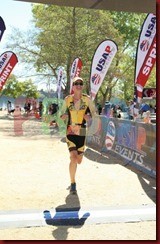 Mile 6: 7:56. There's the finish, woo hoo! I finish in 2:27 and so thankful to the Lord for letting it go so well.. better than expected. Run split 48:45, 23rd in age. The announcer mentions my "recovery from the broken ribs a *couple* weeks ago" instead of 4 weeks ago. Now that would be crazy.
Afterwards I feel tired but the ribs and torso feel fine. Better than they have in days. I'm so glad I did it. I was 17th place which is great but also indicates how far I still have to go. I hope, if it's God's will, to continue back up to where I used to be, get in some really big rides and runs and be ready to give my best at the Lake Tahoe Ironman in 12 weeks!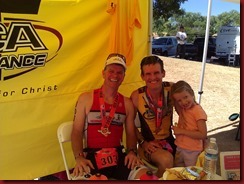 I'll do my best, try to put Christ first, and then the rest is up to Him.