April 30, 2016 – Lake San Antonio, Bradley, CA

Swim 1.2M – Bike 56M – Run 13.1 (2.2m + 11m)

5:29:08 (35:33 – 4:28 - 3:21:40 – 2:00 - 1:51:15)

1st/9

Teammates:

TeamMates: Karen Nickel, Lori Bergenstock, Suzanne Hartley, Caryn Galeckas, Scott Hodson, Stephanie Ganzenhuber, Kris Soderstrom, Doug Soderstrom, David Fraser, Jon Cartmell, Robin Soares, Reynold Lewke, Brandon Lewke
Friends: Tana Jackson, Mark Pietrofesa, Darrin Gil
This is my 18th year attending Wildflower and my 16th year racing it. Can you guess what happened two of those years? (= Anna and Ariel have literally grown up here! They are so grown up now! Amazing on how time flies!
Thanks to FCA teammates Stephanie G and Lori Bergenstock watching the girls, Troy and I are able to once again both race the Long Course. We ride out early to rack our bikes and catch the shuttle to the swim start. This is the third year there is no water at T1 and we have to swim on the other side of the park and run to T1. Once Troy and I arrive at the swim start we find a quiet place to do our quiet time with the Lord.
Troy has the great Julie Moss annouce our FCA prayer time. We have our FCA Teammates (Karen Nickel, Lori Bergenstock, Reynold Lewke, Scott Hodson) and Tana Jackson join us. Now, let's get this party started!
A last minute bathroom break almost makes me late to the start of my wave. I'm able to jump in and swim a little bit before lining up with the amazing Kathy Winkler and Gold Country Tri Founder, Tiana Rockwell. It's a long straight swim out and back.
THE SWIM
Ready, set, go! I get a great start and am able to tuck in behind what seems to be the first pack of girls…pretty sure that Kathy Winkler is long gone though. I follow them out to the first buoy.
It's really hard to see the buoys because of the sun. I soon get separated from the pack and look up for the buoy. I see it and head towards it. Soon I see a kayak pull up alongside me and I see the person is pointing towards my left. I look over and sure enough there is the correct buoy. I was swiming to the opposite side of the course! Oops, that could have been bad!
I'm now trying to chase the girls from that pack. They are spread out from one another. At the final buoy going out, I almost catch up to one of the girls. The turn around is short and we are heading back. I'm thinking about pushing the water and keeping my head mostly down to maximize distance per stroke. Unfortunately I bump into 2 male swimmers as I'm doing this. I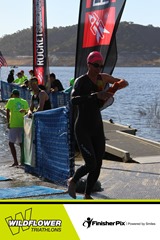 try to say sorry to them but they cannot hear me. Okay, I better pay attention!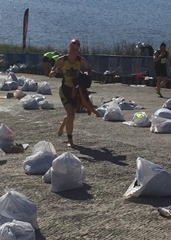 I catch one of the girls and make an effort to catch another. Almost done and so close! One last push and I'm getting out of the water right with that gal! I take off my wetsuit at the bottom of the ramp and head up to my gear. Betsy Davis runs over to give me a quick hug. So grateful for Terry and Betsy and their wonderful race! Karen is nearby and takes my picture. I give her a thumbs up.
THE RUN
The boat ramp is long and steep! This is a fun run for me. I will miss it once the water comes back…but I'd much rather have the water! I get into a good groove once on the trail. Soon we dip back down into the "lake" and loose sand. It's hard to move here but I'm still able to make some ground on a few folks. I see a girl in the distance. Maybe I can catch her before transition.
I'm feeling a bit of a chill and wondering if I should put a jacket on for the bike. Hmm, not sure.
Keeping my heart rate at or below 160 is a bit of a challenge here but I still try. Getting closer to that girl and the bike. I hit the boat ramp and my heart rate soars. I slow it down and the girl pulls away. I get to my bike and decide to skip the jacket…cannot be that cold out there with the sun shining. Off I go!
THE BIKE
I struggle to put my feet in my shoes which are already on my bike. One falls off and I have to stop to put it on. I pull the other shoe off and put it on as well. It seems like wearing socks and doing this technique just doesn't work for me.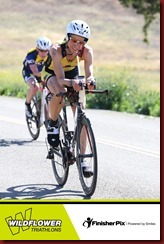 Going up Beach Hill I see the scripture signs Troy put out. These remind me this race is for the Lord's glory and not mine.
As soon as I make the right turn out of the park, I'm hit with a head wind. Oh boy, this is going to be tough ride! I absorb the great messages from the scriptures Karen put out on the bike ride. It helps me continue to keep my eyes and head on Him!
Mile 10. The wind is howling in my head and my legs feel like they are climbing even when on the flats. I really wish Troy had taken my front deep rim wheel before the race. This wind is going to make things unstable on downhills. If Troy comes by and offers to swap, I will definitely stop!
I find myself feeling discouraged…"you are slow", "Troy is going to pass you earlier than last year", "you didn't train hard enough"… yet in all of this, I hear the Lord's voice whispering encouragement. Thank you Lord!
Mile 20. The wind still seems to be pushing on me but the annoying howling has improved. Troy passed me here last year but he hasn't yet…I'm sure he will soon and then we can switch wheels! I'm starting the five rollers and remember/implement Troy's advice to push the downhills and recover on the uphills.
Mile 30. Finally feeling like I'm in a good grove and my average speed ticks up. Still no Troy. I imagine negative things like he has crashed or had some sort of technical issue. God says, maybe he stopped to help someone…could be!
I make it to the end of Jolon Road and see a bunch of Cal Poly students. There is no aid station, they are just cheering…and doing push ups to keep us motivated. These kids are so awesome! Once I turn I can feel the wind a little bit at my back…yeah!
Mile 40. Time to climb! Here comes Nasty Grade. I'm so very glad I didn't wear the jacket. It would have been very hot on this hill! The hill doesn't seem as hard and long as years past…maybe it's because of a tail wind?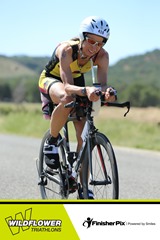 I make it to the steep downhill. I'm a bit nervious decending with this front wheel. I just hold on tight and recite scriptures of God's promises to rescue me, protect me and keep me from all harm… and He does! I make it to the bottom with only a few squirley but not very scary moments. Thank you Jesus!
Mile 50. Home stretch now! And the best part is there is a slight but noticeble tailwind! No Troy but I'm not worried…just hopeful I'll see him on the run.
Into the park I go. I enjoy the scriptures and get my brain ready for the run. Just before descending Lynch Hill I see the Gold Country Tri Club cheering for me.
Down I go and into transition. I'm feeling ready to run!
THE RUN
Okay, just 11 miles left to run! Sounds a little less daunting! I really hope to see Troy on the run. Glad he didn't meet me here at T2…that would mean his race is over.
As I head out on the road a gal shouts "don't worry you'll get those running legs!" Yeah, the legs don't feel great yet.
Mile 1(3) is 8:50. A decent start. This is a B race so I'm going to be careful not to burn up all my energy and suffer. Where is Troy?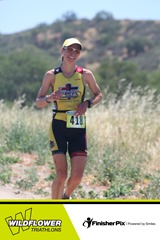 Mile 2(4) is 8:36. Feeling better! A guy goes by with a 52 on his leg but doesn't look it. I tell him that there is no way he's 52 and that he must be in his thirties. He smiles and thanks me for the compliment.
Soon I'm hitting the heart of this run which is off road. It is hot and dusty here. I look back for Troy but don't see him. Within a minute I hear him shout "Robin!". Yeah! I wave, smile but keep going. Now it's all about staying ahead so we can see each other longer and to make him work for it (=
Mile 3 (5) is 8:26. Great! As the trail juts in, I can look over and see him. I've got a good gap…gotta keep it!
Mile 4 (6) is 8:51. Feeling good and staying ahead! The first big climb is here. I go through an aid station and get splashed…nice! All I need to do is keep running even if it's slow. The first climb isn't too bad. I see Tiana's husband, Sean, at the top waiting for her. He tells me good job and I tell him I'm impressed he mtn biked out to this remote spot.
Here comes the second hill. Ugh, this is tough!
Mile 5 (7) is 10:20. Still holding off Troy. I hope we can finish together like last year! Up and over! I run down the steep hill and try to let loose but it's hard. As I hit the bottom, I hear Troy encouraging me. I look back to see him at the top of the hill. Got to stay ahead!
Mile 6 (8) is 8:41. Still feeling strong and motivated to push! I see the scripture Troy put on the trail. I know Troy is going to read it out loud which is so cool!
MIle 7 (9) is 8:44. Heading into Redondo Vista which is the main camping area. I'm surprised I'm still holding off Troy. I push up the hill and down past our campsite…no one is there as expected.
Mile 8 (10) is 8:11. I'm off the trail and heading through a college team's "aid station" consisting of alcohol shots. I nicely say no and know Troy's response will be the same. He is so close now!
Mile 9 (11) is 8:05. I make it to the road. One more tough mile and then the last mile is a freebie! I see two girls ahead of me. Another thing to motivate me! I pass one, go after the other, and am able to pass her, too. Troy is soooo near now! It looks like we'll be meeting right before Lynch and finishing together like last year. Wow God, what a nice treat!
Mile 10 (12) is 8:28. And Troy catches me!! Yeah! "So we meet again, Soares!" I say. Last mile! We see a girl ahead…"let's try to catch her Troy!" We push hard down the hill..what a thrill. At the bottom she is long gone but we keep pushing anyway! Here comes the long finish chute. Will the girls be waiting? We round the last corner and there they are! Yeah! We run in together and join hands right at the end. Thank you Lord! What an awesome day!