| | |
| --- | --- |
| Date/Location: | August 23, 2015 – West Shore of Lake Tahoe at Ed'ZBerg Sugar Pine State Park, CA |
| Distances: | Swim 1.2m – Bike 56m – Run 1/2 Mara |
| Time: | 5:20:46 (33:54 - 3:37 - 2:59:26 - 1:14 - 1:42:36) |
| Place: | 2nd/11 M45-49; 9th OA |
| Teammates: | |
Prep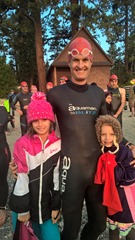 The family and I arrive at Sugar Pine Point Part at 5am. It's dark and cold. Yesterday we had a fun family time arriving in Tahoe City and going out to dinner. I was exhausted, but managed to get a 4mi run in even thought it took 2mi just to loosen up. I slept good.
The memories from last year's race here at the Lake Tahoe Triathlon are really helping me this time. I'm prepared for the cold, the hills and the run, at least mentally.
Last year I was so cold just preparing my transition, this time I have many layers. On the beach with Robin and the girls, I don't do a warm-up swim this time. The course talk is 10min and last year after my warm-up, I stood there and froze.
With a prayer, and kisses from my family, I wade out to the starting line.
Swim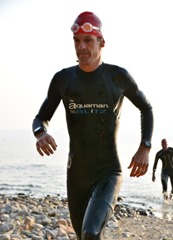 Go! I know it will be hard to breathe so I try to remain calm. I'm not feeling much energy to pick it up and therefore miss many drafts. In fact, all the way to the far buoy I don't really get any draft. As usual, the water is perfectly clear and it's fun to watch the sand and occasional boulder go by underneath. After the turn it's difficult to make out the best path to the finish. I finally stop and clear out my goggles. I'm away from anyone so, again, no draft. I'm thinking this is going to be a very slow swim. I'm tired. Finally, near the exit and see others trying to balance on all the smooth "ankle-breaker" rocks getting out. My head is disoriented with lack of oxygen, fatigue and just getting older probably. Finally I make it over the rocks and start a slow run up to transition (33:54, 13th). No pep at all and breathing hard. But just do what I can. Transition doesn't go smoothly. Wetsuit gets stuck on timing chip and Garmin. Struggle to get shirt and jacket on (my sleeve-trick back-fires). And I put my helmet on over my swim cap and goggles. Finally all straightened out and off on the bike! (3:37 transition)
Bike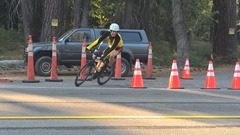 I pull my jacket sleeves over my numb hands and look forward to where the road breaks out of the forest to get a good dose of warm sun. I start counting the riders already coming back. I'd like to be top 10 at the end. At the turn-around I see Anna on her scooter and Ariel, too! It's so heart-warming (and I can use the warmth) to see them cheering for me. There's Robin right at the turn. She such a great support. I'm warming up, a lot sooner than last year thanks to not freezing before the swim start. I'm 15th on the bike. After the 2nd loop of the same course, I'm up to 13th.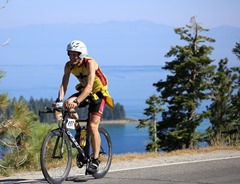 Now we head south to the hills around Emerald Bay. Knowing what to expect helps. At the first hill, I pass another guy and one more on the big hill. At the top (I'm currently in 1st place in my age) I'm getting psyched up for the treacherous hair-pin turns on the descent. A truck passes me and starts to slow for the turns. Right when I start to get frustrated that I have to slow for this truck, bang! I hit a crack in the road and pop a tire.
Ok, I'm going to make a quick tire re-pair. I jump off (and notice my right ankle is sore), rip off the front wheel, but just before letting the remaining air out I notice that it's not flat at all. It's the rear tire! Ok, pull of the rear tire, let the air out, take off the tire, grab a new tube… wrong stem size, won't fit. Ok, patch the tube instead. It's a snake-bite, 2 holes. I patch it and hope it holds. Put it back on to pump it up.. except I have the wrong non-threaded cartridges. I can't puncture it by just pushing hard. Staying calm. I will need help from another rider. I ask a couple Olympic Distance athletes heading to the finish. Finally a woman says she'll help. So nice of her! However, we're on a dangerous section with cliff's on both sides so she has to ride another 200 yds before stopping. We both waddle towards each other in our bike shoes and I thank her for the cartridge.
I pump it up, praying that the speed-patch will hold during the treacherous descent. After 15min, I'm off!
I push hard, hoping to gain ground on my competition. I'm drinking my Vitargo. Coming back, I remember gaining ground on others in the last few hills so that is motivating. I finish up as fast as I can, in just under 3 hrs. (2:59:26, 27th bike)
Run
After a 1:14 transition, I start the run and notice my right ankle is really sore. I must have rolled it coming out of the swim. I have to favor it quite a bit and the soft trails cause it to roll out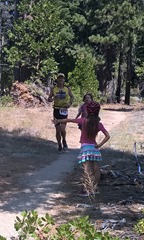 making it worse. At 1 mile I see Robin, Anna and Ariel! They are such great supporters. Anna runs with me a ways. I ask for prayer for my ankle. It seems pretty bad but I will keep doing whatever I can and trust the Lord that He has a plan.
I'm tired and the thought of 13miles is daunting. But just 1 mile at a time. We head into the beautiful state park, onto fire roads. Weather is perfect. I felt God give me strength last year in the out-n-back we do so I'm looking forward to that section. That helps lift my spirits.
On the out-n-back, I see some of the leaders coming back, including a girl that started with me and now is a mile ahead. Another guy, Dan Streetman, who I've raced against multiple times, sees me and says, "Was bummed about your flat, but see that it's not going to make a difference" That is really encouraging and makes me feel I'm coming back strong. I ask the official at the turn what place I'm in but he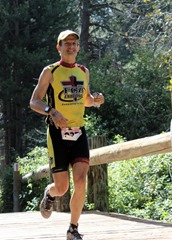 doesn't know. With the other races going on and multiple loops it is impossible to tell. I get motivated and push and hope to eventually catch up to Dan.
Again the Lord is helping me, giving me goals to shoot for and good thoughts to get me through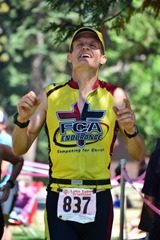 the long miles with exhaustion creeping in. But now it's only 2 miles to go. It's a really fun trail but hard to enjoy as my body is barely holding together. Just trying to keep from falling off the trail. With ½ mile to go, Anna runs with me and pushes me "come on dad, push the hill, you can do it!" She really makes me dig deep and I do push to the finish. Race announcer, Courtney Cardenas welcomes me home. (1:42:36, 12th run)(5:20:46 overall, 3rd place a/g)
Thank you Lord for getting me through the race! I suddenly realize that I forgot to do quiet-time (spending time with God before getting ready for the race). That's a promise I need to keep. I'm exhausted and sore all over. The ankle really hurts. Robin and the girls take care of me and we also get to hang out with World Champion, Jamie Whitmore and Courtney Cardenas. My swim and run times were similar to last year and the bike probably would have been faster. I got 3rd place. Very encouraging performance leading into Ironman Lake Tahoe next month. A SO thankful to the nice woman that stopped her Olympic Distance race to walk back and give me a $5 cartridge so that I could continue my race!