| | |
| --- | --- |
| Date/Location: | August 2nd, 2015 – Hearld, CA |
| Distances: | 1km S - 40km B - 10km R |
| Time: | 2:11:46 (25:13 – 1:04:42– 41:51) |
| Place: | 1st/12 |
| Teammates: | Dave Campbell, Troy Outman |
Coming off of the exciting ride at the Vineman Full Aquabike, I'm excited to try a different riding style at todays Olympic distance race (1.5km S - 40km B- 10km R). Yesterday, before arriving and setting up for camping, Robin dropped me off 13mi away so I could practice on the bike. It went great! Riding differently (Thanks, Lord), like I did on the 2nd loop at Vineman, I'm able to push a little harder and the wind and bumpy roads doesn't bother me as much.
The girls are excited for their triathlon races, too. They practiced riding Friday and are coming off a swim season and a recent 5k race in San Diego. So they feel ready for the swim, bike and run.
Robin got us a nice camp spot and it she and the girls had it pretty much set up by the time I rode in. Dinner and then to bed. But, again, some other campers are failing to abide by the 10pm quiet hour. Finally, about midnight, I get up and talk to them and they quiet down fortunately.
After some hearty oatmeal (Thanks, Robin!), the girls and I ride over and set up transition. Fellow teammate, Cliff Appleby, reserved a rack for FCA, so Troy Outman & I set up there. After a run warm-up we all head down to watch the Kids Triathlon.
Anna & Ariel look comfortable and happy warming up in the water waiting for the start. In the middle, Anna gets near the front while Ariel stays in the back. Anna gets through it pretty quickly while Ariel gets jammed up a little more, even getting kicked in the nose. Ariel comes out with a minor bloody nose but never stopped. I see them both out onto the bike and now have a race myself to start..
Troy and I pray at the water's edge and then warm-up. His shoulders have been bothering him. I really hope they loosen up. He's been practicing a lot in hopes of having a faster swim. I, on the other hand, haven't practiced much, but did have a good enough swim at Vineman. The water is warm. My main concern is staying cool. While waiting to start I keep filling my suit with water to stay cool.
Swim
Go! With the adrenaline, I start off pretty quick. Try to grab a couple drafts but they're too fast. At about 150yds I latch onto a guy going by and it's perfect! Just fast enough I can hold on. All I have to do is watch his feet and periodically let some water into my suit to cool me off. Around the 1st buoy into the long stretch. Getting tired but focusing on the feet ahead helps make the buoys go by faster. I'm thinking this could be a good swim. Having a good draft makes a huge difference. Almost to the final turn, I can tell my draft guy is slowing down so I pull alongside and pass. Finally getting ahead at the buoy. I keep pushing otherwise he will get on my feet, rest, and pass me back at the end. Ahead I see another green-cap guy. I think I can make it.. I push hard for a couple minutes... I want to ease up but tell myself, "when you get to his feet, you can rest". I make it! And now rest a little while following him in. He's picking it up for the final stretch and I do my best to stay right with him. Great swim! [25:13, 17th o/a]
Bike
Transition went well and I'm out with Sean Rockwell (Gold Country Tri Club) right ahead of me. He gets in his shoes quick. By the time I'm in my shoes he's already 300 yds ahead. Here we go! I'd like to try to catch him. I'm pushing harder than usual. It's a tail wind and I'm going to use every bit of it knowing it will be harder coming back. Thank you, Lord, I'm riding well. The Vineman race experience really helped. But, as well as I'm doing, Sean continues to stay 1/4 mi ahead. 1/2 way to the end, I'm at 25mph ave. Already drank most of my Hammer Head and breathing and working hard. Don't know how I'll maintain this coming back but that's not to be thought about now. Keith Hanson (age group above me) goes by. Man, can he ride. I pick it up and try to stay with him. That would be an accomplishment.
At the turn-around, and into the wind, I've made up ground on Keith and could pass him soon. I'm no longer frustrated by the wind since Vineman. Pushing hard in this new position I just feel more confident in the wind. As well as I'm doing, Keith still pulls ahead. Another guy goes by and also gets quite a bit of distance. I see Troy Outman coming the other way, not far behind, and am glad because it means he had a good swim. I keep pushing, thinking I'll bridge the gap eventually. Wishing I had more to drink and wondering where those cooling towers are (so we can be almost done). Speed down to 24mph ave. Finally, some new, smooth road. Must keep pushing to maintain average.
We turn into the park. It's a climb but I push all the way up, passing a guy from the earlier wave. Across the bridge, over the speed bumps, and a fast dismount (losing 1 shoe again) and I'm done. [1:04:42, 7th o/a]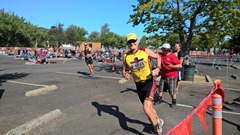 Run
T2 was a little rough but I'm off fast knowing this bike-to-run leg is important to master for upcoming Ironman Tahoe. I really want to be able to run well off the bike. It's good motivation. The first mile is feeling good. Hamstrings don't hurt yet. And I catch Keith (who has a hamstring injury). Being thirsty already, I'm sure to drink a full cup at every aid station. Up ahead, amongst the rolling fire roads, 4 guys are strung out in perfect formation to give me goals to shoot for. I try to descend quickly, and transition into the ascent on each roller. I finally pass another guy but all the others stay far ahead.
I see some coming back from the turn-around and encourage them. The turn comes sooner than expected which is nice. But then realize the turn is at 2.5mi, not 3mi. like I thought. My hamstrings started getting tight at 2mi but if I focus on planting my left foot and thinking that each step "massages the pain out of the hamstring" it seems to help. Onto the trail, and the uneven, sometimes slippery ground, I have to be really careful with the hamstrings. I don't see anyone ahead. I eat my 2nd Hammer Gel at 3.8mi. I keep reminding myself to run as fast as possible as someone ahead could be slowing down. Still don't see anyone.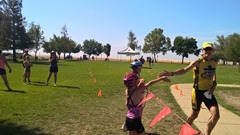 Finally, at 4.2mi, I see a guy ahead. He's moving fast but I'm determined to give it a try. At 5mi, I can see him way ahead at the aid station, stopping to get water. Ah hah! That means he's tired and I can gain some ground by going faster through the station. I get electrolyte drink at the station and charge ahead. It's now or never. He's 20 secs ahead and moving fast. I keep trying to pick it up on each roller. I have the thought, "What if he's 1st place, are you going to let that get away?" I'm going hard and wanting to ease up and then pass… but realize I just gotta go for it. I charge by with 1/2 mi to go. I actually hear Anna in the distance cheering for me as I do.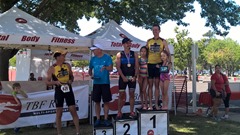 He puts a hand out for a high-five. Nice guy. Now I have to put a burst on or he'll pass me back. He looks like he has a good sprint. I don't plan to look back, just go hard. 1/4 mi to go and someone is clapping. I listen for a 2nd clap for him but can't tell how far back he is. A big sprint across the grass and, thank you, Lord, I'm done and thrilled with my race. [41:51, 5th o/a] [2:11:46 5th o/a, 1st age]. Turned out he was in 1st place when I passed him and he finished 22 secs behind me.
Look for Anna and Ariel's race stories as well! I'm so proud of them and thankful to Robin for all the great support.