| | |
| --- | --- |
| Date/Location: | January 22, 2012 – Roseville, CA |
| Distances: | 10K |
| Time: | 41:49 |
| Place: | 1st |
| Teammates: | Jim Kepfer, Karen Nickel |
I hope today's race will get me ready for the Davis Stampede 1/2 Marathon. God has provided all my needs yet I'm anxious because of a problem I'm having with my email. Troy and I have been writing race stories and sending them out for years. Recently, our new server has been sending this email multiple times to some of our recipients and filling up their inboxes. On the drive to the race, I saw that someone had received a dozen of the emails. I panicked. I don't want the email to be a problem, but an encouragement. I thought we had fixed it. We text a few friends hoping to confirm that it had stopped. The race is ready to start and still no confirmation. Clearly I have to leave it up to the Lord. Lord, forgive me for not trusting you and, instead, getting upset on the way here!
Troy, I, and the girls pray. I feel a sense of peace…He's in control. No matter what, it's going to work out. Thanks in advance Lord for that! As I jog to the start, I see a race beginning. Is that the 10k starting?! I tense up but am reminded that it doesn't matter, He's in control. I find out that it was the 1/2 marathon…thanks, Jesus! With a few minutes to spare, I thank my wonderful family for being here and I tell the girls I'm excited to hear how their races (Kids 1 Mile) go.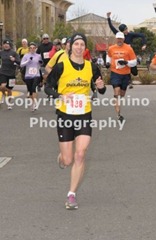 I line up and don't see many women. I hope to find some to pace off of. Ready, set, go! As I run past, I give Anna & Ariel a high five. Our sweet girls! A handful of guys take off and I try to hang with the back of their pack. My goal is to run faster than my planned 1/2 Marathon pace. Right away, I feel a bit tired but I stay hopeful that it will get better. We run down Galleria Blvd and mostly have the road to ourselves. It's a long stretch but soon we turn off onto the bike path. I don't know the course but hope to find the way staying with these guys.
Mile 1 is 6:39. Okay, that's good. I don't think I can go any faster. I pass a few guys and keep looking ahead. I catch a young guy and cannot make the pass stick. He surges ahead. I try to maintain my speed.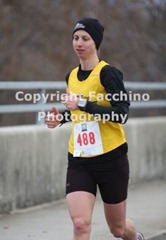 Mile 2 is 6:39. I've only gone 2 miles? Ugh, it feels like 4! I catch up to the kid again and he sticks to me. Well, I was looking for someone to pace off of and here we go. I won't complain. We see the leader already running back from the turn-around. We both agree that guy looks fast and is fast! We make the turn-around and chase after the guy in front of us.
Mile 3 is 6:42. This continues to be a challenge! I just want it to be done but I know that painful races like this are good preparation for the racing and training challenges ahead. I have to keep pressing on. Lord, help me just do my best and not let up! The kid and I catch the next guy. Thanks God!
Mile 4 is 6:32. Great! I'm encouraged in my pain and it keeps me eager to press on. We catch up to another guy. We are getting closer to Galleria and soon we are climbing up to it…ugh, this hurts! We get to the top of the path and then follow the 5K route on another section of path. One of the guys we passed surges ahead. I don't even try to follow. I've got to stay steady to survive. The young kid attempts to catch him and makes a great effort.
Mile 5 is 6:40. We jump off the bike path and hit a hill going into a neighborhood. Oh boy, on a good day in Auburn this hill wouldn't be bad, but it's a tough day today! At least we are all suffering together. As we descend down, the guy who passed us takes a wrong turn. In my exhausted state, it's not so clear what is happening. He realizes his mistake and gets back on track as we catch up to him.
I realize the course is headed straight for another hill! It's the only way back to Galleria. I prepare as we approach it. Here we go. It's not so bad but it's still an effort. Thanks God! I get to the top and can see the real challenge is the steady incline back to Whole Foods. Again, I ask for help on this last bit. The kid and I are neck in neck. If he takes off, I don't think I can react. Still, I encourage him to push hard and hope that I can follow.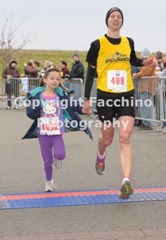 Mile 6 is 6:50. I'm happy with that considering the climbing! The finish is close and I'm excited to be done! The kid takes off with the other guy we chased. I cannot react but I keep trying. I see Anna ahead ready to finish with me. I grab her hand and we race off. "Come on Anna, you can do it!" We finish together and I'm happy and relieved. "Thanks Anna! It's so great to finish with you!" And, thanks, Jesus for getting me to the end!! It's been a tough day but a good one!
I soon find out that our email situation was minor and all is well…phew! Again, thanks, Jesus!
| | | | | |
| --- | --- | --- | --- | --- |
| Name | Age Group | Race | Place | Time |
| Robin Soares | W30-39 | 10K | 1 | 41:49 |
| Jim Kepfer | M40-49 | 1/2 Marathon | 5 | 1:37:14 |
| Karen Nickel | W30-39 | 1/2 Marathon | 4 | 1:46:20 |