| | |
| --- | --- |
| Date/Location: | 5/31/14, Loomis, Ca |
| Distances: | 40min (12mi) |
| Time: | 40min |
| Place: | DNF |
| Teammates: | Ron Fallon, Robin McKinney, Matt Marks, Jeff Brooks, Scott Kennedy and Curtiss Johnson |
The Omnium consists of 2 races this weekend, the Circuit Race at Montserrat and the Auburn Downtown Criterium. These races are my best chances of the season at doing well since they include a lot of climbing and technical descents. The other bike races we've scheduled this season come down to field sprints which are still my weak area.
I'm happy that I put in some good climbing practice last week around the Iowa Hill Loop. But I'm also coming into this race following a week of last-minute planning. I've been trying to do too much and have started everything less prepared. Thursday I rushed out of work without preparing a backup properly and showed up the next day with a week's worth of lost data. This morning I'm volunteering at the race until my start and that means no practicing on the course.
I'm using the new wheels we bought. I've been tentative because, although I haven't crashed in many years, this type of road racing is known for crashes. I haven't raced on them before but I have practiced a little in training.
It's perfect weather (unlike last year's 100+ temperatures). After my shift I warm-up on a similar section of road so I can practice hard turns at a round-about. I practice looking, focusing beyond the turn. I know that just a glance to the outside of the turn can mean disaster at high speed. After 10 turns I'm feeling good about it, and the wheels.
45+ 4's
My group isn't too big. Teammates Ron Fallon, Robin Mckinney, Matt Marks, Jeff Brooks, Scott Kennedy and Curtiss Johnson are with me. Ron was the one I followed closely in the Bariani race. But he admits a hilly course is not is strong suit. I pray and give the Lord my full attention, letting go of the million thoughts in my head.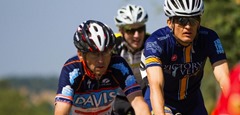 We start at the top of the hill and descent to the tight round-about. My strengths are the tight turns and steady climbs. My weakness is sprinting and saving energy for the attacks at the end. My tactic before was to lead into the turns, get a gap, and then rest while the group exerts energy to catch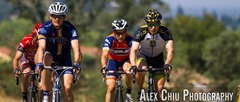 up. But the first couple laps I try the opposite, going last into the turn, and coasting back up to the group. It doesn't work because the pack is quickly falling apart with each climb.
The climbs are tough but I try to lift my knees and stay light on the pedals. Soon I find that we're dropping riders. After 5 laps, it's just me, 2 Body Concepts riders and a Easy Bay Velo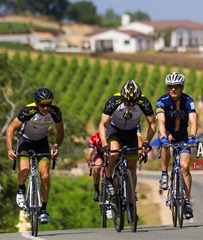 Club rider in red. I haven't led through any of the turns but instead have followed them into them, each time having to go slower than I'm used to. The 2nd most difficult turn is #5, at the starting line. It's my favorite. Each time I drop back a little in order to go faster through the turn, but I never get to go full speed.
After 7 laps, with 3-1/2 laps to go, and feeling excited that I have a chance to get top 3, I make a sudden, last-minute decision to pass the group and lead through turn #5. Instead of slowing down with the 3 riders ahead, I pedal through on the inside, right into the apex of the hard left turn.
I'm feeling confident going into the turn at 30+ mph, but my mind is on too many things, and definitely not on the critical task of focusing beyond the turn. By the time I start to focus ahead I already hear internal alarms that my speed is too fast. Then I make the big mistake of looking to the outside of the turn.
Time seems to stand still in snap-shots. First I find myself looking calmly for a plan B and seeing the hillside beyond the hay bails and thinking to myself, "That'll be a nice place to go." The next image is seeing the pavement disappear below me as I start to fly straight off the road and thinking, "No, this is not what I want to do, I should be trying to make the turn!". And finally the impact into the hard ground on my right side which immediately felt just like I was expecting. But then quickly not how I expected as I try to breathe.
The volunteer medical crew is quickly on me. I was only 100 ft from their station. They're my friends & teammates, Eric Voosen and Shayne Marshall. I'm in good, friendly hands. But I can't get enough air and am rapidly trying harder and harder to breathe. Eric tells me over and over to calm down and it sinks in. Despite feeling panic, I tell myself to relax and I pray that the Lord will help me calm down. The panic subsides more and more. They check me out and ask me important questions. Eventually I stand up with help and confront the ambulance. I feel I just need time to rest and at most it is a cracked rib so I waive off the ambulance (mainly because I'm afraid of ambulance costs).
The team takes care of everything: my bike, my seatpack, my car, and Lance drives me to the hospital and calls Robin for me. At Sutter Roseville is when the adrenaline starts to wear off and the pain hits. I am surprised as they take me to the trauma center. Turns out anything over 30 mph goes straight to trauma. They hook me up, put me in a CatScan (which hurt the most!) and tell me the bad news of 6 broken ribs and a punctured lung! Robin clears up what that means for me - no Ironman training for 6 weeks. Oh no!
I'm already feeling dumb for making a risky move in front of 3 other riders and then crashing right in front of them on my favorite turn. And ruining my chances at doing well in my new 45+ category. And now loosing the Ironman training I had started and the big ride I had planned this next weekend. But Robin helps me learn from this and find meaning. I pray about it and really feel God telling me that I was spiraling out of control before this. Not taking enough time to hear His directions for me and not giving Him the time I promised.
This is a wake-up call which is not even as bad as it could have been. The fall was directly on my remaining kidney but the CatScan showed it was not punctured or damaged. I didn't take out other riders. Road rash is minimal, spine and head ok, and my bike and wheels are also ok. But my soul is more awake now realizing the importance of my most valued treasure - Christ in my life. And other good things are going to result from this, too.
My stay in the hospital was very comfortable relatively. Terrific service. My heart was warmed by the many visitors and calls and cards. Robin was supporting me all along the way. And I felt happy, knowing God is taking care of everything I haven't even though of. Meaning will come out of chaos. But I will do my best next time to learn from this and minimize the chaos!
"Thank you Lord for taking care of me and my family and having a plan to make me better in the long run. May I depend on you more."
God is good!