| | |
| --- | --- |
| Date/Location: | May 18, 2014 – HOME!, Auburn, CA |
| Distances: | 1.5km S - 40km B - 10km R |
| Time: | 2:29:37 (24:02 - 2:50 - 1:17:14 - 1:07 - 44:24) |
| Place: | 4th / 112 |
| Teammates: | Troy Outman, Dave Campbell |
Temperatures were perfect for the annual Auburn Triathlon. Although I'm sure many of the long course athletes still had a haunting feeling of the challenge to come as they waded into Folsom Lake for the start. It's been long known as the World's Toughest Half but this year it would re-earn its title again as the race directors, Colleen and Joe, moved the run course back to the beautifully scenic, but increasingly difficult,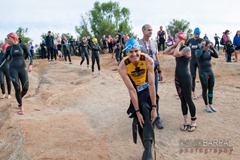 Western States Trail. This includes a heart-pounding ascent up the "Dam Rd".
I'm doing the Olympic distance race because this is Robin's 3rd year doing the 1/2 and we want her to try to defend her title. We've been doing this local race since 2005. We always try to peak for it to do our best. Robin & I and others pray together before the start. And then she takes off with the long course race.
THE SWIM
The water is great. My friends, Troy Outman and Dave Campbell are doing it with me which is great. Troy's been practicing out here regularly and looks calm. Dave is a really good swimmer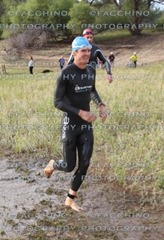 and runner and always sets the times for me to beat. We start and I feel good to the first buoy, but it looks like everyone is leaving me behind. I block it from my mind feeling like I'm doing well. It's a matter of doing my best for God and ignoring the intimidations that come from comparing to others. We swim down river and turn 1 buoy earlier than the long course athletes. We merge with them! That was a first.. just like swimming onto a highway. After a while, the short course athletes merge in with us. Now we're all together heading for the finish. I push hard and am glad the water gets shallow enough to walk. I high-step quickly the 60 yds to the finish.
Up the ramp goes well, removing the suit is not super fast. I get to the bike quick but tying my trashbag holding my wetsuit takes a long time. Finally I'm out on the bike.
THE BIKE
I'm riding a new Felt B16 bike. I've got to push it if I'm going to have a chance of winning. Last year I missed it by a few minutes. Climbing out of the canyon, up to Auburn, I catch up to Robin! How cool to ride next to her (briefly) in a race. She had a great swim. She's on new race wheels so I hope they help her shave off some minutes.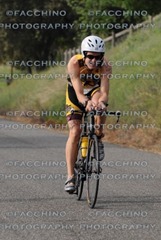 Through town I enjoy the spectators cheering with cow bells. And seeing some of my friends from our local cycling team on a training ride. I see more friends and then I see my High School friend who always volunteers at the bike aid station. So many things to help motivate me.
I see the first 3 athletes already riding back. They're way ahead! You never know what can happen. I turn right as I see my friend Rich go by doing the 1/2. Flying back the bike is feeling good. Just needs a little tweaking to get perfect. I see Robin going out. Big smiles to each. She flashes 4 fingers to tell me my place.
I enjoy the once-a-year opportunity to ride as fast as I can on my favorite roads while local police control the intersections. Almost back, I see our friend Andrea heading out on the bike. I know she's the last one. I hope she finishes it today. I ride into T2 smoothly but forget to remove my feet to run. I'm still in my bike shoes. A little delay.
THE RUN
No socks. Hope these shoes don't give me blisters. The run course starts out on a scenic trail and then heads down the road overlooking the river. The next guy was 4 or 5 minutes ahead of me I think. I hope I can gain on them. Part way down I see them already coming back. The 2nd place guy was 1st last year and we remember each other. He's running with great form and still gives me a smile and wave. He's got a great attitude. After the 3rd guy I'm surprised to be told it's time to turn-around. "Already?" "Yes, the 1st 3 guys went too far".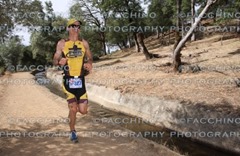 Oh, know, they ran an extra mile to the 1/2 Ironman turn-around. Which I was expecting we all had to do. I'm only a minute behind the 3rd guy. I want to catch him and I don't want to catch him because I know he should really be about 8 min ahead of me. I wonder if maybe they turned me at the wrong spot. I do some math in my head and realize I'm on the right course. I pray about it and feel God saying to go as hard as I can and it'll all work out. I will do that even though part of me doesn't want to catch him because of the confusion it will add at the finish.
It's a long climb up to the canal. Once there, on my home turf, I maximize speed on the trail trying to catch up. I see more friends out walking their dogs. Great doing a home race! My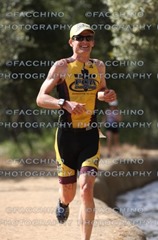 friend, Sara Outman, is volunteering and says I'm within 40 secs of the 3rd place guy and that Troy (her husband) is doing well in the start of his run. I go through the finish line onto lap 2 while the announcer talks about how I went to school with his sister at my old High School.
2 miles to go and I'm giving it all I've got. But the guy is also picking it up. One last sprint along the canal. My hamstrings have held me back a little today, but this last mile is my fastest yet. You never know what can happen. I see Sara one last time, then a tough climb to the finish road and finally I'm done! I gave it my best and didn't catch the guy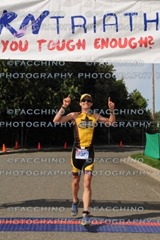 which turned out perfect. The first 3 guys all ran 1 extra mile but none of the placings changed so no one was upset. We all talked at the finish and cheered my friend, Dave, who came in 4th and the others finishing.
Thanks, God, for making it all work out and thanks for the great conversations I got to have at the finish. Talking about your awesome grace and continual 2nd chances and re-birth you give all of us. Now to help at the aid station and cheer for Robin on her attempt to win the World's Toughest Half! (I'm so proud of her).
Name

Race

Time

Age Group

Place

Swim

Bike

Run

MAI-LY RAMIREZ
MINI
1:21:04
W40-44
1st
11:48
38:55
24:36

TROY SOARES

OLY
2:29:36
M45-49
2nd
24:01
1:17:14
44:24
DAVE CAMPBELL
OLY
2:33:51
M55-50
1st
25:06
1:22:26
43:25
TROY OUTMAN
OLY
2:59:42
M40-44
6th
28:29
1:32:32
52:36

ROBIN SOARES

LC

5:48:16
W40-44
1st
32:13
3:20:38
1:52:08
TEAM 172 -
DAVID (S/B) & STEPHANIE HOLLOWAY (R)
LC
6:09:45
MIXED
2nd
32:55
3:23:30
2:06:42
ROCHELLE ZOLNA
LC
6:37:17
W45-49
2nd
32:06
3:38:00
2:19:28