| | |
| --- | --- |
| Date/Location: | May 10, 2014 – Folsom Lake, Granite Bay, CA |
| Distances: | Swim 1.5K – Bike 40K – Run 10K |
| Time: | 2:42:14 (23:56-4:44-1:23:50-1:26-48:29) |
| Place: | 1st/ (3rd OA) |
| Teammates: | Caryn Galeckas, Rosie Kracher, Suzanne Hartley |
As I wake up, I think, "Boy I'm tired!" It's been a busy week with little sleep but thinking about the extra activities (Life Group BBQ, Anna's school play, Mother's Day Lunch at Ariel's school, painting project for a friend, birthday party, ..) I realize they were well worth it. Maybe the race wheels Troy and I got at Victory Velo to share will help.
As I get ready to leave home, already late, I cannot find my purse. I wake up Troy in hopes that he's seen it. I try to look to the Lord and not panic. I could have left it at the birthday party the night before. Fortunately I find a spare id and USAT card.
The line to get into the park is long! Thankfully Troy calls me and we pray for the race. I feel at peace and relaxed even with the missing purse! I love my husband!
As I pull up to registration the line is huge! I decide to get a spot in transition and warm up on the new wheels. It's nice and quiet in the park and I enjoy the ride. It feels fast with the wheels but will have to see in real time soon.
I run into Dave Campbell. He and his wife Francie have been up all night. They had the blessing of welcoming their first grandson. They are very dedicated to still be here to volunteer. Want to catch up more but I've got 20 minutes to the start!
I find Caryn Galeckas and Suzanne Hartley at the swim start. We pray for each other. The best way to start a race!
THE SWIM
A quick warm-up, then… Ready, set, go! I'm feeling good going out buy suddenly I'm getting pushed down on my back. Okay, no prob…but it happens again. I stop short and say "hey, watch it!" I don't even know if the girl heard me but I feel pretty silly now. I keep going and find myself swimming over another gal's legs. Okay, who is really silly now?! I get my bearings again and continue on.
By the first buoy I'm hitting my stride and catching girls. I am unable to find a lasting draft but I'm trying.
The next buoy means home stretch! I dig deep to try to catch some other orange caps like me. This water is so clean compared to Wildflower. Just as I start to enjoy the swim it's over! I jump out, take off my wetsuit and make the long run from the water to the bike. Fortunately we have water to swim in, but unfortunately it's still a VERY long run up the beach.
THE BIKE
I get a shaky start getting my feet in my shoes while on the bike but manage to do it. I wave to Dave who is directing traffic as I head out on the road. I feel like I'm flying, what fun! A 49 yr old gal in white goes by like I'm standing still. I cannot match the pace to pass her back after I've pulled back 3 bike lengths (a tri rule when you are passed on the bike) but I am able to keep her in my sights which is a nice change. Thanks Lord for the new wheels!
Around Mile 3, another girl in teal passes. Again, I keep her in sight. My legs feel good and are spinning well. I try to remember what Troy tells me…to stay light on the pedals and pull my foot through. He's always looking for tricks to maximize speed. I don't always have the mental focus to do that but at the moment I do.
At Mile 9, I can barely see the 49 yr old but I seem to be making some ground on the girl in teal. We turn on Val Verde and I think about the Coffee Republic ride that will be heading this way soon. Too bad it's too early to see them! Some of the later racers are in for a surprise when that freight train goes by!
At Mile 13, I see Karen Nickel coming down the road on a training ride. It's so great to see her and I wave! I know that Troy and the girls are waiting for me on the last climb on Powerhouse Rd.
At Mile 15 I make the turn at Powerhouse and another girl in red goes by. I am surprised and just stare at her. She says "good job!" and it wakes me up "oh, you too!". Usually I am quick to encourage so I laugh at my response. We hit the last big climb and I'm able to pull away for a time. I can see Troy at the top. I wave. There is Anna and Ariel holding a sign for me…aw, sweet! I also see our friend Todd Osterberg and his daughter Jillian. Wow, what a treat! Troy tells me I'm the 5th girl. Cool!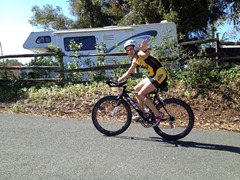 Troy reminds me it's all downhill and let the wheels take me home! I will! I get aero and go! I can see the teal girl but I cannot seem to gain any ground. I get passed back by the same girl in red and try to keep the gap from growing as much as possible. I feel some discouragement now being in 6th but know that's wrong. I am thankful to the Lord to be in the mix and I know there is still a run.
I see Karen again coming up Auburn Folsom. Another boost!
I make it back into the park still in 6th but I can see the same 2 girls. I know the run will tell all.
THE RUN
I make a good transition and take off. Those 2 gals are running strong but there are 6 miles to go! I don't seem to be closing the gap but I'll bide my time.
Mile 1 is 7:31. Not bad. My hamstrings are feeling tight but I am still able to move well. I hear footsteps getting closer and I glance back to see another gal. Oh boy, I've got my work cut out for me! This part of the course is rolling but fortunately they took out a really technical downhill and sand section…phew!
Mile 2 is 7:58. The gal passes me. I tell her "good job, you're running strong!" I notice she is 39 so there is no threat but I do try to stay with her to stay motivated. I am right behind her now since I was able to catch up on the downhills. I realize this is probably annoying but I need the help.
Mile 3 is 7:33. We hit some single track trails and I follow her line. Soon she is slowing down so I decide to go ahead. I expect her to react and follow but she doesn't. I can now see all 3 girls I've been chasing. Sweet! I plot my next move. I decide that on the big hill on Mile 4, I will try to catch them especially if they walk. Again biding my time…
Mile 4 is 7:33. I am getting just slightly closer to them! I try to remain smooth and relaxed. I am totally surprised how good I feel! Thank you Jesus!
Okay, here comes the hill. The girl in teal walks and I catch her. The girl in red continues to run strong even with a few moments of walking…wow, I've got my work cut out for me!
Mile 5 is 8:13. I use gravity to pull me down the backside of the hill to get ahead and the girl in red does too! I am flying down and am not gaining any ground! Be patient, it's not over yet. This is so suspenseful!
Soon I find I am gaining ground. I pull up on her shoulder and rest for a moment. I wait until just before the last section before the long straightaway to the finish and then go! I push with what is left. My legs almost feel like they are going to give out but I maintain the momentum. She doesn't seem to be hanging with me.
Mile 6 is 6:59. Awesome split! I see the last girl on the straightaway and I dig deep to close the gap. I don't have enough road to get her but I keep pushing hard anyway. I thank Jesus for a great race! I am doing my best for Him. Finally, the finish! Woo-Whoo! That was great! I make sure to tell those gals good job. They were also a great source of motivation!
| | | | | | | |
| --- | --- | --- | --- | --- | --- | --- |
| Name | Time | Age Group | Place | Swim | Bike | Run |
| ROBIN SOARES | 2:32:27 | W40-44 | 1st | 25:09 | 1:20:05 | 47:13 |
| ROSIE KRACHER | 3:14:29 | W45-49 | 6th | 33:49 | 1:37:24 | 1:03:16 |
| CARYN GALECKAS | 3:22:41 | W55-59 | 3rd | 25:46 | 1:41:26 | 1:15:29 |
| SUZANNE HARTLEY | 3:21:44 | WATHENA | 1st | 33:02 | 1:42:55 | 1:05:47 |