/Location:

December 4, 2022 - Sacramento, Ca

Distance:

12.8 miles (Leg #2 of the Marathon Relay. CIM relay races started in 1995)

Time:

1:34:34 (12.8 mi. 7:24 pace. 3:38:53 total relay team time)

Place:

1st out of 5 "Girls"

Relay Teammates:

Olivia Passafiume (Leg #1: 13.4 miles)

Other Teammates:

Relay

*FCA Endurance: Robin & Troy Soares

*Placer Speedsters: Olivia Passaflume & Anna Soares

*EV Cain Speedsters: Marisa Nelson & Anthony Eandi

* : Anna Tortosa & Emily Donlevy

Marathon

Emily Donlevy, Julian Doak, Jim Kepfer (pacer), Tim Twietmeyer (pacer)
CIM Relay w/ Olivia
(Miles 1-3)
Today I'm running the CIM Marathon Relay with my teammate Olivia Passafiume. I am doing the second leg and my goal is for 7:15-minute pace. My parents are also doing the relay together. My Dad gets a head start on the 2nd leg, while I wait for my teammate. Olivia comes in and I tell her good job and then take off. I'm proud of Olivia because this is her first half marathon and she ran an amazing pace. In the beginning, I'm feeling fresh but I know that this is only temporary. I'm curious about where I'll be able to catch my Dad even though he got a huge head start. I look at my watch and catch myself going under 7 minutes, way too fast! I even out the pace and get close to 7:15. Right now I'm passing a lot of Marathoners who are staying at a more consistent pace. It's probably annoying for them to see people racing by because they are already tired from already doing the half-marathon. As I'm running along, I pass Flor, a friend of ours. She is looking pretty stiff as she runs. I ask her if she's doing okay and she said that she's having a little bit of a hard time. I ask her if I can pray with her and slow down my jog. I pray with her that God gives her the strength to finish this. I then continue on with my run. I go by the first aid station and grab some water. There is a huge line for the porta-potty. I'm glad I used the restroom earlier. A little past the mile marker I feel a little pain in my shin. I slow my pace down a tad bit and focus on form which makes it go away. Thank you God for no shin pain! The first 3 miles are a breeze and I enjoy reading the signs and all the people out cheering us on. One sign I like says "if you pass out, I'll pause your Garmin." It's funny how important it is for runners to get the exact time, pace, and course on their Garmin. There are also a ton of signs that say "power up", that deal with video games. Those signs aren't very motivating to me since I don't play video games. As I'm running by the aid stations, I'm noticing how I'm not doing a very good job at getting all the water down. I guess I'm used to 3-mile cross-country races that have no aid stations. It's hard to chug down the water while running fast. I start to get a system down though.
(Miles 4-6)
These next 3 miles are a little tougher as I'm focusing I'm keeping the 7:15 pace. I hope this pace is not too fast for me and that I can keep it to the end. There are lots of down hills, however, for some reason, my legs have a hard time pushing on the downhills and they enjoy running harder on the up hills. I go with this and push the up hills by and relax on the down hills. My legs are starting to hit that "numb stage" where they're just running the pace and not going any faster or slower. As I'm running by the crowds, there is a spectator that is giving advice and reminding people to use their arms to keep their legs going. I remember how last year I did something like this and I tried to focus on different parts of my muscles as I ran. I start to focus on my arms and have them help push me through the run. I go by the next aid station and I see a friend that comes to my parent's Tuesday night track handing out water. I say hi and she cheers me on.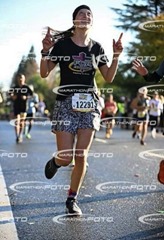 (Miles 7-9)
At mile 7 my legs are starting to feel pretty heavy and the inside of my ankle is hurting a little bit. At the next aid station, I decided to take a quick break and refresh. I take a break, fully drink my water, massage the inside of my ankle tendon, and blow my nose in the restroom. I take off feeling better and ready to conquer the second half of the run. My legs enjoyed the quick refresh. The second half definitely does not feel as fast as the first half and I know I'm going over 7:15. Now, all I'm trying to do is just to keep my legs moving at this pace to see how long I can hold it. I do know when you do long distances your legs get used to one pace and it's hard to go faster, but if you can get your legs to turn faster, they will stay at that speed. I try to do that right now, but my legs feel like they're going to not survive if they go any faster than the speed I'm going at. As I'm running I pass the 3:50:00 pace group and continue to run toward the next group of people. As I'm running, I remember this spot from last year where I met a friend in cross country named Maeve Klement. It's too bad she's not running this year, maybe we could have run together again. I'm also thinking about my Dad and if I'm ever going to pass him. It feels like he's still so far ahead. As I'm running, I realize that I'm getting closer to the bridge. As I make the turnaround up and over the bridge, I enjoy looking at the water and being so high up. I now start the descent into the city. Right now it feels like all the muscles and bones in my body are at a breaking point and if I go any faster they're going to fall apart.
(Miles 10-13)
I know I only have three miles left, but my legs would prefer to take a break right now. I tell myself to do my best for God and that means running all the way to the finish, no stopping. Last year I remember I picked it up in the last 3 miles, right now I'm trying to pick it up, but it only feels like a matching pace. At least I'm not slowing down. I'm now making a lot of turns in the city as I'm winding through the city streets. Every turn I make, I look for the yellow shirt my Dad is wearing. I'm curious if I'm going to be able to catch him before the finish line. With 2 miles to go, I'm really trying to pick it up even though I have barely anything left of my legs. My tendon on the inside is hurting a little bit, but not too much where it's causing me not to run hard. I get closer to the finish line and see the Colfax relay team cheering me on. It's nice to have good relationships with kids from other schools. I can see the turn-up ahead which means the finish line! I'm so happy that I have made it to the end and thank God for letting nothing in my body break or fall apart! My hip also never hurt, which is a great blessing! I turn around the corner and see a sign that says A and B shoots. Normally they split the two shoots between women and men. I run by some volunteers asking if I'm A or B. He tells me that I'm B. Cool. As I keep running, I realize that I could probably look at my bib number to figure it out myself. I looked down and double-check that I am B. I get on the finish straight away and sprint down with my best form for God. I can hear my parents and teammates cheering me on and I finish strong for him. I'm so happy to be done and grateful to be able to finish this after running State a week ago.
Praise the Lord For He is Good, His Love Endures Forever!