Date/Location:

December 4, 2022 - Sacramento, Ca

Distance:

13.4 miles (Leg #1 of the Marathon Relay. CIM relay races started in 1995)

Time:

1:53:29 (13.4 mi. 8:22 pace. 3:35:48 total relay team time)

Place:

11th out of 65 Co-Ed Masters

Relay Teammates:

Troy Soares (Leg #2: 12.8 miles)

Other Teammates:

Relay

*FCA Endurance: Myself & Troy Soares

*Placer Speedsters: Olivia Passaflume & Anna Soares

*EV Cain Speedsters: Marisa Nelson & Anthony Eandi

* : Anna Tortosa & Emily Donlevy

Marathon

Emily Donlevy, Julian Doak, Jim Kepfer (pacer), Tim Twietmeyer (pacer)
This is my 24th CIM Relay! I'm thanking the Lord for being able to continue this tradition! This race puts a period on my 2022 race season. It's hard to believe that only 2 months ago I was toeing the line at Ironman Hawaii. I've had some health issues and family situations that have made it hard to stay in shape. Today will be a challenge and mentally I'm not terribly excited to run a half marathon. Sometimes being consistent is tough and I'm often tempted to quit but God is faithful. I put out the effort anyway and He helps me to get through it. I am so amazed by Christ's amazing grace and mercy!
I drive a few other relay runners down to the start: Anna Tortosa from our track group and Marisa Nelson who is taking Ariel's place since an injury took her out. It's raining as we drive down to park at my secret location, Beal's Point. We are all expecting it to pour today. We've got plastic bags on us and I've got a rain coat underneath. We jog less than a mile to the starting area. By this time the rain has stopped! Will it hold?!
This race is known for the extreme amount of porta-potties. It's so easy to find somewhere to go. We wish each other well and part ways. I hope to see them later on! I decide to trash my trash bag since I'm warming up quick!
Last year I averaged around 8-minute pace. I hope to go under 8:30 pace this year but maybe match last year! Troy and I did a 3:22 last year so would love to repeat that if possible.
I head to a last-minute bathroom break. I think everyone is thinking the same thing as the lines are extremely long. I barely make it back to the start. As I try to get close to the 3:30 pace group, I run into Flor Hodges. She's doing the full marathon. I give her a hug. I am able to get to the 3:35 pace group and then the National Anthem starts. This is as far as I can get. It is packed! The race starts but my corral must wait. The rain is still holding off and it actually looks like things are clearing up! I decide to take off my rain jacket and wrap it around my waist.
Time to go! I don't feel fresh off the line and running 8 minute pace feels like I'm maxed out. Lord, this is going to be tough! I hope to stay ahead of the 3:35 pace group at least!
Mile 1 is 7:56. I can hear folks cheering for the 3:35 Pace Group. They are coming up on me!
Mile 2 is 8:17. Oh boy! This is tough and I just started! It's hard to stay positive but I know it's what the Lord wants.
Mile 3 is 8:06. The 3:35 group is breathing down my neck. I'm trying to hold on! I forgot how hilly this first leg is! I'm taking a beating!
Mile 4 is 8:13. Flor Hodges comes alongside me. I encourage her to keep going strong as I know that I'm fading and don't want to drag her down with me.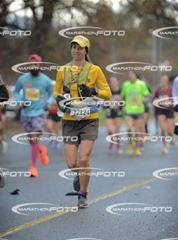 Mile 5 is 8:20. I've been going back and forth with a few runners but now I'm having to let them go. It's humbling to say the least!
Mile 6 is 8:24. I finally succumb to the 3:35 Pace Group. I try to hold on but they are too fast. Lord, help my attitude! I'm just blessed to be here!
Half-way! The weather couldn't be more perfect! I'm so surprised! Thank you Lord! I sure wish I was feeling better!
Mile 7 is 8:27. I continue to slow down but thanking the Lord I'm not drastically falling apart!
Mile 8 is 8:33. Oh boy, it feels like the wheels are coming off now! The 3:35 pace group is almost out of sight.
Mile 9 is 8:37. The hills are not large but seem constant. I am holding on! It is really uncomfortable! Lord, please help me hang in there!
Mile 10 is 8:24. I'm hanging in there and 3 miles to go! I'm running through small and quaint downtown of Fair Oaks. I look for the beginning band group that is usually here. There they are. They are giving a great effort with some short Christmas songs. Christmas is upon us!
Mile 11 is 8:34. Another hill! This is brutal!! Just a few miles to go! I can finish this with the Lord's strength!
Mile 12 is 8:46. I see Flor! Poor dear, she is hurting! I offer to take her jacket since I'm almost done. She hesitates but lets me help her. I might be hurting but it's so nice to be able to help someone!
Mile 13 is 8:13. So close now! Thank you Jesus! It's not exactly what I hoped for but to continue the streak is a real blessing!
I see the relay exchange ahead! I see Troy pop out. What a relief! I'm so glad to see him and to be done! Anna is still waiting for her teammate. We wait with her until Olivia comes and then it's off to the finish!
RELAY HISTORY
Year

Team Name

Relay Div

Place

Time

Teammates

2022

FCA Endurance

Co-Ed Masters

Troy Soares (#2)

2021

FCA Endurance

Co-Ed Masters

4/62

3:22:14

Troy Soares (#1)*

*3 and 4-person relays have been retired

2019

Catch Us If You Can

Open Female

12th/

143

3:26:25

Robin Soares (Leg #1/2), Megan Sebra (Leg #3), Bailey Cossentine (Leg #4)

2018

Catch Us If You Can

Open Female

13th/

169

3:37:34

Robin Soares (Leg #1), Liesbeth Magna (Leg #2), Leonie Alesci (Leg #3), Megan Sebra (Leg #4)

2017

Catch Us If You Can

Open Female

11th

3:38:23

Robin Soares (Leg #1), Leonie Alesci (Leg #2), Liesbeth Magna (Leg #3), Megan Sebra (Leg #4)

2016

Catch Us If You Can

Open Female

10th

3:34:22

Leonie Alesci (Leg #1), Liesbeth Magna (Leg #2), Robin (Leg #3), Megan Sebra (Leg #4)

2015

Catch Us If You Can

Open Female

8th

3:32:27

Megan Sebra (Leg #1), Leonie Alesci (#2), Robin (#3 & #4)

2014

Catch Us If You Can

Open Female

8th

3:27:15

Robin Soares (Leg #1 & #2), Leonie Alesci (Leg #3), Megan Sebra (Leg #4)

2013

Catch Us If You Can

Open Coed

10th

3:31:23

Liesbeth Magna (Leg #1), Kevin Magna (Leg #2), Robin Soares (Leg #3) and Megan Sebra (Leg #4)

2012

Catch Us If You Can

Open Coed

6th

3:32:57

Leonie Alesci (Leg #1), Robin Soares (Leg #2), Kevin Magna (Leg #3) and Liesbeth Magna (Leg #4)

2011

Catch Us If You Can

Open Coed

3rd

3:05:14

Robin Soares (Leg #1), Troy Soares (Leg #2), Liesbeth Magna(Leg #3) and Leonie Alesci (Leg #4)

2010

Catch Us If You Can

Open Coed

2nd

3:13:32

Robin Soares (Leg #1 & 2), Richard Alesci (Leg #3) and Leonie Alesci (Leg #4)

2009

CATCH US IF YOU CAN

Open Coed

3rd

3:08:47

Kevin Magna (Leg #1), Robin Soares (Leg #2), Richard Alesci (Leg #3) and Leonie Alesci (Leg #4)

2008

CATCH US IF YOU CAN

Open Coed

21st

3:27:28

Robin Soares (Leg #1), Courtney Loveday (Leg #2), Richard Alesci (Leg #3) and Leonie Wynhoven (Leg #4)

2007

RIONIE AND SOARES

Open Coed

3rd

2:58:55

Robin Soares (Leg #1), Troy Soares (Leg #2), Richard Alesci (Leg #3) and Leonie Wynhoven (Leg #4)

2006

CATCH ME IF YOU CAN

Open Female

1st

3:00:54

Robin Soares (Leg #1), Megan Canova (Leg #2), Liesbeth Brouwer (Leg #3), Leonie Wynhoven (Leg #4)

2005

DAM GIRLS & GUYS

Open Coed

2nd

3:00:36

Robin Soares (Leg #1), Dick Kirkpatrick (Leg #2), Liesbeth Brouwer (Leg #3), Leonie Wynhoven (Leg #4) (?)

2004

DAM GIRLS & GUYS

Open Coed

14th

3:32:15

Troy, Robin, Liesbeth Brouwer, Leonie Wynhoven (?)

2003

DAM GOOD RUNNERS

Open Coed

21st

3:06:50

Troy-Robin-Leonie Wynhoven-Liesbeth Brouwer

2002

DAM GOOD RUNNERS

Open Coed

76th

4:13:14

Robin, Dave Funston, Kristin Funston, Leonie Wynhoven

2001

DAM GOOD RUNNERS

Open Coed

21

3:56:56

Robin Heidt, Dave Funston, Kristin Funston, Leonie Wynhoven

2000

Un-Named

Open Coed

49

3:48:04

Kristin Matthews, Liesbeth Brouwer, Leonie Wynhoven, Robin Heidt (?)

1999

DAM GOOD RUNNERS

??

8

3:44:09

Kristin Matthews, Liesbeth Brouwer, Leonie Wynhoven, Robin Heidt

1998

DAM GIRLS

?

5

3:28:58

Kristin Matthews, Liesbeth Brouwer, Leonie Wynhoven, Robin