| | |
| --- | --- |
| Date/Location: | July 25, 2015 – Windsor, CA |
| Distances: | 2.4m Swim – 112m Bike |
| Time: | 6:56:13 (1:9:41 – 2:50 - 5:37:42, 6:00 penalty) |
| Place: | 4 / 13 |
| Friends: | Dave Kurtz, Andrea Ivan |
Although the race is a little daunting, since I've only done 1 hundred-miler this season and lately been working a lot more than sleeping, I still enjoy our little family vacation that goes along with it.
We stay at our friends' Bed-n-Breakfast, The Raford Inn, in Healdsburg. It's peaceful and relaxing. My concerns for the 2.4mi Swim - 112mi Bike are 1) being comfortable on the bike and 2) that my neck doesn't hurt.
At the unofficial Tahoe Ironman last year I felt great on the bike. Comfortable and fast. But lately I haven't been able to find the "fit" again. I recently moved my seat back a little and today I raise it up just a little, too, during my 3 mile ride to the race start.
I get to transition a little late. And unprepared. Robin is already going back to the inn to get my Garmin I forgot. And I haven't tried my new goggles. But I did get in my Quiet Time with the Lord this morning, an important pre-race time I've added after Robin's leading.
Anna comes down to Johnson's Beach with my Garmin while Robin and Ariel are still parking. I see Sheryl and Dave Kurtz. Dave and I pray before my start. He starts 80 minutes later in the 1/2 Aqua-bike.
Before I get in the water, Anna tells me to wave with both arms so they'll see me. Robin isn't here yet so I have to get in without our usual kiss good-bye.
Swim
Everyone seems to be taking their time and I think I'll be able to warm up a little, but I faintly hear someone announce something about a "minute". It's so hard to hear that part of me thinks we're not near starting and the other part says, "better get to the start line". With everyone calmly talking and looking around, I swim to the line, and, BOOM! we're going! I throw my arms up barely in case Anna is looking and then hit my Garmin and go!
I've only done a few swims in the month leading up to this so I know my time will be off. But the plan is to just swim what I can and make the bike count more. Hopefully the lack of swimming won't hamper the bike.
My goggles are leaking. Really annoying when trying to sight and swim relaxed. After 1/4 mi. I feel bottom and stand up to tighten them. Better but still leaking. At the turn-around I'll do it again. The water is warm. Too warm for this 4-5mm suit so I let in water every few strokes. Really helps.
It's only 2 ft deep now. People are walking. But per the rules you must remain swimming. Up ahead I see the walkers and the swimmers and can tell who is taking it seriously. I fix my goggles at the turn and dive back in..forgetting how shallow it is and kind of bouncing off the bottom. I swim (scrape) along trying to avoid the rocky bottom each stroke. I think about all the sediment being churned up ahead and finding it's way into my mouth. Yuck. Otherwise, without the sediment, the water isn't bad.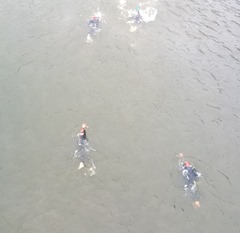 Swimming back down river I see the people on the bridges above and give a wave wondering if Robin & the girls are up there. Back at the start I make the turn for lap 2 at 35min. About 2.5 min off last year's pace. I'm hopeful that my 2nd lap could be faster.
I hug the 12 buoys hoping they are placed in the deepest water. Fortunately the buoy spacing gets closer as you go up river so the last one comes faster than expected. At the final turn-around I'm not any faster, but still on a 1:10 pace.
Coming back I surge to get in a draft and it goes well for a 1/4 mi. Then he fades and I pull ahead, just to have him jump on my toes for the remainder of the course. I look up again at the bridge and see 2 girls huddled next to a beam. It's my girls. I wave.

I push hard towards the end. The swim has gone fine and, although glad to be done, and tired, I do not feel exhausted. [1:09:41 3rd]
T1
Wetsuit comes off ok. I hear cheers from Dave Kurtz. I run down the wrong rack and stare at where my bike should be. Finally see it 1 rack over. I'm nice and warm, but the fog is in and Robin told me it's only 55 out there. I skip the socks but put on the jacket. I didn't set up the sleeves right beforehand so I have to fight to get them on over wet arms. Without socks I can run out of transition on the muddy path next to the carpet where slower athletes are walking their bikes. I see Robin and the girls cheering near the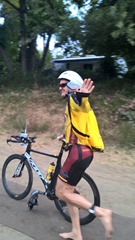 mounting line. I get on ok (on the steep ramp) and am off! I hear Robin cheering behind me. My family are such great supporters! [2:50 T1]
Bike
After finally getting my jacket zipped (really difficult because this bike wobbles when I take hands off) I'm comfortable in the chilly fog and all is going well. Soon I see another FCA athlete with a similar helmet. I say hi and we end up passing each other a couple times in the first 20mi. I'm not really feeling the groove on the bike. Also hoping for the sun to come out because my feet are going numb. The thing that concerns me is my neck is already feeling sore.
20miles. This is the best part. Flat with a slight tailwind. But I'm not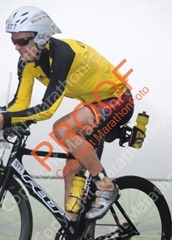 going fast. Trying to use my hips, lift my knees, relax my back.. I just can't find the groove. I get a banana at an aid station. All the rest of my nutrition is coming from 2 bottles of Hammer Sustained Energy (5 scoops ea.) The climb up Canyon Rd eats at my 19.5mph ave. At the bottom we head South back to Windsor. The winds are light this loop, but will pick up the next.
40miles. I'm not doing well. I've slowed way down. My neck really hurts. My knees hurt and my seat is very uncomfortable. I'm down to 18.6mph. This is about what Robin averaged at IMCDA. Many are passing me now. Even though I feel frustrated (although I reason it's not too much a surprise given the lack of training and sleeping) I still tell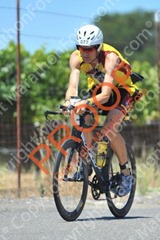 them "Good job." as they go by. The FCA guy, about 4 women (including a relay biker in green from Yuba City Tri Club), and about 8 guys pass me. I take off my jacket and tie it around my waist, quickly before the wobbling begins. I'm drinking my nutrition and have pee'd. So that's good.
At the top of Chalk Mtn I stop and adjust my seat back down to where it was before this morning. After 5 miles I don't notice a big change, still hurting all over and slow.
50miles. It's flat, smooth and we finally turn North back to the school with the wind behind us. I'm going faster but not feeling better. I pass the Special Needs thanking the volunteers but not stopping this time. I've concentrated my Sustained Energy so I don't need extra bottles. I think about the 3 minutes I'm saving and the 15 minutes I'm loosing by riding slow with a stiff neck. The neck keeps me from staying in the aero bars.
At the out-n-back I see the girl in green, following by the others, including the FCA guy. About a mile ahead. I get motivated to catch the FCA guy by 64 miles where Robin and the girls (at the Inn) will be cheering for me. I make a good effort but he stays far ahead. There are no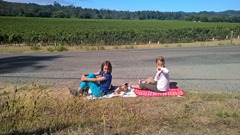 shoulders on this East Side Rd and another guy is trying to fix a flat on the road. I tell him to be careful and hope he moves down into the gully but that is hard to do.
I want Robin and the girls to pray for my neck, knees and seat. But that's a lot to ask in the 1 second I'll see them as I go buy. There's the Inn, but I don't see them anywhere. I go around the corner there they are! "Hey girls!" I look at Robin and say, "My neck hurts". I know she'll get the message and pray for me. And then I quickly yell back, "Will probably be 6 hrs!" so she won't have to wait so long at the finish.
After a while, everything still aching, I hit a long hill and think, "I'm just going to push hard on this". Usually I would conserve on the hills. Sitting up high and mashing the pedals… my neck, knees and seat start feeling better. On the next hill I do the same and pass the FCA guy. I tell him "You'll catch me later". Now I'm looking forward to all hills because it doesn't hurt! Then I remember that Robin and the girls probably prayed for me! Thank you, Lord! I'm feeling like I have plenty of energy now and don't care if I use it up, I'm just relieved not to feel the pain.
I try the same approach on the flats. And the descents. I hold on tight to the aero-bars and focus on pushing down the pedals (opposite of what I usually do). Not directly down but as if the pedals were 10 ft in front of me. It feels good! Somehow all the pain is gone and the faster I go the better it feels. This is an answer to prayer! Just when I was ready to give up trying.
70miles. This was a big milestone. Now I set a milestone every 10 mi. My goal for 80 is to go fast (because it's flat with a tailwind), get up to 19mph and pass the girl in white. It's like night and day from the first lap. I'm pushing hard and looking forward to each section. I pass the girl, encouraging her and hit 19mph average. I take water at each aid station and keep my aero bottle full.
The final stretch to the Canyon Rd climb I'm passing lots of riders. And with a large differential. It just feels good. Even up grades I can maintain the aero position. Neck, knees and seat are ok. I climb up Canyon Rd with a passion, passing more, eager to see Robin and the girls. I yell to Robin because she's in the van not expecting me. She turns, surprised to see me so soon. They all cheer and I tell them "thanks for praying, I feel great now!"
80miles. Another goal reached! 90mi goal is to push into the wind without letting up. Even into the wind it is feeling good. I don't care how windy it gets. I'm motoring. I think back to the many difficult times I've had on this southbound windy section. Even 22 yrs ago ('93) during my first race here on a black carbon-frames bike with a plastic add-on wheel cover I remember the difficulty. Amazed how I can remember so many details so many years ago. I'm as happy as can be thanks to the Lord. I feel sorry for some riders on their 1st loop struggling in the wind as I go by fast.
I keep looking for the girl in green up ahead. I've passed most of the people I had seen earlier and now it's very sparse. Only Barb's Half racers or slower full vineman riders. The girl in green is no where to be seen. I change my goal to Mile 92 because that will be exactly 20mi or 1 hour from the finish.
92miles. Goal accomplished. Great riding into the wind. Next goal, 100mi, at the top of Chalk Mtn. This time I'll take the hill hard. When I finally get to it and start pushing around the first corner, there's the girl in green! We encourage each other and I continue mashing the pedals up the hill. Now I'm tired but I'm happy to be doing so much better than the 1st loop.
100miles. next goal, 110mi, and get to 19.5mph. I fly down the back-side, over all the rough roads not even caring about the bumps. As long as I'm pushing hard on the pedals, my seat and neck doesn't hurt, even over the potholes. At 105mi I start to feel like I'm ok and can ease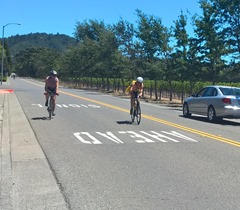 up. I slow up behind a car, passing another woman wearing white and waiting for the car to turn on the next road. Then I push up a little grade and ease up. My knees scream in pain! Ahh! Gotta keep pushing. I bear down and continue the same method and the pain goes away.
I'm flying into town and there's Robin and the girls! I'm so happy to see them while going my fastest. A few more turns and I see them again with 3 miles to go. I'm going to sprint all the way to the finish.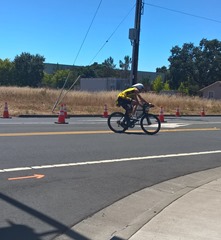 On the final mile, I pause for a moment to thank God for this incredible transformation in my race, and then I bear down and push to the finish.
Wow! [5:37:42 bike, 19.9mph] [6:50:13 Total, 4th of 14] My 2nd lap was 15 min faster than my first. What I thought was going to be a disappointing, uncomfortable LONG day turned out to be more exciting than I could imagine. Thank you, Lord.
My time was actually 6:56:13 because of a 6 min time penalty I got for riding too far to the left. I don't remember doing that and unfortunately they don't tell you where it happened. Fortunately it didn't make a difference in placing.