| | |
| --- | --- |
| Date/Location: | Oct 27, 2013 - Victory Velo, Auburn |
| Distances: | Run <6m – Bike >9m |
| Time: | 51:22-1hr28min approx |
| Place: | ? |
| Teammates: | Claudia Sidijaya, Dave Carder, Dan & Dawn & Devon Tebbs, Gary Carpenter, Jesse & Carrie Warda, Kayden Kelly, Leleh Dunkle, Paul Connolly, Troy Soares |
Another year, another set of costumes! Troy as a Human Fly Swatter and I as some sort of Fairy Princess. Though I'm not always in shape for this event, especially after slacking on the training after IM Tahoe, it's still a fun thing to look forward to!
We line up on the street in front of the shop. Ready, set, go! I'm amazed watching Troy take off in his very bulky costume. I don't know how he does it!
Within the first mile, I loose sight of the top pack of runners. Go Troy, go! Mile 1 is 8:57. I miss having my racing legs. These legs feel heavy!
We hit the trail and the field has really spread out. I'm close to Tuesday Track veteran Dave Carder. He's running with his dog Zoey. Zoey is just all over the place checking things out but she also finds a way to catch back up again.
Mile 2 is 8:29. It's a downhill mostly but I still feel winded. Dave starts to fall back to keep Zoey with him.
Mile 3 is 8:38. I'm alone at the moment which makes it harder to push. I still have 3 more miles, ugh!
Mile 4 is 8:26. Dave is catching back up. I can hear him calling Zoey and I can hear the clinking on her collar.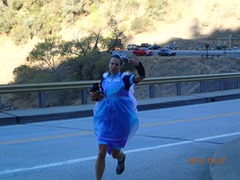 Mile 5 is 8:13. More downhill and the finish is near. Dave pulls off to wait for Zoey and I continue on. I see the bridge and know my bike is waiting for me. I'm not sure where Troy put it but I'm sure I'll find it
Jay Garrard is taking my picture so I say "Bippity, Boppity, Boo! Troy put my bike right in front and I almost miss it.
This part of the event is for sure my least favorite. I do not consider myself a mtn. biker mostly because of lack of experience and great fear of falling off a cliff. I struggle to get to the climb because of this fear. I let a rider go by and he's gone in an instant.
Finally I make it to the climb and for a moment am relieved. It's nice not to have to dodge obstacles but it's not fun climbing. Troy and I pre-rode the course yesterday. Though it was needed practice, the timing of it the day before the event wasn't so great.
I reach the Culvert Trail finally! Lord, please protect me! They have really made this course nice! I actually feel comfortable on 90% of it now because it's smoother. I find myself smiling inside and enjoying the ride.
Towards the end of the trail it gets rocky and technical. I walk 2 small sections but am still proud of how I rode.
I cross over Old Foresthill Road and over to the Mammoth Bar trail. This trail I dread! Not only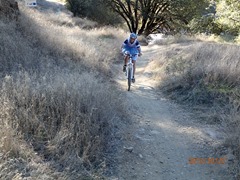 is it covered in many spots with jagged rocks, it goes along a cliff! I do well for the first third and then it gets ugly. I walk several spots even sections I rode the day before. The fear is starting to overtake me…but I manage to make it to the bottom.
There is Jay to take my picture. I smile…mostly in relief and thanksgiving to Jesus for me being in one piece!
Time to climb Stage Coach. This should be fine, just a constant grind. On my way up the trail it gets really rocky and there is a walker right there. I stop and start running with my bike. I never have to do that here! I pass the guy and try to start up again on the hill…come on, you can do this! I 'm able to start up. Thank you Jesus!
The rest of the climb is uneventful. I'm wiped out as usual but very glad to have one of my few mtn. bike rides of the year done! Thank you Jesus! Another fun year!