| | |
| --- | --- |
| Date/Location: | May 20, 2012 – Auburn, CA |
| Distances: | 1.2mSwim - 56km Bike - 13.1m Run |
| Time: | 5:54:36 (37:35-1:57-3:19:05-1:25-1:54:33) |
| Place: | 1st OA |
| Teammates: | Andrea Ivan, Andrew Hudnut, Bill Severi, Jane Linder (Relay), Lindsay Grossman, Jody Galvin, Karen Nickel (Du), Maxx Hackett, Monica Erdosh |
Today I'm reminded of one of God's great gifts to us...healing of Troy's 10 year injury. Wanting to demonstrate sacrifice & faith, I phased out triathlon over a 3 year period (1. 1/2 IM and less. 2. Olympic and less. 3. Sprints only) and was willing to stop for good if my partner in triathlon was unable to compete. But if Troy was healed in that time, I would return to the sport. What a gift that we can continue competing together and doing ministry together in triathlon. God is good!

Troy and I meet up with good friend Karen Nickel and new friend/FCA teammate Bill Severi and ride down to the swim start. It's a nice downhill ride that is quiet and scenic. Soon we are in the hustle and bustle and searching for spots for our bikes.

Troy, Bill, Steve Caminiti (our worship pastor from church) and I gather for prayer. It is all about Jesus and we all agree the glory goes to Him! Troy and I say goodbye. He's off to do the Sprint Tri. I run into Karen and pray with her. She's not feeling well so we pray she'll be better once her duathlon begins. I do some last minute preparations like get body marked and head down to the water wearing Troy's Garmin (ordered the wrong parts to mount mine to the bike). Troy's right, this Garmin doesn't fit under my wetsuit so I run up to put it on the bike.

I jump in the water and get a good warm-up. The temperature is perfect! I'm looking forward to seeing what I can do out there. I hope to be competitive with the top swimmers today. It's time to go. I see fellow Victory Velo teammate Monica Erdosh in the water..."have a great race!"
Ready, set, go! All the women, men over 50 and the relays are off! I cannot see the first buoy right away so I put my faith that the other swimmers are headed the right way. It seems like I'm mid-pack from the get go. I feel a little sluggish and a little discouraged, thinking "I haven't swam this far in years!" Hold on; Lord, I know You're in charge. I'm going to "just keep swimming". Like usual, I don't find anyone to latch onto and just try to rely on my straight swimming to get me to the finish just as fast.

I find the two buoys out there with no problem and head back to start loop 2. I realize that I didn't pull my Perpetuem Solids out of my bag. I'll have to do that when I get to T1. Hopefully it won't take too long. Suddenly my hand hits something hard. I look up and it's floating debris...wood chips, branches, and leaves. It doesn't hurt much but I still want to avoid it. I finally just look down and swim on through it.

I head out for lap 2 feeling a bit tired but excited to get to the bike. My stroke is feeling stronger and smoother. I am pulling in some green cap folks in my wave too. Yeah, I'm at the last buoy! I push to the end and see a few green caps pull away. It doesn't discourage me this time and I remain focused. I hit the debris again but this time it's not as bad. I swim all the way to the ramp, jump out and rip off my wetsuit. I comes off so easily...I don't know why more people don't do it like that.

As I run up the my bike, a girl who finished ahead tells me good job. "You too!" I fish out my Perpetuem Solids and a Hammer Gel pretty fast (I forgot to take it before the swim). I get out in less than 2 minutes. Wow, thanks Jesus! Nothing to complain about there.

I get clipped in on my bike with no problem. Thanks Troy for getting my cleats working good. Let the climbing begin. I see Monica coming up to T1 as I go out, "alright Monica!" I expect to see her soon. It's fun climbing up Newcastle Road to Shirland Tract. I'm able to use my aerobars more than expected. I see Maxx and Bill and tell them good job.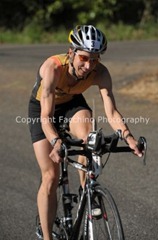 As expected, Shirland Tract is tough but I'm able to keep passing folks. My average is around 13mph and I wonder if I'll eventually work up to my goal of 15.3mph. I'd like to take a gel but there is no aid station for miles. I know I'll be passing T2 so I'll try to dispose of it there. I get the gel down and see Francie Campbell at T2 directing traffic. She gladly takes the wrapper for me. "Thanks Francie!"

As I get to the bumpy alleyway, I can see Troy coming back. "Go Troy!" He flies by and I wonder if he is in first. Awesome! I'm amazed at how well covered this area is by volunteers. They are pointing out the bad spots and also keeping the returning Sprinters from running into us Long Course folks. A little further on I see Dave Campbell flying down Virginia St. "Go get him Dave!"

I make it through a lot of busy intersections with the help of volunteers and CHP. This race is very well covered! I see some really fast women Sprinters. Wow, that's some tough competition!

On my way past Machado's Produce, I'm looking for the Sprint turn-around from last year because I told Troy and friend, Dana, that it would probably be here. But it's not. In fact it's way up past Arthur Lake. Hope they're up for the extra challenge.. they have to climb back up those two tough hills on Bowmen. Tough!

My average is climbing above 14mph. Cool, getting closer. We climb up through Applegate. I don't see any women. I wonder if I'll see Karen who started earlier. For all I know, a pack of women could be just ahead.

Before I know it, I'm in Colfax and heading toward the Bear River Campground. I see our friend, Bob, directing traffic coming off the freeway. "Hey Bob!" Now I'm reminding myself to turn right at the top. While practicing this course I took Karen and Jessica left on accident. But as I turn right, I'm not paying attention to the signs and I can't see the rider ahead so for a moment I'm worried that I'm wrong again. Oh, I see the other rider and breathe a sigh of relief. Phew, thanks God!

After a lot of twists and turns I finally turn-off toward the campgrounds. It's a steep descent and I'm surprised how comfortable I am. I am braking some but feeling confident with the speed. Down into the campgrounds my average is above 15mph. Great! The climb out will probably destroy that but I'll try to make up for it as much as I can on other descents.

I feel strong climbing out but I try not to push too hard. I pass a few guys and make it to the top without loosing much of my average. Awesome! Now it's straight back. I see Bob..."thanks Bob!" He mentions a girl ahead of me. Finally, another girl! After a mile I can see two girls and one of them is Karen. I catch up to her and tell her good job and ask how she's feeling. She's feeling good and looking strong...thanks Lord! Karen tells me that I'm the second woman. Wow, that's a surprise!

The other girl stays ahead for a long while but I can see her. Just when I'm about to catch up going up steep Geisendorfer Road, I find I'm in the wrong gear. I'm trying to get water and thinking about a bathroom break at the same time so I forgot to shift. I only have time to switch to my small chain ring so still have to crawl to the top, but I'm so glad I didn't have to get off my bike!

The girl alludes me until Clipper Gap where I'm able to pass her on the descent. Her jersey says SOAR on it. All it needs is an ES...he, he. My goal now is to really work the descents hard and ease up the ascents to save my legs for the run. It's a technique I know has worked well for Troy especially at hilly Wildflower. I'm amazed that my average is now over 16mph! What, that's crazy!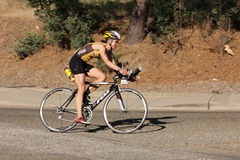 On the out and back section, the girl passes me back and pushes hard up the hill. I remain patient and look forward to flying back down. At the turn around point I close the gap because it's a short descent that I push. The poor girl turned a little too far down the road thinking she had to go around one of the volunteers. Another volunteer points me to turn earlier so that puts the two us even closer. It's a short climb up and she pulls ahead. At the top, I push hard down and pass her. On the way down I see Karen and Monica. I cheer them on and continue the push.

Every descent I find, I'm trying to fly. My average is 16.6 and I'm shocked. I'm going to blow away my goal! I have no idea how far ahead I am but I'm not going to dwell too long on that. Finally I'm heading into T2 as the first woman. This is fun! I see Dave and Francie..."hey guys!"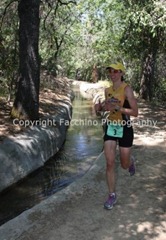 I transition pretty quick and get started on what usually is my strongest leg. It's a 3 lap course. I did 3 laps at the Auburn Marathon and they seemed to go by fast. I hope that is the case today! It takes me 1 mile before my legs feel good. I pass Duathlon leader, Clarence, who is on his second loop. "Great job!"

Mile 1 is 8:28. I make it to my church's (Elevation) aid station. I see Troy, the girls, the Gray Family and Susan Taylor. Anna gives me a sponge and runs along side for a bit. "Go Mommy" Ariel shouts.

As I make the sharp turn to go down the canyon, I can see the girl I passed. I have some distance on her but she looks strong. Will she catch me?
I feel strong running down the canyon to Stu's Trail. Mile 2 is 7:45. Alright, I hope I can keep this up! At Stu's trail, I almost go the wrong way following another guy who jumped over a cone. "It's this way" I tell him as I veer right. Climbing out of Stu's trail, I notice the heat. Whew, it's getting warm!

Mile 3 is 8:06 climbing out of the canyon. So far I'm doing good but my legs are feeling tired!
As I head toward the finish of the first lap, I see Dylan and Michael Cook. "Hey guys!" Mile 4 is 8:52. I have a gel and water at the aid station at T2. My legs are really starting to ache now to the point of wanting to walk. I see Michael and Dylan again and give them a smile. I cannot walk in front of them...what will they think. I climb up the road to the canal trail where I am camouflaged and I walk for a few moments until the ache lessens.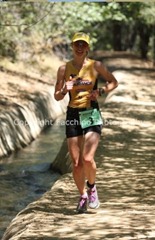 Mile 5 is 8:51. Clarence catches back up to me and I tell him to go for it on his last lap. I'm feeling a little better now. I'm looking forward to seeing Troy and the girls. I make it and they are excited to see me. Anna sponges me and Ariel cheers.

Mile 6 is 8:20. The pace is good but my legs are definitely tired...ugh! The balls of my feet feel like they are on fire because I'm wearing new shoes...it helps that they are the same brand and model but they are not really broken in yet. Because of some arch pain in my old pair, I choose to risk blisters instead of injury. Maybe it's a good distraction from my aching legs.
At the sharp turn I no longer see the girl from the bike but I do see a Silicon Valley Tri Club girl moving behind me. Wow, I think she just might pass me!

Mile 7 is 8:18. Just before Stu's trail, I see a fast female relay runner coming out. She looks strong! If my legs were doing well, I believe I could stay with her. Stu's trail feels awful but I make myself run it all the way through...especially knowing that SVTC girl might be catching me.

Mile 8 is 9:23. I pass Maxx and tell him good job. I climb up to the Sac Tri Club aid station. I get water and walk. The ache in my legs is great and the break gives me some relief. I get going again and climb out of the canyon. I see Monica coming down. She looks strong and focused.

I walk again just outside of T2 and it does little to help. Again, at the T2 aid station I take a gel with water. At the short climb up to the canal I walk again and I continue to walk along the canal. Come on, this is flat, let's go! Lord, help me! One more lap. I just need to get to Troy and the girls! Mile 9 is 9:47.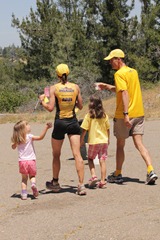 I make it to the aid station and try to smile at everyone. "Do you guys have Coke?" Troy says no. Bummer! I start to walk and Troy and the girls come along side me. "Troy, I don't know what to do." "Use the downhill and don't think about the uphill". Ariel is pulling on me from behind..."Mommy, Mommy, Mommy". Anna is sponging me off. What a great support crew! I wish I had more energy to thank them!
Mile 10 is 9:38.
I think about Troy's advice as I head down the canyon. I thought for sure that a woman would catch me by now. At the sharp turn I see no women behind me. Wow, Lord, could I win this?
At the Sac Tri aid station I ask for Coke and they have it! Yeah! They hand me a cold cup of it too! It's tastes soooo good! Ah! There's Karen! I give her a high five.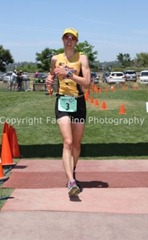 I am determined not to walk anymore especially since I could win this. Mile 11 is 8:56 right before Stu's trail. It is a huge mental task to keep my legs going. Lord, You are my strength!

Mile 12 is 9:19. At the Sac Tri aid station I get some more cold Coke. That really hits the spot. I REALLY want to walk but I promise myself that I can lay down at the end. More than anything else, I cannot wait to be done. I am surprised that I've been able to hold off the other girls. Lord, you are so generous!

I make it to T2 and gladly veer right to the finish lane. I'm thanking the Lord as I cross the finish line! As promised, I find a spot after I finish to lay down. Whew, I'm glad that's done. What a day!


| | | | | | | | |
| --- | --- | --- | --- | --- | --- | --- | --- |
| Name | Race | Age Group | Place | Swim | Bike | Run | Time |
| Troy Soares | Sprint | M40-44 | 2 | 20:00 | 1:12:05 | 27:06 | 2:01:49 |
| Dave Campbell | Sprint | M55-59 | 1 | 18:30 | 1:17:27 | 29:49 | 2:08:02 |
| Trudi Scott | Sprint | W40-44 | 2 | 23:52 | 1:30:00 | 38:31 | 2:36:52 |
| Steve Caminiti -Swim | Sprint Relay | Men | 3 | 21:58 | 1:37:47 | 30:46 | 2:32:14 |
| Karen Nickel | LC Dua | W30-34 | 1 | 17:29 (Run) | 4:04:03 | 2:22:36 | 6:46:31 |
| Robin Soares | LC | W35-39 | 1 | 37:35 | 3:19:05 | 1:54:33 | 5:54:33 |
| Monica Erdosh | LC | W45-49 | 1 | 39:26 | 3:29:19 | 2:07:13 | 6:20:12 |
| Bill Severi | LC | M45-49 | 5 | 34:04 | 3:39:37 | 2:07:07 | 6:10:53 |
| Lindsay Grossman | LC | W25-29 | 3 | 37:36 | 3:59:55 | 2:29:22 | 7:13:10 |
| Maxx Hackett | LC | M25-29 | 8 | 39:26 | 3:52:08 | 2:47:34 | 7:25:39 |
| Andrew Hudnut | LC | M45-49 | 15 | 37:17 | ? | ? | 8:17:00 |
| Ryan Moll | LC | M35-39 | 16 | 43:10 | 4:14:10 | 3:28:30 | 8:33:21 |
| Jody Galvin | LC | W30-34 | 6 | 1:01:14 | ? | ? | 8:51:27 |
| Andrea Ivan | LC | W50-54 | 1 | 1:13:31 | ? | ? | 8:55:38 |
| Jane Linder - Swim | LC Relay | Mixed | 4 | 42:44 | 3:58:43 | 2:55:07 | 7:40:21 |