| | |
| --- | --- |
| Date/Location: | July 28, 2012 – Windsor, CA |
| Distances: | 2.4mSwim - 112m Bike – 26.2m Run |
| Time: | 10:39 (1:06:00-2:41-5:34:45-3:51-3:52:25) |
| Place: | 2nd, M40-44 |
| Teammates: | Dale Jackson, FCA Teammate - Bill Severi |
Comeback Day
It's pretty exciting, as well as ominous, waking up to an Ironman event, 7 yrs since my last one. That one was Ironman Coeur d'Alene 2005. I struggled on the bike going into the wind, and my foot problem made the run a physical and emotional gauntlet. But I finished it… in my slowest time of 10:49:09. 4 years later, after continued prayer and hope, the Lord caused my foot to suddenly start getting better after 10 yrs of pain. Since then I've been ramping up training, without pain, for this day, which I owe to the Lord, and to Robin for the support as Ironman training takes important time away from family.
Preparations
Although I've felt sluggish all week, with little pains popping up here and there (this is normal peculiarity during the taper before a big race), I know I'm ready. My bike and needs bags are prepared. My bike has new tires & chain. Thanks to Robin's help and encouragement, it also has a shim to help the seat stay up, a drink system straw (which I had lost) and a new cog set. I didn't want to use the cog set which includes a 28T granny gear because that's just embarrassing. No offense to grandmas, but they call it a granny gear because you need it as you get older to go up hills. I've been using a top gear of 21T for 12 years so a 28T is a big change. But Robin insisted.
Encouraging Reflections
My recent training has been good. 3 weeks ago the San Diego 15k race left a good memory for fast running and the TBF Tri-4-Real verified my bike position was finally dialed in. Then 2 weeks ago I had a good 20 miler and recently a good lake swim. Of course I'd like to have more long runs and long bikes under my belt, but knowing I felt "comfortable" in some of these last hard efforts is a great encouragement. The biggest encouragement, however, is knowing that my family and the Lord is supporting this effort.
Iron Prayer
Yesterday, at the FCA Iron Prayer, we only had 1 person arrive. But his testimony fit perfect with the topic, "Life and Triathlon Isn't Always Fair". Fortunately, our Lord, Jesus, shines in unfairness. He's experienced it all, and, in our lives, creates great encouragement from "unfairness". John Garza lost his 28yr old daughter to sudden cancer, but, through it, has seen his Faith grow and thrive for the first time in his life. He's raising money through Team in Training and sharing his testimony for Christ to others.
Solomon spoke in Ecclesiastes about unfairness. One example he used was people voting in a bad king to replace a wise king just because of fickleness. This is unfair for the hard-working king. Triathlon mishaps like flat tires, re-arranged equipment in transition, or sudden sickness on the run are things we may see as unfair after we've put so much work into preparing for the race. In my most important Hawaii Ironman 2003, my bike seat slipped down 7 times. The new method I used for keeping it in place was actually making do the opposite and slide down more. It was my final effort to reach my goal of 7 years, why would that happen? Or why should my foot hurt for 10 yrs? In that case I didn't complain but continued to trust the Lord. The amazing result was that my goal was still reached and the memory became a great milestone in my life of wonderful blessings that don't make sense at the time. The Bible says the Lord knows how to give the best gifts. The most worthwhile accomplishments in our life often come from perseverance through unfairness.
1000 Fast-Looking Triathletes
We arrive in Guerneville at 5am. It's the day before Anna's birthday. She opens her present, a razor scooter that she can ride around all day, and then I head to transition. At registration yesterday I was reminded how many finely-tuned athletes show up at an Ironman distance event. So many gaunt, long-muscled endurance machines. I guess I fit right in. We're a funny looking crowd. I set up my transition. Porta-potties are not too busy yet. I run a little. Swim a little (the water is warm, 70 deg., no fear of getting too cold).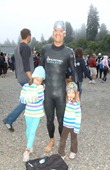 Soon, there's not much to do but wait with my family.

They're huddled together staying warm. We pray.
The Swim
Waves are leaving 2 min apart.

I make my way to the start, float over to the right side of the 106 starters in my age. Before I even know it, the horn blasts! Go! It's under way. Up-river looks foggy but the buoys are still clear. I miss the good drafts. I'm just trying to stay calm for a while.

Soon we're moving through other waves. 1/2 way to the turn and I hardly see any silver caps in my group. My goal is 1:10. Most of my 1/2 Ironman swims have been 34 min. I'm going to have to stay focused. Robin said I'll probably go faster than 1:10. That's encouraging, but I'll need a draft for that to happen. Just when I think all the faster swimmers are long gone, a silver cap comes right by. I'm able to jump on his feet! It's so great having a pull through the chaos of slower swimmers and walkers (yes, the river is shallow and despite being against the rules, some are choosing to walk). I'm glad my draft guy isn't succumbing to the temptation to walk. It's like God sent this guy to give me a draft. Thanks, God.
After the turn, we head back down-river to the start. Weaving through the crowd of walkers. Scraping my hands on the bottom. I lose my draft. Bummer. Cruising, open water, under the bridges and finally I see the purple and green of the Vineman T1 transition area. I check my watch, 30min! Great. But I'm not to the start yet, the transition and people lining the beach goes on and on. 32min and I make the turn.
Lap 2 and the mysterious draft
Back up river for lap 2. I have to push if I'm going to match my current pace without a draft. I'm getting hot. Letting water into the mouth of my suit really helps… the cool over my chest and arms is a boost. At the turn buoy again. 50min. 15 min left to get 1:05. I think I can do it but it's going to be hard. I need motivation. Suddenly, and shockingly, the same guy I drafted earlier comes swimming by me! After a 1/2 hour, this faster swimmer was behind me? Thanks God! I have to sprint to catch up and stay with him. It's great motivation. Even though I'm tired, having to focus on his feet takes my mind off the remaining 1000yds left to swim. Soon enough we're going under the 2 bridges lined with spectators. There's the finish line! Wow, he pulled me all the way and made the new goal 1:05 possible. I walk to the beach, kick off my wetsuit to the cheers of the crowd and head to my bike. Surprisingly I'm 9th out of the water! It seemed the group had left me behind at the beginning. What a great start!
The Bike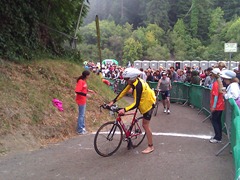 T1 goes well. Earlier I gave my backpack to Robin so I only have to pack my suit, goggles & towel into a bag. I'm nice and warm from the swim but the foggy air is 20 deg colder. I put on my FCA Endurance jacket that Robin bought me and run to the mount line. I'm glad to see Robin right there. We mount at the bottom of a steep grade. Others are having trouble starting. That granny gear Robin bought me is already earning it's keep… it allows me a clean start up the hill! I'm off… but then 1 shoe comes off the pedal while trying to put my foot in. I catch it with my foot. When this happened at San Jose, I had to get off and lose time. But this time I keep calm and keep rolling. I grab the shoe from my foot, cross my leg over the bike and put it back on. Great.
Calculating Speed, Heart Rate and Gear Ratios
At the next steep grade I use the granny gear again. Terrific. I'm feeling good about the ride. I'm watching for holes so the bumps don't knock my seat down. The jacket is working great. My pace is moving up to target. There's no wind so I set a goal of 20.5mph for the first loop and 18.5mph for the 2nd, to get my goal of 19.5mph. The scenery is great. I pass a couple riders but there's not many around. My position is feeling pretty good. And, again, I'm thanking Robin for my new cog set. Even though the granny gear is not used a lot, having it at the top allows other gears to be used that I couldn't before. Without leaving the big chain-ring, I can now access 23T and 25T when before I was limited to 19T. This means a lot less shifting! To pass the time, I work on a math problem: calculate my anaerobic threshold heart rate. It was 165bpm at Ironman Canada 16 yrs ago. My max then was 194. That makes 85%. Minus 85% of 16 yrs is 14 less beats. 151bpm. Don't go over that.
The Back Side - Feeling Strong But a Little Nausea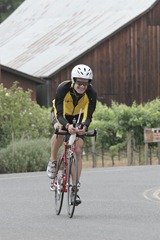 Canyon Rd, about ½ way around, is the first of 2 significant climbs. I've been riding well and now sit up to take the hill easy. A guy (50yr age group) goes by and excitedly tells me, "I've been chasing that yellow jersey for 20 miles! I'll help do some of the lead work now". He's a nice guy decked out in orange with yellow socks. It'll be easy to keep him in my sights. Quite a few pass me on the climb, but flying down the backside I make up positions.
This East back-side of the valley is flat & smooth. The wind is mild but I still try to be aero and efficient. I have 2 riding positions: up and forward, or down and back. Down and back worked good at the last TBF race I did so I try to re-enact it.
I'm drinking Hammer Sustained Energy, which always works great for long distances, but I'm also taking some Perpetuem Solids and banana. My stomach is getting a little nauseous. I try a bite of peanut butter cookie Laura Bar (peanut butter sandwiches used to be an Ironman favorite of mine). I decide I better stick to fluids rather than risk more stomach upset.
Everything else is going great, I'm at 20.4mph, and approaching Chalk Mtn, the 2nd real climb. I take my first rolling nature break, take off my jacket, and drink fluids to lighten the bike. Now I'm ready to climb… making sure to stay below 151bpm. I drop below 20mph ave by the top and set to work getting it back. I fly down the bumpy backside and finally turn towards Windsor with 8 miles of flat to go till our needs bags. A bunch of guys pass me, but I'm busy putting sunscreen on. Another good idea from Robin. She bought me a little tube and gave me her Bento Box to store it. This will be great because the wetsuit scraped it off my shoulders, which would later burn, and that takes energy out of the run. I'm happy to take a little time now to maintain the run later.
Special Needs
Coming into town, I'm near the guy in orange. I plan my needs bag transition: drop the jacket, bottles, sunscreen, and coffee Perpetuem Solids; pick up new bottles, strawberry solids, Sportslick and running shorts (the last item is because I forgot to put them at T2. This is the only legal way to get them now). The volunteers are great, holding my needs bag. I apply Sportslick where it really counts; prompting the guy in charge to say, "It aint a pretty sport". And now I'm off to catch the guy in orange. He's finishing the 1mile out-n-back when I start. Then I see Robin and the girls driving up. I'm so excited because I'm 8 minutes ahead of schedule and thought I'd miss them. I give them a thumbs up to let them know the bike is going great!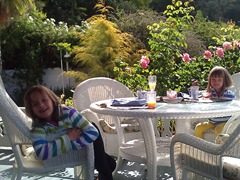 Seeing Friends
Through the bumpy, shady, rural section. Another rolling nature break. I pass the Raford Inn of Healdsburg, where we're staying and wave to our friend Rita and some of the guests looking out for me. It's been great having such support while staying there. I know this section of road well from warm-ups around the bed-n-breakfast.
The Perfect Position
Now, back on the main loop, I set to maintaining my pace until the East side where I expect headwinds to drop it down. Before I get to Canyon Rd again, I find the perfect down-and-back position. It feels comfortable, relaxed, aero and my speed is maintained! Thank you Lord! Then, in a funny turn of events, I catch the orange-guy near the same spot he caught me before. I tell him, "I've been chasing that orange jersey for 20mi!"
Up Canyon Rd hill, drinking plenty. I'm excited to see Robin and the girls at the top! Yay! I tell them it's going great and then fly down the back. Ok, this it the hard part. Flat, smooth, but some headwinds. I get into my down-and-back position and hardly feel the wind! I feel like I could go forever this way. I think of my ultra-cycling friends, like Jeff Landauer. Usually I'm uncomfortable, having to force the speed at this point. But instead I feel good.

Another guy tells me "good job, good work". I do feel like I'm doing a better job than usual. I just thank the Lord for an answer to prayer.. being comfortable.. and keeping the seat up.. it looks like the shim, from an old Coke can a co-worker had given me, is working. Another thing Robin encouraged me to do!
Emergency Stop
97mi and I'm still at 20.4 mph. Whoo hoo! But a road block is ahead with a dozen riders waiting patiently. An emergency vehicle is parked across the road with a whirling helicopter right behind it. It's blades narrowly missing the trees on either side. Inside the whirlybird is an injured cyclist that had crashed. While he's being stabilized, the helicopter waits to take off. And we put our Ironman on hold without any complaint. It is Impressive that none of us hard-charging racers appear upset. I think it's because we all know that guy could be one of us and that being able to walk again is a lot more important than a little competition. We move to the shade, stretch and drink. My average slowly drops from 20.4 to 19.8 but I realize that extra speed was a gift from God, not something I had counted on. Maybe this is why He gave me the fast pace.
I also reflect on my first Hawaii Ironman in '96 when I had to serve a 4min penalty after the bike. The position foul had been unintentional but I made the best of the rest with stretching and drinking. Everything still worked out great. The 8min delay today may actually have a few minutes benefit in the run. But I am starting to feel the heat pick up when the chopper throttles up and lifts off. I'm amazed at the steadiness, hovering between the tall pines, carefully but powerfully rising.. and then whisking the fallen rider off to the hospital. The CHP gives us the go and the now 25 riders take off to finish up our ironman bike.
Surge to the End
I'm back 'n forth with the first 6 guys, trying to avoid draft situations. Hitting the Chalk Mtn climb, my heart rate (159) exceeds the threshold (151). I have to ease way back, into the Granny gear again, to bring it barely under the limit. The guys go ahead but after the top I use the free-speed again to move back towards the lead. One guy in a "BODIES-The Exhibition" skin suit gets far ahead. I'm averaging 12 BPM higher then the 1st loop on these final 15miles.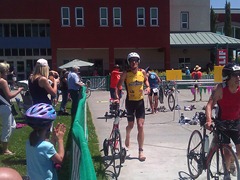 Definitely not as comfortable as before. With 5 mi. to go, I ease up, take lots of fluids and Enduralytes and prepare for the run. We're pretty close together as we run into T2. I'm in 2nd place! 2:41 bike split (20.1mph) and 13th fastest in my 40-44 age group.
T2
Robin and the girls are cheering, telling me only 1 40-44 has gone through so far. Wow! I hear the crowd commenting on the sudden pack of riders finishing. They're unaware of the accident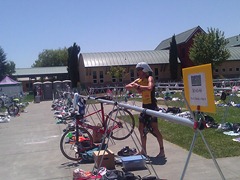 . I ask Robin to pray for the injured cyclist and then head off to the changing tent. For the first time since '96, I change into running shorts. I'm looking for every way possible to make the run more comfortable. I head out and now am 3rd place.
The Run - Loop 1 - Pumped Up, and then Deflated
I'm excited to take on my strong leg. I leave my needs bag (with Sustained Energy) for later loops 2 and 3. My first miles are 7:30 & 7:50 which are way under my planned 8:30 pace. But it feels ok. I'm eager to get 1 loop out of the way.
Our friend, Noel, out from Texas supporting her club, is on a bike and encourages me, "you're rocking it, Troy. I think you're in 10th. You look great!" I'm thankful but I know there's a long way to go. Still, I start counting the guys coming back, excited I might actually be 10th.
A young tall guy passes me and compliments my race. I recognize him from the bike. I'm smiling, positive, motivated. I decide to stay with him to help pass the miles. But up the hills my heartrate forces me to back off. He's the age I was at my first Ironman. I remember those 14 extra heart beats to work with.
2 miles in and the fun is wearing off. I assess reality. I have a tender rt hamstring that I'm nursing by shortening my stride. The ball of my left foot is generating a hot-spot intensified on the climbs. And my stomach is nauseous. I've been drinking a lot of water. Now I try to hold off taking in anything until I can get my Sustained Energy starting the next loop. My heart rate and my speed are dropping.
At 3.5 miles there's a steep hill. I remember it from my '93 ½ Vineman experience. It was a 106 degrees and every step my feet hurt, as if I was barefoot on the hot road. I walk the hill. Now I longingly look for the turn-around. Finally, there it is!
35:35 going out. 7:54 / 143bpm ave.
Working Together
Ok just have to get back. But it's feeling long now. I quit keeping track of my position which has dropped way back. I wish I was back on the bike so I could coast. Down the steep hill I find myself next to a woman in Barb's Race. We're running the same pace and start talking. This helps greatly to pass the miles. Kelly, from Orange County, is here with her club. They were going to do the Aquabike but it was full so they had to do the triathlon. She's nursing a strained knee. After 3 miles she has to slow down. I pray for her knee and am sorry to leave her behind as she really helped keep me going.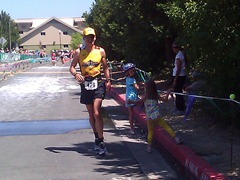 Finally nearing the school. The ¼ mile of off-camber is hard on the sore legs. Coming into the turn-around I see Robin and the girls. Such a joy to see. I tell Robin I'm hanging in there but inside I'm wondering how am I going to get around that brutal loop 2 more times. My pace has only dropped from 8 to 9 min/miles, but looks to go higher. I get doused with water and then grab Sustained Energy bottles from my needs bag.
39:44 coming back. 8:50 / 140bpm ave.
The Run - Loop 2 - New Encouragement
Robin yells, "You're going to get your 2nd wind!" I head out, drinking SE and thinking about that. Yes, I guess it could get better. I decide to start guessing my pace for each mile. I think about only 1 mile at a time. 9:33. Ok, the next one I'll try for 9:15. 9:05, whoo hoo! This mile is hilly so how about 9:30.. 9:32, good. Things are going better. The Lord has answered prayers again. My hamstring feels fine, the ball of the foot is ok and my stomach is getting better. The legs are very sore but they actually don't feel worse going faster. I make a good effort before the steep hill and reward myself with another walk. This is the only place I'll walk. The stretch to the turn-around is hot and flat.
40:28 going out. 9:00 / 140bpm ave.
The Leader is Bonks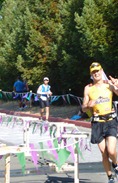 The pace held pretty well going out. But I'm really hot. I'm now stopping at every aid station to get thoroughly drenched with the hose. I have a sun protector flap on my hat and have been using water / ice on the head, but the dousing works best to bring down my temp, and therefore my pace. By the next station I'm hot again. The tailwind back helps bring some sub-9 miles. I haven't tried to know what place I'm in. So many guys are going by, but what loop are they on? At 16mi I'm running with a guy on his first loop. He points out that we're about to pass the 1st place guy. Sure enough, there's the "1st Place" bike waiting for the leader to start running again. He's a lap ahead of us, 2 miles from winning the race, and he's breaking down. That's gotta hurt. As I finish my 2nd loop, Robin and the girls cheer again and this time I'm optimistic as I tell her "I'll be back in 1:20" which is a 9min pace. That would finish my marathon in under 4 hrs.
39:47 coming back. 8:51 / 139bpm ave.
The Run - Loop 3 - Coke
Making the turn I hear the announcer say, "The leader is coming. He's got 45 secs to break 9:30 and win $4000! Let's bring him in!" Wow, he's barely able to run… but he just barely makes it! I drink the rest of my S.E. and head out playing my pace guessing game. I get a couple good sub-9 splits and then the glorious 20mi mark! I get to drink Coke. Umm! Slowly some energy comes back to me. I start pushing a little more. Again I reward myself with a walk up the steep climb and still manage a sub-9. I make the turn-around and they ask if I'd like to come back again. I joke, "No, I'm never coming back here again!" They laugh but I'm truly glad this is the last time coming out here.
39:34 going out. 8:48 / 139bpm ave.
A Fire is Lit - The Perfect Target
I look ahead. Runners everywhere. But amidst the slogging crowd I see I guy in grey I recognize. He passed me early on and seems to have come back a little. I pick it up but can't seem to make ground on him. I can barely see him. Pushing the heart rate up. I have to get sprayed down at each station to keep from overheating. But I make it fast in order to stay in the hunt. 2 miles to go and I'm running much better. 7:30 miles! I'm determined to cut into his lead. I don't know if he's in my age but I just feel I must give it my best effort.
Just having a goal, both difficult and achievable, is a blessing. It gives me something to focus on. When you think of races, you often remember your last miles and if they were your best effort. It may be 2 years till I race an Ironman again. I don't want to think for 2 years about 2 miles I eased up on. I must give it my all! Much time, preparation and effort has gone into this race.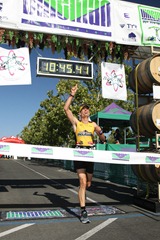 1 mile to go and still not gaining. I look down and give my biggest effort yet in the race. When I look up at 25.7 miles, there he is! Just behind him, I ease up for a moment to catch my breath. Then I go for it! I tell him "Good job" and surge forward with all I've got. I feel God telling me not to look back but just to do my best. So I sprint. The end of a 10-1/2 hr effort and I'm sprinting. People cheering. I'm almost done. He may be far behind, or right with me. I just need to sprint. Yay! There's Robin and the girls. Normally they'd run with me but I see they're not going to this time. So I continue with all I've got.. and yay! I'm done!
36:41 coming back. 8:09 / 149bpm ave.
Thank You, Lord, I'm Done!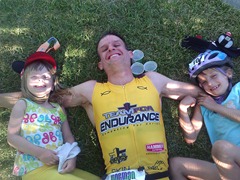 Thank you Lord for getting me through those lowly, exhausting miles and providing incentive, as the runner in gray, that brought out the best in me those last 2 miles. Miles to remember the next 2 years. Turns out he was in my age group and chasing me. I was 2nd by only 8 secs! Even with the struggles midway through the run, it was still the fastest 40-44 split. One thing Robin and I try to remember to make us always push hard is that "you never know what's going to happen" Today I was surprised what happened. It was more than expected. I give credit for that to the Lord. Thank you, Jesus.
I was 2nd out of 106 (14 didn't finish). 16th overall.
| | | | | | | | |
| --- | --- | --- | --- | --- | --- | --- | --- |
| Name | Race | Time | Age Group | Place | Swim | Bike | Run |
| DALE JACKSON | AquaBike | 6:36:19 | M50-54 | 1st | 1:08:53 | 5:23:53 | NA |
| TROY SOARES | Full | 10:39:42 | M40-44 | 2nd | 1:06:00 | 5:34:45 | 3:52:25 |
| BILL SEVERI | Full | 11:20:15 | M45-49 | 7th | 1:08:15 | 5:40:27 | 4:20:21 |