| | |
| --- | --- |
| Date/Location: | July 8, 2012 – Rancho Seco Park, Herald, CA |
| Distances: | 50meterSwim - 4m Bike - 1m Run |
| Time: | 41:34 |
| Place: | 2nd, Girls 6 and Under |
Getting Ready to Go
Swim
I just got in the water and I'm swimming. Lots of kids are walking but I'm swimming. I'm going around my first buoy and I'm feeling great! I'm swimming, swimming and then I run out to my bike. I had to stop because Daddy had to unzip my wetsuit.
Now I'm running to my bike and taking off my wetsuit. I don't know what to do next so I grab my bike shorts and put them on. I got my bike shorts on and then I put on my shoes. I put on my helmet and then I put on my Camelback. I almost forgot to put my bike number on. I grab my bike and run down to the bike start and start biking.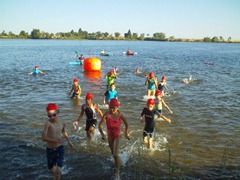 Bike
I went out on the bike course and I was biking and I found a friend. We are biking together and talking. On the way back, I found a girl that fell. My other friend takes off and I stay with the girl and help her take her shoe lace out of her tire. I biked with this girl the whole way back and we finish together.
Run
When I am going out the girl that fell down takes off. I grab some water and drink a little bit and try pour the rest on my head. I give Ariel a high five and start the run. I'm going to look for my friend that I started the bike with. As I'm running up the hill, I can see my friend. We run together up and down the hills. She says her foot hurts and I tell her about God…"if you believe in God, God will help you". I say this two times to help her know. I hold her hand and we finish together. That was a great race!
Watch the race…