| | |
| --- | --- |
| Date/Location: | July 4, 2012 – Coronado, CA |
| Distances: | 15km Run |
| Time: | 1:06:30 |
| Place: | 7th, W35-39 |
| Teammates: | Troy Soares |
This race is starting to become a yearly tradition for Troy and I. It's nice to be able to race together without the girls. They are sleeping soundly back at Grammie and Papa's house and will soon be awake and having fun.
It's difficult finding parking on the small island of Coronado but we finally squeeze into a spot with my Mom's small car. As we jog to the start and later back to the car to drop off gear, I can tell that I'm not feeling peppy. In fact it's hard to motivate myself to run a proper warm-up with pick ups.
We line up together at the start and pray. I give Troy a hug and flash him a smile. I notice a girl on the front line decked out in red white and blue…she has a skirt and crazy socks that's hard to miss.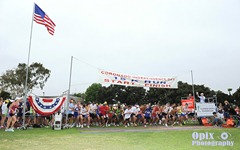 Ready, set, go! Close to 1200 of us jump off the line. I'm swallowed up in the crowd quickly. I notice that same girl that was in front of me in the crazy outfit just passed me. How did that happen? Wasn't she in front of me? Is she part of a set of twins? I guess I'll soon find out on this out and back course. Not long after we begin, the course narrows significantly. Folks are calling out obstacles like poles and holes…it's nice to see that kind of courtesy and care!
Mile 1 is 7:00. For someone going from 1300' in elevation to sea level, this should feel much easier! I try to stay positive and thankful. I can see Troy way in the distance and hope he's feeling better than I am!
We run along the Coronado golf course where folks are already lining up for the big fireworks show tonight..dedication! Mile 2 is 7:00. Why do I feel so yucky? I think back to my recent runs and I realize it's almost been a week since I last ran! Oops! I guess I've been doing more biking and swimming lately. Well that explains a lot but I must not let this bit of knowledge sabotage my race. Lord, help me to push hard and persevere!
We pass the beautiful Hotel del Coronado and run along the strand. Soon we are turning left into one of the naval bases. Mile 3 is 7:02. I see the skirt girl ahead along with a blond girl. I hope to catch up while on base. I am able to catch a few other girls but it's tough. We run past some military folks getting ready to do some morning exercises. I try to say thanks for your service but it's hard to annunciate the words. I think all they could hear was some mumbling and could only see a painful smile…probably a scary sight!
Mile 4 is 6:57. Yeah, better, but boy this is painful still! I start seeing the leaders heading back and do they look fast! This race is clearly a big club event and you can see the different sponsors and teams represented. There are 2 girls in the top 15…impressive! I'm looking forward to seeing Troy. I see the girl in the crazy skirt coming back in the top 20 and another girl in a crazy skirt still heading out just ahead of me. Yes, twins! Cute! Here comes Troy! He's smiling and looking strong! I muster a smile and a high five.
Mile 5 is 6:57. That's not bad. Lord, this is tough. Help me to have a "happy heart" despite the difficulty! The skirt girl and blond girl continue to allude me but I don't give up.
Mile 6 and 7 is a 7:03. I'm so ready to be done! Just when I'm letting the negative thoughts pour in, the Lord provides a distraction. A guy goes by and I just get on his shoulder. It gets my legs moving again and my focus back. Though he eventually pulls away, I'm closer to the blond girl.
Mile 8 is 6:58. Better! Thanks God!
One more mile! I keep trying to push but it's difficult. A girl goes by and I cannot react. Lord, I know I can make it! Though the wheels are coming off, I'm still pushing with what I have. I see Troy as I approach the end. Mile 9 is 7:05…ugh! There's the finish line. It seems so far away but finally I'm there and I'm done! THANK YOU GOD! Phew, now it's time to rest!