Date/Location:

December 8, 2018 – Davis, CA

Distances:

5km Run

Time:

22:13

Place:

1st in Age Group, 11th Woman

Teammates:

5K: Ariel Soares
10K: Anna & Troy Soares
We're running the Davis Turkey Trot.. and it's December. The race was postponed due to the bad air quality from the Camp Fire. Though we are tired from the CIM relay and a busy week, it's still fun to come back to my old college town for a race.
Ariel and I are doing the 5K at 8am and Troy and Anna are doing the 10K at 8:30am. Troy and Anna may be able to see us finish!
I'm going to try to go sub-7 min pace…at least according to my Garmin which isn't always accurate. I want at least to go faster than my Auburn Stock the Closet 5K!
We all pray together and then I move up to the front. I look back at Ariel and wave. We are both wearing Santa headbands. I have mine tilted down so it won't fly off.
Ready, set, go! I quickly get off the line. I feel great starting off and am surprised my watch says I'm going under 6:30 pace. Better dial that back some. Pretty soon, I'm barely able to hold sub 7.
I see a gal in yellow that I hope to catch up to later. For now, I'm sticking with this pace.
Mile 1 is about 6:57 according to my watch. We go under Covell Blvd and I see someone running through the neighborhood towards me. As he gets closer, I realize that it's Justin, a kid I used to coach in Davis. He's not a kid anymore…he's married with kiddos. By the time I realize it, it's too late to say anything. Maybe I'll see him at the finish.
I'm over 7 min pace and feeling a bit tired. I remind myself that it's a short race. I'm now heading back towards the finish. Mile 2 puts me at about 7:03 pace average. I no longer see the girl in yellow. There are a few girls to catch, though.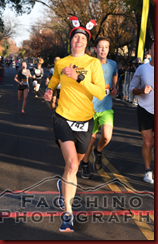 It's up the "hill" (a short overpass over Covell Blvd) and back down. I push the downhill hard knowing that I need every advantage I can get! I pass a girl going through the park and by Davis High School. I am really having to dig deep now. Just got to hold on a bit more!
Now I'm on B St. heading home. It's the longest stretch of road it seems. There are 2 boys running right with me. Part of me selfishly wants to just go by and say nothing…but the joy of the Lord presses me to encourage them. "Great job! Push it! The finish is close!" One takes off and I try to go with him. I can tell the other boy is trying to push too. It's such a long way but the 3 of us pass some others and stay steady.
I want to break 22 min, sub 7 min, but I can tell coming in I'm just shy. I dig deep and finish as fast as I can. Wow, thank you Lord! I went faster today and felt joy. Now it's time to cheer in Ariel.