Date/Location:

June 30th, 2013 – Pleasanton, CA

Distances:

Swim 1.5k – Bike 40k – Run 10k

Time:

2:32:46 (26:47 – 1:18:54 - 44:21)

Place:

2nd/38

Teammates:

Sprint Distance: FCA Teammates – David Kurtze, Kris Kennedy, Kristine Hodson, Rachelle & Rich Maciver, Ron Williams

Olympic Distance:
Dave Leroy, Kevin Magna
FCA TEAMMATES - Desiree Swift, Flor Hodges, Jeff Cooley, Jenny Boakes (Aqua-Bike), Mike Pirnat, Scott Hodson, Steve Chavez
It's a fun ride to the start of the CA Tris. I ride with my FCA Endurance teammates Desiree Swift and Flor Hodges. Once there, I hear Nick Tuttle announcing. He sees me and tells the crowd about the pre-race prayer FCA is hosting this morning. It's so awesome to have his support and the support of race director Ryan Coelho.
I connect with several other teammates at our very own team rack as I get ready. Now I head onto the pre-race prayer led by Troy. It's a great turnout…maybe 20 folks! Troy reminds us all to look for opportunities out there today…opportunities to help or encourage. I feel so blessed to have a husband so on fire for Christ and so encouraging to me! He opens the prayer time and I close.

After the prayer, I help teammate Jenny Boakes get a spare tube. She had to use her last one to fix a last minute flat. As I head to the start, I realize that I never set or turned on my Garmin. Also, I didn't get a swim warm-up in, except for the short swim heading out to the deep water start. I'm feeling pretty tired today already and wonder how it's going to go. As I pull up to the start, girls are already lined up in front on the sides. The only open spot along the front is in the middle of the pack. This could be a tricky start but I'll take the chance.

The Swim
Ready, set, start! It's a crowded start but fortunately I don't get beat up. I'm so focused on getting to the first buoy with the pack that I fail to sight well. I see a guy at the last second and bump into him. I try to say sorry but I doubt he can hear me. Okay, I need to be more careful! Lord, please guide my strokes.
At the first buoy, I'm still feeling tired but have a good rhythm going. These gals are strong swimmers. It looks like I might be around top 15. On my way to the next buoy I pull up on a few girls. To keep my head in the game, I focus on my form and pulling through the stroke. My arms feel so tired but at least I won't have to use them much after the swim is over.
Finally, the last turn…I'm home free! I'm not making big gains on gals in my wave but at least I'm holding my position. Suddenly a swimmer swims over the back of my legs and pushes me under slightly. It's a surprise but I'm able to keep going. This is part of the game and I don't believe anyone does it on purpose.
I make it to the beach…yeah! I pull off my wetsuit and actually am able to kick my foot out of one side for the first time in my new wetsuit. Maybe in the next few races I'll actually kick the other side out, too. I run to my bike and turn on my Garmin. I get my gear on and can hear Troy and the girls cheering. I grab my bike and start heading the wrong direction. "The other way Robin!" Oops!

The Bike
I get on my bike and am able to pedal a few strokes before sliding my feet into my bike shoes. Thanks God! It's up a short steep hill and onto the course. It's hard to get the legs moving and I get passed by a handful of riders. I see Carrie and Madison Chavez heading to the park on their mountain bikes. I wave and say hi. Within the first 3 miles I get moving and am able to pass some along the way.

Mile 5. For the last mile I've covered a series of out and backs. It's a great way to see where everyone is at. I see Flor up in front looking strong. I'm not great at the technical stuff but I actually do fairly well.

Mile 10. I've been going back in forth with a few guys. I'm trying to hold my position though so that I don't have to keep slowing down before I re-pass…which is the rules of the road.

Mile 15. I'm ready to be done. My bottom is sore and my legs feel flat. I'm able to gain on a few girls. There is another out and back and I see Flor heading back and still looking strong. There are a handful of other girls up there and they look great. I just keep pushing hard in hopes that I might make some gains.

I see a guy ahead on the side of the road. I've seen 3 with flats already and they all didn't need help. I ask if he needs anything and he says he needs a pump. I pull over and start pulling out my inflater, while a rider goes by and yells for me to "move over!" I try to scoot over as much as possible to keep out of the way of other riders. As I get the CO2 cartridge going, all the air suddenly comes out! The valve was open…oops! I tell the guy no worries that I have another cartridge as I close the valve. As I get that one going it starts to leak..oh dear! We get it on his tire just in time and I'm able to inflate it. The tire is not very hard and the guy says it's enough to get him back. He thanks me as I say goodbye.
My legs feel tight and slow at first. Three girls pass me right away. I fight through the discomfort and catch one back right away.

Mile 20. I'm looking forward to the run! I close the gap on the girls that passed me but get passed again by another. I push hard again and pass back. Only a mile to go! I just want to hold my position.

I'm back at the park! I slide my feet back out of my shoes. I'm getting the hang of keeping my bike shoes on the bike. It wasn't long ago that my shoes would fall off the bike! Thanks again Lord!

The Run
After a slow transition, I'm finally on the run. As I head out I see Carrie and Madison again. Further ahead is Troy. "There are a lot of girls just ahead of you!" I look up and sure enough there are at least 5 right there. At that moment a guy passes by at a quick clip. I pick it up and try to stick with him. Sure enough we have passed 4 of the girls by the first mile.

Mile 1 is 7:28. I continue to follow that guy and he pulls me past a few more girls. On an out and back section I see Flor and Dave Leroy. They look good!

Mile 2 is 7:08. It's warm but I'm feeling pretty good. Thanks God!

Mile 3 is 6:50. Alright! That guy has pulled away and disappeared. He must be finishing. One more loop to go! I see Troy again and it's a boost. Without someone to follow this loop, it's much harder! I see Desiree finishing the bike with a smile and that's another boost.

Mile 4 is 7:03. Slowing down but hanging in there. I see Flor again on the out and back and she's smiling too. I see teammate Steve Corrales walking with discomfort and I tell him I'll pray for him.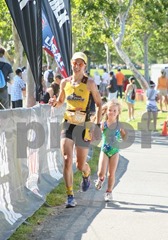 Mile 5 is 7:15. I'm ready to be finished. I need to keep pushing. I'm finishing with Ariel and I hope to have a little cushion. I see Steve again coming from the other direction and he looks better and he's running! Thanks again Jesus!

Mile 6 is 7:07. Almost there! I see Troy and Anna cheering. A little further is Ariel. I grab her hand and we run together. Praise you Lord for another great race and for being able to finish with Ariel with a nice cushion!