Date/Location:

June 9th, 2013 – Loomis, CA

Distances:

Criterium Race

Time:

30 Min

Place:

Elite 5, 4th
Omnium Result – Circuit and Crit – 3rd Place!
This is my best opportunity for doing well in a bike race. The moderately hilly course with a steep, sharp descent just suits me well. But I'm still concerned about crashing and have been praying for a safe race.
Robin is supporting the Fellowship of Christian Athletes booth at the USA Productions Folsom Triathlon today while the girls and I race our bikes. Ariel, Anna and I all roll our bikes to the starting line in front of the Victory Velo Bike Store on Lincoln Ave. It's a perfect morning.. not as hot as yesterday. Shayne and his family are here. I can't believe he raced twice in yesterday's heat and will do it again today.
With getting the kids ready and preparing, I end up not being able to even ride the course once. I do get a little warm-up in and concentrate on stretching. The course is changed from the very technical combo turns (onto Magnolia and onto High St.) to the less technical combo (onto Magnolia and onto Hillmont). This is safer but may change my plan.
Again, my plan is to get ahead on the descent through the corners, rest while they catch up and latch on to the group on the climb. As we line up, I note Justin in green, the mountain bike expert who won our Cat 5 race yesterday. Surely he will be fast through the corners, too, so maybe I can draft behind him and save some energy.
We're off. The first climb is short, and, again, I feel better during the race then I do climbing beforehand. On the backside Borland Ave I size up the group, get into position, and… jump forward on Cherry Ave.. fly through the turns and come out on Lincoln with a 1 to 2 second gap. Justin in green, a cyclecross guy in multi-colors and another guy immediately put a surge on the climb but fortunately my timing is right and I catch on and stay with them.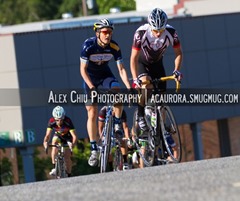 For a few laps I jump ahead at the top and then re-group at the bottom, hoping to stay on each climb. But with the easier course, I'm not getting far enough ahead to tire them out with chasing so I start to follow and save energy. We're only 4 guys now and the 3 with me and pretty fast descenders. The multi-color guy is often jumping and keeping us on our toes.
With 2 laps to go the pace picks up and with 1 to go I feel like I'm in perfect position. My goal today was to get 3rd place because I've never done better than 4th. All I have to do is sprint right before Cherry Ln, dive into the corners, and sprint for all I'm worth to the finish line. 1 or 2 will most likely catch me because I'm not the best sprinter, but I should be able to get 3rd. Wow, that would be neat.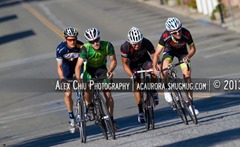 Rounding onto the Borland back section I'm alert and in position. I start to stand and then suddenly multi-color guy jumps and starts a big attack. Thankfully I was just standing and able to match his attach instantly. Thanks, God, perfect timing. The 4 of us are sprinting and I'm glued to the back…. but they keep going and my legs are hitting the wall. They're saying "you already used us up… it's up to you now". Oh no, up ahead is the moment I've been planning for weeks… be with the group, sprint through the corner and I'm home free! But instead I've fallen off the back. Eyes closed, mouth clenched, I'm pushing my dead legs hoping they'll respond again. I imagine the rest of the pack passing me as I flounder hopelessly. Find something, Troy, this is the moment it counts. Lord, help me keep moving.
I never look back. I barely look forward. I just gotta push and get to the top of Cherry… then I'm good. I remember an old movie I saw where a car was overheating but trying to get to the top knowing once he hit the descent he would be home free and escape the enemy. I can't see them, but they're coming. Finally, I make the turn and one last push on the pedals… whoosh.. the downhill…let it fly… and now the final sprint…. 4th place again. 3 times in a row. But I'm really happy with the race, that I didn't crash and that my climbing and timing were better than expected.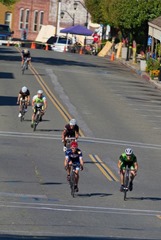 I got 3rd in the Omnium (Sat and Sun races combined) but Cat 5 doesn't award prized.. it's really considered practicing. Pretty exciting practicing for me. I was also excited to tie for the fastest descent on Strava out of 129 riders.
And then Anna and Ariel got to race their bikes around the course. Anna took off and hung with some fast kids… and then right at the finish line her chain fell off. I hear her dad is her mechanic and didn't check the chain tension! Ariel got a little emotional at the beginning because it takes her a while to get on her bike and the race was well underway. But she kept with it, passed quite a few kids and finished strong. So proud of my girls! I also got to watch Shayne and many teammates race throughout the day. It got hot and everyone was impressive, especially the pros.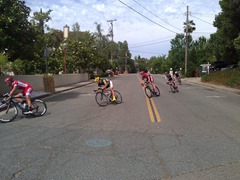 Thanks, God, for another successful, safe, and rewarding race.