| | |
| --- | --- |
| Date/Location: | September 25, 2011 – Granite Bay, CA |
| Distances: | Swim .75m – Bike 13m – Run 5m |
| Time: | 1:39:56 (20:06-42:16-37:34) |
| Place: | 1st |
| Teammates: | Ann Downey, Hal Tacker, Jesse Moore, Messersmith Family |
I drive down ahead of the family because they have to leave for church as soon as I'm done. I park a few miles away and bike into the Granite Beach park. It's the first chilly morning in a long time, requiring me to wear my beanie and warm-ups. The first person I see as I bike up is Dave Campbell. Besides being a great competitor, Dave and his wife Francie are regular volunteers for TBF. It's always great to see them!
I check in and squeeze myself into a bike rack. After chatting with my nice "neighbors", I get body marked and head out for a warm-up. I'm debating whether or not to wear my FCA jacket to stay warm on the bike. As I run more, I can tell I'll be just fine without it. On my way back, I see Troy and the girls arriving. I give them hugs and then run back to finish getting ready. I see kids starting a race and I wonder if that's the 1 mile kid's race Anna was supposed to do in a 1/2 hour. I check in and found out that they changed the time...but didn't post it. I'm disappointed but I know that God's in control and somehow this will work out. I find Anna and Troy 5 minutes later and tell them to get started now and go for it. Anna is not upset but up for the challenge with Daddy by her side. They take off without knowing the course and it's not marked....I pray that they find their way and have a good time.
Ariel and I go back to transition and finish my final preparations. We then wait for Anna and Troy at the finish.
(meanwhile.. from Troy: "Anna and I are running along the trails, hoping to eventually see the other kids running. Anna says she's not going to stop and sure enough runs the whole way. I ask her where the course goes because she did it last year. Together we piece it together and the fun we have exploring the route makes the distance go by quicker. Heading back, Anna is still running and coming out of the trees she shows how much fun she's having by running over some bike jumps. Now she sees the finish area and, picking up the pace, runs towards Ariel waiting near the finish. Hand-in-hand, with the announcer cheering, a big smile on her face and pointing up to God (like she practiced at home), Anna finished strong with Ariel. We never did see the other kids in the race)
Within 12 minutes we see them coming! Yeah! God helped them figure out the course! Ariel crosses the line with Anna...what a joy to see 2 smiling faces! I tell Anna good job. We all pray and then I head out to do a warm-up in the water.
As I'm getting in I see a familiar face. It's Jesse Moore, a UCD running teammate and co-coach from Davis High. It's been a long time but he looks the same. I find out that he's a bike racer now and a coach. Cool! It's his first triathlon today so I tell him to enjoy.
As I warm-up, I think how funny it is that I dread swimming the pool because it's often cold but I love getting in the water to race. God has been so generous in giving me some great swims this year despite my once a week visits to the pool. He's also blessed me with some great coaches (Chris Breitbart and Tracy Battistessa) who have been great help in refining my strokes.
At the starting line, I line up next to 11-year old Katelyn Messersmith. It's a family affair at these races. Her brother, Ryan, and dad, Martin, are already out there and her mom, Karen, is in the wave behind. Katelyn has a great attitude and is very smiley. I know she's going to have fun out there. Race director, Mark, tells the group that there are 2 girls today that will be battling it out and will be way ahead. I hope to at least keep those girls in close range.
Ready, set, go! I see a few girls going out front so I push hard to get on their feet. Other girls come around me and soon I'm sandwiched in between. I panic for a moment as they are almost right on top of me. Help me Lord stay calm! I push hard and pull out ahead. Soon I notice that these girls have drifted off to the right...phew! The water is choppy so sighting is hard. I mostly keep my head down and try quick glances to avoid swallowing water. I round the first buoy, which was farther out than expected, and have no idea if others are nearby...it's too hard to look for the blue caps.
At the last buoy, I get too close and it bonks me in the face. That woke me up! I can see the finish and put my head down and focus on pulling the water. As I breathe left and right, I glance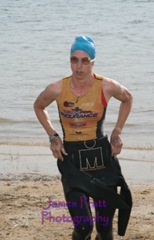 to see if there are any blue caps...I don't think I see any. I can see the bottom getting closer to me and I'm sure I can even stand up now. I keep going until my hands touch the bottom and I jump up and run ashore. I'm able to whip my wetsuit off...yeah! As I run up the beach I hear Mark say "second woman". Alright! I run up the beach and there's Troy and the girls. "You're the first woman" Troy says. I tell him "actually the 2nd woman"... just to set the record straight(=
I jump on my bike and head out for 2 loops. I see Dave and his son-in-law, Steven at the "hot corner" directing bikers. Dave cheers as I go by. I get aero for the first flat stretch. Then I start hitting the undulations and tight turns. Troy tilted my seat up a bit and I'm feeling more comfortable. The first loop is going well and is uneventful. Riding into the backside of the course, I make note of the first girl as she's riding out. She looks strong but I'll see if I can close the gap. I look down at the 20.6mph average on my Garmin and make another goal to hitting 21mph average on the next loop.
I roll back to the hot corner and Dave cheers and Steven jokingly boos me...that's a first(= Halfway out on the course I see a guy walking back with his bike. It's too dangerous to stop here to help. I decide to look for him on the way back but pray someone else will help him. As I make a turn to go to the far backside of the course, I see a girl turning left instead of right out of that back section. Whoa, she just cut the course! I soon see the top girl at about the same point so that means I'm not loosing much time, if any, to her!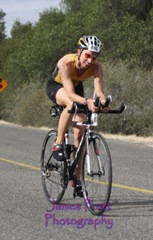 My average continues to hover around 20.6mph so I push harder to get it up. Then I hear something fall off my bike. I look back and there's my bike bag with my tire repair stuff on the ground. Bummer. I make a turn for a short out and back and wonder what to do. If I leave it till later, I might never see it again...a problem. Also, someone could easily hit it and possibly crash...bigger problem! I decide to go get it. Once out of the short out and back I hang a left instead of going straight. I pull over, wait for others to pass, and then grab it. But now I find myself at the same spot where that girl cut the course. If I continue left, others will think I'm cutting the course. So I go right, instead, and ride the short out and back section again so that there will be no debate over me cutting the course.
That added a good 2 minutes to my time! My average is down 2 mph and the lead girl is farther away now. I trust that God has a plan and I remember the guy walking his bike. Well now I have easy access to my bike bag. I don't see the guy but I run into a girl walking her bike. "Do you need anything?", I ask. "A tube", she says. Well, that I can do! I stop and pull it out for her in a snap. As I bike away, I realize I didn't even ask if she knows how to change her tire. I look back and ask her if she can do it herself and she says yes. Alright, I feel better to continue.
I push hard down the last stretch. Dave cheers and Steven boos as I come in...ha, ha, what a moment! I make a decent transition and run out. I'm struggling to get on my running Garmin and hat. I put off figuring it out as Anna joins me for a bit and gives me a high five. Troy and Ariel are cheering in the background. This is awesome! I love my support crew!
Once I get my gear settled, I focus on a girl ahead. I work my way up to her and tell her good job. I pass her but she hangs on behind me. Maybe I'll have some company...which is a good motivation to push it!
Mile 1 is 7:01. That's great but it sure hurt to get that. I doubt I can hold this pace especially as it gets hillier...I'll try! Though this course is brutal, it sure is beautiful. I love being along the lake!
Mile 2 is 7:29. Again, that hurts and I haven't got to the sandy beach yet! I see a group of guys ahead on this narrow trail and I catch up to them right when they hit the sandy stretch. I now have room to pass but it's really difficult to move. I slowly make my way by them..."good job!". Once back on the road along the lake, I see runners coming back. Oh yeah, this is the long out and back part...ugh! Well, at least I can see the competition and it's not too hilly. I see the first girl coming back and I tell her good job. She looks strong and it looks like she's well ahead. I'll keep pushing because you never know! I make the turn around and head back to the big hill on the course.
Mile 3 is 7:10. Painful, but good! I continue to push hard because I know the hill is going to slow me way down. Here we go! Light feet, look into the hill, use your arms! It's still hard but doesn't seem as long as years past. Up and over...down! This is a steep and slippery downhill! I wish I was my friend Courtney who can easily run down this! Instead I slow way down and try to go down sideways...pointing my toes down like Troy always says. I slip...Jesus, please keep me in one piece! Thankfully I make it to the bottom! Ahhh, flat ground!
Mile 4 is 8:22. Okay this is the last mile! Think Tuesday track! I just ran a 6 minute mile with the help of my friend Jim Kepfer this week so I've got to push hard! I try to ignore the discomfort and focus on navigating the narrow trails on the way back.
Mile 5 is 6:41! Thank you Jesus! That's great! Now it's time to finish! I see Anna and grab her hand. We run across and hug. Ahhh! That was great! I see Troy waiting in the car....time for church! I run Anna over there and say goodbye and tell them I love them. What a day!
| | | | | | | |
| --- | --- | --- | --- | --- | --- | --- |
| Duathlon | | | | | | |
| Name | Age Group | Place | Run | Bike | Run | Time |
| Ann Downey | W40-49 | 1 | 14:29 | 43:04 | 40:46 | 1:38:19 |
| Hal Tacker | M50-59 | 1 | 14:18 | 42:17 | 41:58 | 1:38:33 |
| Triathlon | | | | | | |
| Name | Age Group | Place | Swim | Bike | Run | Time |
| Ryan Messersmith | M14 & U | 1 | 18:25 | 40:38 | 39:07 | 1:38:10 |
| Jesse Moore | M35-39 | | 25:21 | 36:36 | 36:50 | 1:38:48 |
| Robin Soares | W35-39 | 1 | 20:06 | 42:16 | 37:34 | 1:39:56 |
| Martin Messersmith | M45-49 | | 21:28 | 41:09 | 39:11 | 1:41:48 |
| Karen Messersmith | W35-39 | | 23:40 | 52:41 | 47:56 | 2:04:17 |
| Katelyn Messersmith | 14 & U | | 31:12 | 1:04:41 | 58:44 | 2:34:37 |