Date/Location:

September 17 & 18, 2011 -
Folsom, CA

Distance:

11m Time Trial; 40min Circuit Race

Place:

12th in series
(8th in TT; 13th in Circuit)
Time Trial
I'm looking forward to seeing what my body can do today in the TT (time trial), especially considering that my tri bike is covered in a layer of dust. I've been cycling but not focused much on the tri-type events...and this is as close as you can get to a triathlon in cycling. I'm so thankful and grateful that my good friend Courtney is here to watch Ariel. Anna and Troy are at a work reunion party in San Jose so it's just me and my baby. Courtney's husband, Lance, is going for the top 3 in the Omnium (3 stage race: Criterium, Time Trial, and Circuit Race). I hope he gets it! This weekend, due to Troy's reunion and my avoiding the criterium, we are each competing in 2 of the 3 events. We'll still get an overall score, but will be at a disadvantage. My ultimate goal is to keep close to the Lord and give Him the glory no matter what.. good or bad.
I run into Victory Velo teammate Todd Allington and he warns me about a fence, after the turn-around, that sticks out onto the bike path we'll be riding on. I note it but don't think much of it because, much to my disadvantage, I look up a lot on the tri bike and never get too focused on the ground. I ride over to the start. It's just a little tent on a virtually abandoned bike path. We line up and get ready. I'm the last in my Womens 4 group. We leave on 30 sec intervals. There are all kinds of fancy disk wheels, skin suits and aero helmets. I'm just glad to have aerobars!
As someone holds my bike, I clip in and get into position...so cool! Ready, set, go! I take off and get into my aero bars. Within a few miles, I can tell that 30 seconds is actually a lot of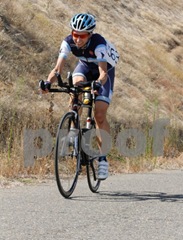 time. I don't make much progress in catching the girls ahead but I keep trying. I see that fence that Todd was talking about. It's much closer to the finish than I thought. I'm averaging around 23mph. It's a hard pace to hold but I'm hoping to keep it up and also hoping that I'll have a tail wind on the way back to help. This path is mostly flat with some small rollers. They're enough to get you out of rhythm and tired. I notice that I keep having to slide back in my seat. I'll have to have my "mechanic" fix that later.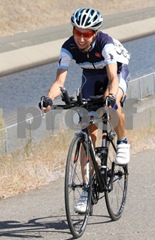 As I approach the turn around, I can tell that I've made some progress on catching a few girls ahead. I make the sharp turn with my left foot clipped out to stay balanced. Not a good idea because my foot slips when trying to put it back in. It takes a few more seconds to get positioned and clipped in. Well, next year I'll work out the kinks(= I see the next wave of women coming out. I just need to keep ahead of them...another thing to keep me motivated.
I discover that there is no head wind and my 23mph average is dwindling. I keep pressing on and close the gap. Around mile 8, I pass one of the girls ahead of me. I tell her good job. She doesn't have aerobars which makes this tougher for her. We go up and over an overpass and I see a rider down...right in front of that fence Todd was talking about. Oh no, she hit it! As I coast by I can see that she's unconscious and there's blood on her head. I want to stop and help and pray with her but I can see there are volunteers with her already and I'll just be in the way. Reluctantly, I continue on. "Lord, please help her!" Things like that put things in perspective. The results don't matter especially when someone is in need. It's really hard to continue but I try to anyway. I continue to pray for her all the way to the end.
I cross the finish line and it's bittersweet. I'm glad to be done but I'm concerned for her. I ride over to the guys in Lance's group waiting to go next and warn them about the fence. I should have mentioned it when I started my race but I hope that it can be avoided by others.
Thank you Lord for your protection! Please keep that woman from harm and heal her quickly.
Circuit Race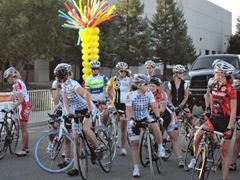 This is as close as I'll ever get to a criterium! This is a 2.4mile continuous loop that we'll be doing for 40 minutes. It's a great course with a little bit of everything. I'm hoping that the corners will go well today! I'm still a bit nervous with the close riding. I'm thankful for all the experience with the fast-paced Coffee Republic ride (that I get dropped on) and the Victory Velo Tuesday morning rides. Ultimately, I need to keep my focus on the Lord so that He can help keep me sharp out there and a good example.
We roll out and quickly we are up to 20mph. I'm hanging back trying to get a feel for the group. It's not a good idea because I start falling off the draft and having to push hard to get back in. I make an effort to put myself in the pack. I see Troy and the girls as we head back in from the first loop. He's not giving me any special instructions yet so I'll keep doing what I'm doing.
The group keeps pushing but I don't feel like there is a sense of urgency on their part. I'm hovering in the middle of the pack just waiting to see what they will do. I'm not sure if I want to even try to lead it. This is a Women's 4 and a 35+ race. This means I might be up against some ex-pros so I don't want to overdo it.
We're coming up on 3 laps to go and I find myself leading out front on the backside of the loop. I keep the pace steady and try not to create a stir by trying to take off...even though they might not follow anyway. Eventually I'm eaten up by the pack.
As I see Troy I motion that there are 2 laps left. I can feel the tempo picking up and the few teams here getting ready to make a move. I plot my move for the last lap and decide that on the only uphill on the backside of the course would be a good place to push.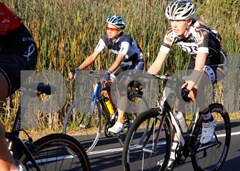 I see Troy and the girls one last time and I hear him say to put myself in the top 5. Okay, this could be tough but I'll give it a try. On the hill I push and get ahead with another girl. Going into the turn, I don't feel comfortable and brake a little...a bad thing to do! I make it but it gives me little confidence for the next big turn. I'm in the top 5 rounding the corner and I slow again slightly and find that the girls ahead are turning really wide which pushes me closer to the barrier. I hear a "watch it" as we keep swinging farther. Right behind me I hear a bang followed by 2 more bangs. Oh no! That did not sound good! I look back and see 3 girls on the ground. Did I cause that? I wasn't' sure so I hesitate and wonder if I should stop and help. I see that there are 3 volunteers on them so I decide to continue. Please Lord, help them! I pray that they are not seriously hurt. By now, I'm out of the draft and pushing with all I have to catch up. I cannot close the gap but I know I've got to keep pushing regardless.
On the last turn I'm trailing but I push and actually pass another girl who spent herself getting her team up front. I cross the line and feel relieved to be done but terrible for the girls that crashed. The whole group goes around again on a cool down and by the time we reach the crash site, it's all cleaned up...that's good because that means there were no serious injuries. Thank you Jesus! What a relief! I hear the girls talking and they felt those girls crashed because the front pack swung wide which flung the rest of us off towards the barrier. Still, I know that I need to work on not braking into the turns. Thanks Jesus for keep me upright! Phew!
Results:
http://folsomcyclebration.com/downloads/E4%20F.pdf