| | |
| --- | --- |
| Date/Location: | 2/20/22 – Davis, CA |
| Distance: | 1/2 Marathon (13.1 Miles) |
| Time: | 1:39:18 |
| Place: | 8th age-group, 57th overall |
| Teammates: | 1/2 Marathon: John Justus, Martin Sengo, Melissa Penwell, Anna Soares, Robin Soares, Rosie Kracher |
This is an important run before my marathon in 2 weeks. I am extremely grateful to the Lord for the last 8 months of being able to run well again after a year of a painful foot injury. However, the last week I've started to develop hip soreness likely due to not stretching and getting enough sleep. It's been a really hard month with needs of our families taking priority. So I go into this race a little concerned.
Ariel sacrificed her race today to stay home and take care of my Dad because one of his caregivers moved on. We're thankful she was willing to do that.
Robin and Anna drop me off over a mile away so I can warm-up to the race start. We see our friend, Courtney Cardenas, announcing the race and we give each other warm greetings.
We line up and pray at the start. I would never want to take on a challenge like this out of God's will because I know how much can go wrong because I'm not in control, the Lord is.
Melissa Penwell, from track, is running. Anna's top-running friend, Natalie from Ponderosa is going for a sub-1:20. Our Auburn friend, Martin, is also running.
Anna's goal is 1:38 (7:30 pace). Mine is 1:45 (8:00 pace). Robin's is 1:51 (8:30 pace).
Go! Conditions are great even though it's chilly. Field is full. I'm trying to run very efficiently, but it doesn't feel that easy. I see Natalie near the front, then Anna, then Melissa.
Mile 1: 7:33. Pace is faster than planned but I'd like to keep Anna in sights as long as possible. I join up with the 1:40 pace group. We go over the overpass and I'm immediately heating up. Down below I cheer on Anna who is already over and running below.
Mile 2: 7:25. Ok, I think I'll try 1:40 pace. I focus on the Lord and remember to be joyful, even though I have concerns that my hip will start hurting. Up ahead there's an in-and-out section. I see Anna ahead and air high-5 her. Then coming out of it I see Robin behind me and air high-5 her. I love racing with Robin, her smile is so encouraging. And I love racing with Anna and seeing what God is doing through her success. She's had many injuries and has remained joyful. And now it looks like she's running better than ever.
Mile 3: 7:43. I've fallen behind the group some but have joined up with Natalie's dad, and coach of Ponderosa HS XC, Brian, who I've met at the races. He tells me about Natalie's training and plans for college and other top young runners who are leading today's race. He's also helping a friend run their best 1/2 marathon.
Mile 4: 7:37. We continue chatting which makes the miles go by [currently 63 overall].
Mile 5: 7:42. We're weaving through greenways. Davis has so many paths and beautiful areas to run and stroll.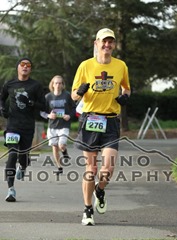 Mile 6: 7:44. The gravel section which I love is coming up. It's funny that it's Robin's least favorite part of the race. Brian and David slow for water so I go ahead.
I start thinking of some of the problems of the month. Some things people said to us that weren't nice. I start feeling more energy and wanting to run faster. "On your right" I pass the 1:40 group on the narrow path because I love this section. And then I feel like "that guy" who doesn't want to keep the pace but surges ahead just to get caught later.. I also realize the Lord doesn't want me running angry and using that for energy, He is all the energy I would ever need.
Mile 7: 7:34. But I continue on thinking "now I'm in front, I better make it stick". But it's getting harder. I eat some chews. Drink water. At a turn I see Brian and David behind me and cheer them on.
Mile 8: 7:48. We run down a long road before looping back onto the beautiful greenways. [currently 38th overall]
Mile 9: 7:27. Somehow that was a pretty fast mile. Through more parks. I run by a kid doing the 1/2 marathon with an arm in a cast. That's pretty tough. I'm feeling more pain now in my hip. It makes me think of Anna and Robin who have had hip injuries, too. I pray that Robin is feeling good and that her hip is keeping strong. I pray that I can take the injury rather than her. And I realize my surge back at Mile 7 wasn't smart. The Lord has blessed us so much, there's no reason to ever run angry.
Mile 10: 7:34. We run through the industrial area and Martin Sengo catches up to me, almost at the same spot as he did 2 years ago! Up ahead on the overpass I see Anna crossing over a 1/2 mi ahead of us. Martin is always cheerful and seems to have a way of negative-splitting this race each time. I push but can't keep up with him. The overpass is tough but descending is also tough for my hip.
Mile 11: 7:46. 2 to go. Everything is sore but trying to keep the pace. The out-n-back section allows us to see each other. Martin, the kid with the cast, and Brian and David. Brian and David catch me and I try to stay with them.
Mile 12: 7:58. I fall behind. The hip is hurting. Trying to lean forward and be efficient. I can hear the 1:40 pace group catching me.. reminding me of my hasty move miles back. I see Anna and she cheers for me to sprint to the end, but all I can do is smile and try to pump my arms more.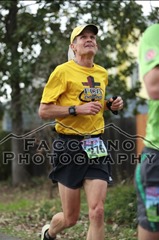 Mile 13: 7:35. Good mile. Good to be done. Thank you, Lord, for your blessing and grace and forgiveness. He answered my prayers anyway. Anna had a great race, Robin didn't have hip pain. God is good and the best race strategy is always to just trust in Him.