| | |
| --- | --- |
| Date/Location: | August 24, 2014 – West Shore of Lake Tahoe at Ed'ZBerg Sugar Pine State Park, CA |
| Distances: | Swim 1.2m – Bike 56m – Run 1/2 Mara |
| Time: | 5:10:17 (34:01 - 3:10 - 2:48:54 - 1:14 - 1:43:00) |
| Place: | 2nd/11 M45-49; 9th OA |
| Teammates: | Dave Tarkington, Katy Rosane |
Prep
It's colder than expected in the morning. I arrive at Sugar Pine Point Park at 5:30am. It's 48 deg, 20 deg lower than Auburn! Cold is my worst fear in racing.
Robin & the girls are back at home. We support each other at all our races.. except for 1 or 2 in the season. This race all my support will come from God, the greatest supporter.
I have a couple jackets on, but it's not enough. I get cold easily. Should've brought gloves, beanie and warmer jacket. I run a little to warm up and then see the incredible view of the starting area. Lake Tahoe down below a grassy shore with the sun starting to rise. I can't help but hear God calling me to stop in this peaceful spot and listen to Him.
I meet Katie Rosane, another Teammate, who also broke some ribs this season. She's trying them out in today's race, hoping the swim won't hurt too much. I also meet Anna, a woman we met before the Auburn Triathlon. She's so thankful for the little help we gave her then. That was her 1st triathlon. Today she's braving the half.
I'm still cold. I leave Robin a text before heading to the swim. I walk down with Anna and we pray on the beach beforehand. The beach is cold. Thinking the water is 67, much warmer than the air, I head in to swim. It's very rocky and takes a long time to get out there. The water is more like 60 and not helping me warm up. I swim some and then wait for the start. Now I'm shivering in the water. It's too long of a trek to get back to the beach. I really want to start this all over and be on the beach.
Swim
Go! I'm glad to be swimming, hoping to work hard and warm up. But the thinner air at 6,000ft is reducing my effort. I find I need to breathe every 2nd stroke, instead of 3rd, much of the time to get enough oxygen. With being cold and needing air, I don't even think about finding a draft and never really do get one.
Good things about this swim: 1) there's no bumping. Everyone is spread out nicely, even around the buoy. 2) the water is so clear and the bottom out here is sandy with artistically arranged boulders.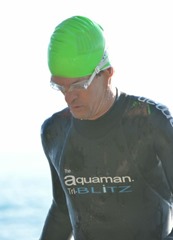 The swim feels so long getting to the 3rd buoy, as if we're swimming up river. I feel very slow. Coming into shore I hope there will be sand. But soon sand gives way to rocks. Now I have to somehow balance on them and walk. Low on oxygen, high on heart rate, and disoriented after standing, it's a miracle I walked out without hurting my feet.
T1
I try to sprint up the steep bank to warm up but no change. In transition I get the suit off, put my FCA bike jacket on, socks, helmet and go. As I mount my bike, inside I'm dreading the ride. I'm so cold I don't even want to touch the metal handlebars with my hands. But this must be done.
Bike
I ride out, huffing and puffing as I do when I'm freezing. I'm slightly disorientated & my vision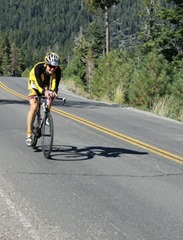 seems narrow. I get on the road and just keep thinking 3 things: Pedal harder to get warm; Stay on the road - don't crash; Lord, please send sun to warm me up. It's very wooded and shady along the lake, but sometimes it opens up at a beach and the warm sun penetrates so nicely into my cold body. Then back into the cold shade. We go out-n-back 2 times to the North on Hwy 89. I see I am 11th. But then I'm passed by 2 guys coming back. On my 2nd Northern turn-about, a truck fails to stop at the police control and I hit the breaks at the turn cone just before he would have hit me. Thank you Lord that I was alert enough even in my disorientated state.
Mile 29: 1:20:00. I ride by the starting area and am now directed South on 89 to Emerald Bay. All I remember from the course map is that there was this big hill. After a while I climb for about a mile and think, "This must be the hill. Great, we'll be turning soon". The nice thing is that I'm warmer now, my breathing is back down and everything is good again. Thank you, Lord. The bad thing is that this hill was just the first of many.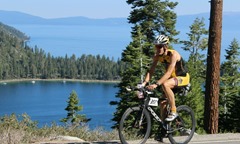 Mile 38: Emerald Bay. A stunning course! We carve down switch-backs with incredible views of the bay and Cascade Lake below. It's pristine, powerful and elegant. But I'm focused on going fast, too. I'm trying to find the "groove" that I felt at Napa HITS Triathlon. I work the descents. A guy in front of me is working them better. I can't believe how fast he gets through the hair-pin corners.
I'm also making sure to fuel. I'm trying another product that a coach friend of mine said would provide consistent energy and less tooth decay. It's Vitargo. It does seem to be steady and isn't bothering my stomach at all.
Mile 41. I realize my only gains on the guy ahead is during climbs. I keep pushing. Finally! The turn-around. So happy to be heading back. This section is full of White Aspens. Beautiful. Now back around Emerald Bay and Viking's Point. The nice thing, despite the climbs being tough, is that the guy ahead provides a good distraction to focus on. I catch him on a couple climbs and we joke with each other. Then he passes me on the other side and says, "See you on the next climb".
Mile 46. From the earlier terrain I thought I could average 21mph, but now I'm sadly down to 19. I'm not feeling as powerful as at Napa HITS. I am at elevation and did ride 18mi yesterday so this may just be all I have. But I start to get more motivated as we get closer. I push harder and pass him earlier on the climbs. Finally I get a gap and keep the pressure on down the backside. Thinking we're close to finishing I pour it on. But after a couple miles he gets by again.
Mile 53. Fortunately there's one more little climb and I pass him and then turn into the park. The gravel at the entrance must have slowed him down because I come into T2 with a good gap. 2:48:55. 3,700 ft of climbing. 19.5mph average. 46.5mph max.
T2
Dismount and change goes well. I grab 3 gels, sunscreen and my hat.
Run
Out of transition I can immediately tell that my hamstrings don't feel that bad. Thank you Lord! Just like at Run on the Sly, I remember to pray for the tough parts to come and keeping my hamstrings working if that's His will. It's single-track, along the lake, in the shaded forest of trees, just like at Run on the Sly.. except it's flat! But will it get hilly? I realize I never looked at the run course! Ok, just have to really focus on the ribbons and signs.
Mile 1: 8:41. I feel tired and it's hard work. But the Sly run gave me confidence. I think, "The Lord kept me running the same from start to end, so even though I feel a little tired now, it's not going to get worse, I can go 20miles and it won't feel worse than this". Knowing that really helps.
Mile 2: 8:18. We cross the hwy and head through camping areas, more single-track and then into the fire-roads.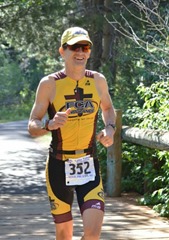 Mile 3: 8:00. It's beautiful and never feels like climbing (thanks to the non-stop hills at Sly). I'm wondering if I'm going to do 2 laps of the Olympic course or go way into the forest for the 13.1 mi course. Either possibility seems long and uninviting. I just look forward to mile 6 where I'll take my first gel.
Mile 4: 8:38. I'm drinking water at each aid station. We cross over a creek and start heading back. It's more exposed now. I put sunscreen on my shoulders while I run. Until now no one has been near me except the Olympic distance athletes running slower. Suddenly I hear fast approaching footsteps! Here it goes, someone fast I'm going to have to chase. "You dropped this and I think you might need it later." "Oh, thank you! It's one of my gels. I really appreciate that. God bless you!" The Olympic distance girl who just sprinted up to me now quickly settles back to a walk saying, "ok, whew, enough of that". That was really nice. I make sure I don't drop it again.
Mile 5: 8:04. A split in the trail.. 70.3 runners to the right. Great, possibly a different loop to do. Still no big hills which I'm thankful for. I'm using my 1st gel as something to look forward to. I see runners coming back, flying. Aid station at 5.5. I take a gel.. chocolate espresso.. should feel that.
Mile 6: 8:04. I hit the turn-around. The volunteer confirms that I'll be coming back here again. Ok, so it is 2 loops. I get more motivated now. And I see my competition behind me. "Hey Troy!" It's Dave Tarkington - wow, great to see him running strong after his injury.
Mile 7: 8:55. Heading out on loop 2. The run course director bikes by. I tell him how great the course is. I'm looking forward to mile 8 for my next gel and start to push it. But on a little climb I get disappointed seeing my pace. Then an aid station comes up but I pass it thinking I'm not at 8 yet. But actually it was 7.8.
Mile 8: 8:48. With my 2nd gel in hand, waiting for an aid station, I start to feel real good. My stride opens up. My hamstrings feel good. I have energy. Now I feel like I'm flying through the beautiful trails. Thank you, Lord, this is such a boost! I can do it. The miles are ticking off faster now.
Mile 9: 7:55. fastest mile yet! I eat a gel at 9.3. I hit the turn-around for the 2nd and last time. Coming back I see Dave Tarkington again. Another guy says something like, "You've got it locked in" which is encouraging.
Mile 10: 7:56. I'm still pushing it and feeling optimistic. Tired but wanting to make these last miles my best. Over the wooden bridge. There's the last aid station. I take my last gel… it's my first Peanut Butter flavor… it's thick! Gasping for air at max effort is not the time you want a mouth full of peanut butter. Fortunately I get a lot of water and get it down. Ok back to full effort!
Mile 11: 8:23. It's a great gradual descent through more single-track trail. I stay focused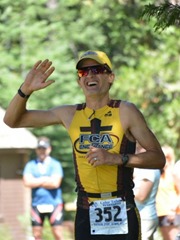 thinking, "you don't want to fall or sprain an ankle now". I never look back, just keep pushing. Yay, we cross the highway, less than a mile to go.
Mile 12: 8:07. Maybe I'm pushing too hard? I think of our track workouts… just 1 last fast mile. But I'm really exhausted. And a steep short climb. But then there's the finish!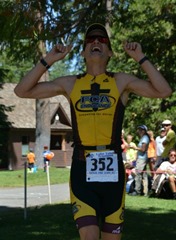 Finish
A 1/2 mile earlier than expected! Thank you, Lord, I'm done! I felt the Lord was with me the entire day. He answered my prayers for getting warm, helping my hamstrings, and subsiding my knees when they were hurting on the run. He is good!
| | | | | | | | |
| --- | --- | --- | --- | --- | --- | --- | --- |
| Name | Race | Time | Age Group | Place | Swim | Bike | Run |
| TROY SOARES | LC | 5:10:17 | M45-49 | 2nd | 34:01 | 2:48:54 | 1:43:00 |
| DAVE TARKINGTON | LC | 5:23:44 | M45-49 | 4th | 36:37 | 2:54:53 | 1:46:58 |
| KATY ROSANE | LC | 6:09:57 | W45-49 | 2nd | 40:35 | 3:11:27 | 2:10:26 |