Date/Location:

August 17, 2014 – Pollock Pines, CA

Distances:

20.4 Miles

Time:

3:03:48

Place:

1st

Teammates:

50k - Lee McKinley
20 Miler – Rich Alesci, Tim & Austin Twietmeyer
1/2 Marathon – Gary Carpenter, Manouch Shirvanioun & Robin Soares
12K – Leonie Alesci, Megan Sebra
Although my first time on this course, the description of it is clear to me thanks to Robin's story of running it last year. Including the vision of the wildfire smoke that covered these hills last year. Fortunately there are no fires in the northern Sierra's this time.
Our friend, Courtney Cardenas, is announcing the race and saying some pretty funny comments like usual. Robin and I pray before hand. Both of us are concerned for our hamstrings and lack of long-distance run training.
This is a perfect tune-up for Ironman Tahoe. It's a hilly 20 miles which is almost equivalent to a marathon. And it's 5 weeks out. Robin had the same plan last year and it worked, except for the part of getting pneumonia from breathing the smoke while racing hard.
The Lord is already helping me out by providing inspiring running friends! Lee McKinley, Rich Alesci, Tim and Austin Twietmeyer are all doing it as well. Lee is doing the 50k option which includes a hard extra 10 miles at the far side of the course.
Gary Carpenter, from track, is also here. Him and Robin are doing the 1/2 Marathon starting an hour after us. I line up next to Lee about 6 rows back. A little intimidated by all the hand-held water bottles and camel-backs. Our friend Rich is on the front line.
Go! I start off with an easy pace. But seems too easy so I move up a little. I suddenly have a great idea! Instead of waiting for my hamstrings to start hurting before praying, I pray now, asking the Lord to help them so they won't get painful. I have faith He will take care of me.
The 1st 1/2 mile is straight up. Robin is part way up taking pictures. Soon I'm breathing hard, pushing the pace, while many are conserving. Maybe I'm making a mistake? I'll push the hills today because it doesn't hurt my hamstrings and it'll build endurance. Plus I want to make up for going a little slower down hills, which can hurt my hamstrings. Fortunately the next few miles levels out. Shady fire-roads next to a canal.
Mile 1: 9:09. Lee catches up to me. Each climb he does a fast walk, conserving energy but almost going as fast as me running & grunting. Others are walking, too. Lee says, "Tricks of the trade". I plan to stick with running… the whole course.
Mile 2: 8:07. On each flat Lee catches up easily and strikes up conversations. He's truly at ease running long distance.
Mile 3: 8:31. We climb up to the 1st aid station. I drink 2 cups. Lee stops to fill up his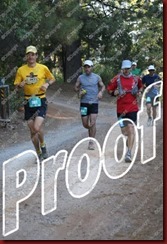 bottles.
Mile 4: 10:06. Lee soon catches me again and then goes ahead to talk to another 50k runner. I'm breathing pretty hard but feeling strong.
Mile 5: 8:00. I make a pitstop and then surprisingly catch up to the 2 talkative 50k'ers.
Mile 6: 7:55. My hamstrings, although slightly tight, aren't bothering me, even pushing the pace downhill.
Mile 7: 7:14. At the next aid station I take 2 cups again while Lee and the other guy stop to fill up and then it's a steep, rocky descent to the lake. Wow, it's very technical and I'm glad I haven't fallen. I remember now reading others' race stories about the likelihood of falling on this course and telling Robin to be careful last year. I better be careful myself.
Mile 8: 8:32. It's a beautiful single-track trail up and down along the lake. Robin was right, telling me to take as many opportunities as possible to take in the view. Combined with the soft, pine-needle laden trail, and the cool shaded coverage, it's possibly the perfect running trail. The temperature is perfect and I find myself noticing it often. A warm day while running through the damp coolness of the lake-side forest - awesome.
Mile 9: 8:34. I still have to keep my attention on the trail because it makes sudden roller-coaster swooping turns and dips. Some campers are starting breakfast fires or are along the shore fishing. My heart rate has been moderate, about 145, despite the sections of really hard breathing. Up ahead are 2 runners descending fast and walk/jogging the ups. I keep them in sight.
Mile 10: 7:39. I'm at 1-1/2 hrs. I'm hoping to break 3hrs. Lee catches up to me again (after another break). Still as relaxed as ever. He tells me I look good and should do the 50k instead. No way, I'm pushing it and will have nothing left after 20.
Mile 11: 8:51. We start having a good conversation when the trail suddenly splits and he heads farther on while I descend down below the dam, cross a stream and climb back up.
Mile 12: 9:11. I pass 1 of the runners ahead. Then I see 2 more. I pass them on a real steep section. I'm finding my strong point is really steep sections. I'm gasping to get up them but then recovering well. For a while we run on a flat road which is a really nice break from constant up and down.
Mile 13: 9:43. I know there is a long climb over the ridge once we finish circling the lake. I'll have 2 Hammer gels in me by then and am focusing on giving it my all.
Mile 14: 9:20. Every time I think we're around the lake and on the big climb out, it just turns out to be another steep undulation in the trail. There is still a runner ahead in orange that pulls way ahead on the descents. It's still shady which is nice. My foot is starting to hurt a little because my shoe is too loose.
Mile 15: 8:45. I stop to tighten my shoe, but realize my hamstrings are so tight I can't bend down. I stop again when I find a stump to put my foot on. Ok, good, now to catch the guy in Orange. He's running with the leading woman now. He pulls ahead on a long descent. I pass the woman on some switch-backs. We encourage each other.
Mile 16: 10:25. And now the long climb begins! The guy in orange stops to fill his bottle, as does the woman, but I grab 2 cups and keep going. I've got a gap! Many of the 1/2 marathoners are coming down towards me and very encouraging. They tell me I'm the 5th runner which is exciting. I believe my gap is increasing and I know I need a large one because on the other side of this hill, the guy in orange is going to be flying at a speed I can't match.
Mile 17: 8:57. It's a long grind but I'm getting there. I'm focussing on the Lord and how much He has helped me. I'm running better than expected. Coming down this section I was dreading the return but now it's going well. I know I'm nearing the top because I'm back in the 6" deep chalk-dirt. It makes for a lot of dust. I can only imagine how hard it was to breathe with the dust plus wildfire smoke last year.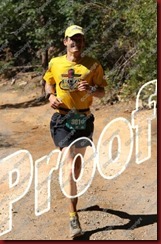 Mile 18: 10:17. There's no one around now. I hope I'm going the right way. And then I see 2 volunteers and a sign pointing down. This is the steep descent Robin struggled down last year. She was in the lead at the time but her IT band was hurting which made the downhill miserable and allowed the next woman to pull ahead. My legs are all-around sore. The jarring drop is anything but relief. I stay focused so not to fall. And finally at the bottom.
Mile 19: 8:56. I've never walked yet. And I haven't looked back. The climb was a success, but I have a feeling the guy in orange is flying down that hill behind me. I've got to push this 1/2 mile and then the steep 1/2 mile gravel road to the finish. I hope I don't have to go head-to-head with him there. I tell myself, "Just a couple fast laps around the track". "Ok, just 1 more lap…"
Mile 20: 8:02. After 20mi, I don't see the road yet! I was really counting on being done at 20. "Ok, just 1 more lap…" Finally, there it is! The sign says, "It REALLY is all downhill from here". Whoo hoo! All I have to do is keep from falling. I descend quickly despite dreading it.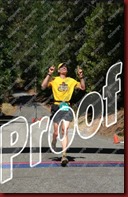 I hear Courtney announcing, "Robin Soares just finished, and here comes her husband, Troy, almost finishing together after starting an hour apart". I finish in 3:03:56. 20.7mi. And surprisingly 1st in my age group.
The race was a real encouragement for Ironman Tahoe because my endurance held up well even with pushing the hills. The final hills of the marathon will feel just like these mountainous ones today. With God's help, I'll get through those, too.
| | | | | |
| --- | --- | --- | --- | --- |
| Name | Race | Age Group | Place | Run Time |
| RICH ALESCI | 20M | M30-39 | 3RD | 2:53:32 |
| TROY SOARES | 20M | M40-49 | 1ST | 3:03:48 |
| TIM TWIETMEYER | 20M | M50-59 | 4TH | 3:53:39 |
| AUSTIN TWIETMEYER | 20M | M1-29 | 4TH | 3:53:39 |
| ROBIN SOARES | 1/2 MARA | W40-49 | 1ST | 2:01:34 |
| GARY CARPENTER | 1/2 MARA | M50-59 | 4TH | 2:08:36 |
| MANOUCH SHIRVANIOUN | 1/2 MARA | M50-59 | 5TH | 2:08:59 |
| MEGAN SEBRA | 12K | W30-39 | 6TH | 1:13:31 |
| LEONIE ALESCI | 12K | W30-39 | 7TH | 1:15:01 |