| | |
| --- | --- |
| Date/Location: | August 3rd, 2014 – Hearld, CA |
| Distances: | 1km S - 40km B - 10km R |
| Time: | 2:12:56 (24:48 – 1:05.12 – 42:56) |
| Place: | 2nd/8 |
| Teammates: | Dave Campbell, Elise Winter, Troy Outman |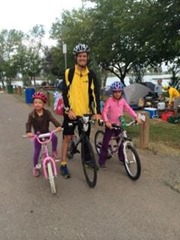 Today is exciting for many reasons. First, both our girls are doing the kids' triathlon! They've practiced, they're excited, and Anna is giving tips to Ariel since it's her first. Also, Jan & Jerry (Robin's parents) and Hilde (Robin's Aunt) are here to cheer us all on. And, finally, because I'm eager to see if I'm completely back to pre-crash fitness. I did a good 2:09 (23:17 - 1:25 - 1:01:49 - 1:03 - 41:26) last year and hope to do that again!
First, we watch the girls take their positions in the swim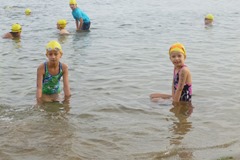 start. It's a chilly morning so they're all staying submerged in the warm water. They both have smiles and seem very comfortable and confident to get through the swim. They both did swim team this summer and improved. It's nice seeing the comfort in the water that gives them. But, unlike swim meets, this is a mass start which is new to Ariel. Go! Sure enough, there's a lot of contact and bumping. I see another kid accidently push Ariel under. But she pops up with no concern and just motors along. She rolls to her back to get a breath away from the thrashing arms. And when she does, I can see she is still smiling. I see them both off onto the bike and now it's my turn to race.
I pray with Robin on the beach. It's great to be racing with my training partner and FCA Endurance Teammate, Troy Outman. We pray together, too. He's always got a great encouraging word to focus on Christ before the race. Our wave of 40-49 is small. Behind us is the 50-59 wave with our friend Dave Campbell. He's got a really fast 10k which I'll be trying to beat today. After a warm-up, and finding some money on the bottom of the lake, we take our position. Go!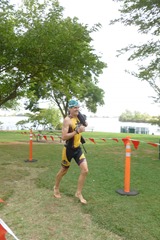 Swim
I push hard right from the start. Not many take off ahead. It makes me feel fast.. or there just aren't many racers. I have to start letting water into my suit early because the water's so warm. After the first turn buoy I find someone to draft off of but they're zig-zagging. Still it's a benefit. But at 1/2 way I take the straight line alone and find it's actually a little faster than his zig-zag. After the 2nd turn buoy, it's a straight-shot back to the beach. I feel like I'm swimming well, especially for not training much in the pool, but then I start slowing down. The beach isn't coming as fast as I expected. It's takes a long time. Finally I touch bottom and hustle, high-stepping out through the arch. 24:48, 1-1/2 mins slower than last year. Suit comes off fast and soon I'm at my transition.
Bike
I get a good transition and hop on my bike quickly to the great cheers of my family and other supporters and friends. Yesterday I rode 8mi and was feeling the "groove". If I can get it again today, I feel like I can get my goal of 1 hour. Plus I have a new bike and race wheels. I head out to the rode and start looking for the groove. I feel fast. The road is very smooth. It's a great course. I pass a couple guys ahead. The wind is usually at our back and then a head wind coming back so I have to push it now to make good use of it.
I'm not finding the groove as well as yesterday (later, I think I wasn't relaxing enough but was ahead of my pedal stroke). Nearing the turn-around I count the riders going back. I'm about 10th (including the wave ahead of me). I make the turn and expect the head wind.. but there isn't one! There's really not much wind, that's encouraging.
A guy passes me and it's just the motivation I need. I try harder. He let's up on the rolling ups and that is where I pass him. But he passes me back on the flats. I stay aero as much into each hill as possible and am able to continue passing him. But the last 4 miles on the main road I can't catch him. But I know to not give up.. anything can happen. Once into the park, he
lets up some and I re-pass and hold it to the transition area. I pull my feet out and stretch a bit before my dismount.. and he passes me one last time and beats me into transition. 1:02:47 (1 min slower than last year). My dismount is fast, and I lose a shoe (a volunteer grabs it for me) and hurry to get in running shoes.
Run
I stop to tighten my shoes and then I'm off. Robin and family are cheering for me. Anna & Ariel are cheering loudly and telling me that they did good in their race. Troy's wife, Sara, also cheers me on. This all helps so much before heading off on a tough 6.2 mile run. I shove my Hammer Gels in my pocket and take off to hit the fire roads. I'm running well and thankful that my hamstrings aren't an issue! I'm actually striding out. But at mile 1, I feel them come back. The tightness is threatening. I have to think of form a lot to help reduce the strain on them. I pass a relay runner and then no one else is in sight. It's just me and the dusty road. But the weather is great, mild temps and slight overcast. I try to keep momentum up each roller. I eat a gel at mile 2 and take a lot of water. Then I start counting runners. I'm #7 at the run turn-around. I'm set on catching one of them.
After the turn, however, my hamstrings are really complaining and make me think of my future.. Ironman Tahoe. I see Dave Campbell and others flying behind me. I want to go fast but I shouldn't risk injury. What to do? Pray! There's nothing else I can do, so if anything is going to improve, it's going to be from God. I pray and am content in knowing He's now in control of that. I cheer on Dave going the other way and then head onto the single-track trail along the lake. This is a great course. I know Troy Outman will like it. I usually like the many sharp turns but have to be careful not to pull something. Another Hammer Gel.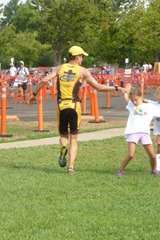 The hamstrings are doing a little better. Thank you, Lord! At Mile 5, I check my split expecting to see sub-7, but instead see sub-8. Maybe it's a mistake. At 5.2 I check the time left for a 40min 10k and see there's not enough, only 5 more minutes. It just seemed like I was running so fast. I give it all I have the last mile. Coming to the grass I see my girls and everyone cheering. Such a great feeling to have the encouragement and almost be done. I sprint home to the finish. 42:56 (1-1/2 min slower than last year).
Total time was 2:12:56, 4 mins slower than last year, but still a good time. My friend, Dave Campbell, 10 years older, beat me! He clocked another sub-40 10k which is amazing. My girls were excited to go on the podium with me for my 2nd place. I'm glad to be racing well, but I know I have more improvement to go. Thanks, Lord, for helping my hamstrings and keeping me from injury. We all had a fun time camping and racing and hanging with family!

| | | | | | | |
| --- | --- | --- | --- | --- | --- | --- |
| Name | Time | Age Group | Place | Swim | Bike | Run |
| DAVE CAMPBELL | 2:12:18 | M55-50 | 1st | 24:12 | 1:08:51 | 39:15 |
| TROY SOARES | 2:12:56 | M45-49 | 2nd | 24:48 | 1:05:12 | 42:56 |
| ELISE WINTER | 2:19:02 | W40-44 | 1st | 23:20 | 1:10:32 | 45:10 |
| TROY OUTMAN | 2:30:31 | M40-44 | 6th | 29:50 | 1:15:03 | 45:38 |