| | |
| --- | --- |
| Date/Location: | March 16th, 2014 – Zamora, CA |
| Distances: | 3 x 14loops |
| Place: | Cat 4, Master 45+; 53rd |
| Teammate: | Robin McKinney, Ron Fallon |
I'm still troubled by the crash I caused yesterday at Land Park crit. I catch a ride with Shayne Marshall to Zamora. It's Sunday, the Lord's day, so we listen to an online sermon on the way. Once there, Shayne introduces me to some friends that are talking about yesterday's Land Park race. They're talking about the Cat 4 crash. I say I think I caused it. But they explain it wasn't a Victory Velo rider that caused it, but 2 BP riders that took the inside too fast that caused it. What a relief to learn that! Thanks, God, for taking a weight off my shoulders.
Shayne & I go for a warm-up. It's perfect weather, no wind, and rural countryside to cruise through. I adjust my seat a little and then feel perfectly dialed in. I make sure to stretch a lot because I know my tight hamstrings can slow me down otherwise.
Shayne takes off in the 35+ and then I go in the 45+. My teammates are Ron Fallon and Robin McKinney. There's 54 of us. We start off pretty fast but then settle into a manageable pace. We'll do this 14mi loop 3 times. One of my main goals is to take the corners well and predict how other riders are going to take the corners. Even if I didn't cause the crash yesterday, I should have predicted the possibility of riders bombing the inside.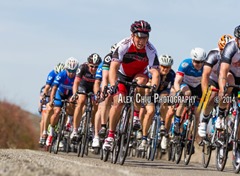 It's my first time on the course. We're limited to one narrow lane and right now I'm way back. If a break goes off the front, I'm stuck back here. I remain patient, take the corners really well, and slowly move up. The 2 rollers through the pastures are not as hilly as I hoped so no opportunity to shake up the group. We finish loop 1 and see the finish is on a slight incline into the wind.
On the 2nd loop I try to move up as the road narrows by hugging the double-yellow line and squeezing along the edge of the pack. I'm almost to the front when the motorcycle official penalized me for getting too close to crossing the yellow line. He has me go all the way to the back before proceeding again to move up. This time I take the inside path and soon enough I'm up near the front again. This loop I work more at the front to keep the pace up. A couple times we get a paceline going but always short-lived. Ron goes off the front once with another guy so I am able to take it easier while he is away. But it doesn't last.
I'm very attentive this race and feel like everything is going great. Almost no close-calls and all the corners are perfect. I haven't done too much work. But finishing the 2nd loop I'm feeling some stiffness and soreness. This is my first 45+ race and it appears that these guys are a little more careful and there's not as many attacks.
Last lap. I get up by Ron. He knows where to be for the sprint and will do well. I'm going to do whatever he does. He says on the inside edge of the road about 10 back. He tells me 2 other guys that will be strong in the sprint so I keep an eye on them, too. About 2km to go and the intensity picks up. I have to work to regain my position near Ron. Thankfully the other 2 guys are also working to stay near him so they carve a path for me to use. 1km to go. We're on the frontage road and I'm now on the outside, getting pushed up against the double-yellow… then I see guys on my left and remember we can use the whole road.
Everyone is ramping up. I'm on the far left and have to get to Ron on the far right. I find an opening and slowly get into position with both Ron and Robin 2 bikes ahead of me. 500m to go, accelerating above 26mph, and suddenly I see riders bumping each other ahead. Instantly I see Ron and Robin tangled up. Someone bumped Robin, who now tangles with Ron just behind him. Robin shoots into the gravel shoulder where his bike immediately washes out, sending him tumbling along the road, down a slight embankment and into a fence. Meanwhile Ron barely manages to save himself and with a grunt tries to regain his sprint position.
After 44mi, I'm right where I want to be and ready for my best sprint effort. It's a redeeming change from yesterday's race where the sprint setup was ruined by my failed turn and lack of energy when I needed it. But seeing Robin balled up and motionless in the fence, I knew this is one of those times where I need to stop. Even if I don't know how to help, just being there helps. I wouldn't want to find myself battered, broken, all alone by a road. Another racer stops who is an EMT. I shade Robin from the sun and talk to him. I'm amazed to see no bleeding! Ron comes back. Robin gets up. He waves off the ambulance. Amazingly he gets back on his bike and the 4 of us finish the last 500 yds very slowly. Robin had broken ribs, a fractured scapula and a bruised lung. But he'll be ok. I think the gravel and weeds cushioned the blow a bit.
I had a great race. It felt "by-the-book" for once. And it didn't bother me that I missed the big sprint. I'm glad I was there to help. And I thank God for all the protection He's given me in these races.