| | |
| --- | --- |
| Date/Location: | March 16th, 2014 – Zamora, CA |
| Distances: | 2 x 14loops |
| Place: | Cat 4, 27th |
| Teammate: | Charity Marshall |
First road race of 2014! I'm carpooling with Charity Marshall, her daughter and mine. This is her first cycling race and she's ready go! Husband Shayne has been racing for a year or so now and has been her coach. We are all really excited to see what she can do!
We get settled and find our hubbies and go out for a warm-up ride with Shayne. I'm feeling a bit tired but that's pretty normal. After we get back from this out-and-back, we realize time is really short! I don't have my gels on me, they're in a bag that Troy has and he's a mile beyond the starting line waiting to cheer for us. At the start, tons of girls are already lined up and I sheepishly go by and ride ahead down the street. Anna is on her way back to me with the gels. I grab them and give her a big hug. Gotta go!
I come back and realize that they've moved my group up and we are next! I find a spot in the back and look for Charity. She's way on the other side. I say a prayer and ask for the Lord's protection from crashes for all of us. This is by far going to be the largest field of women I've raced with. Shouldn't be too hard to find a wheel!
Ready, set, roll! It's hard to feel comfortable in this huge pack. I don't feel like I can trust anyone but yet I must to stay in it. Thankfully the first few miles we can take the whole road and we do. It's bit squirrely as girls seem to be braking for no reason. Charity puts herself in a good position in the top 15. I should be there but I'm fearing crashing.
We hit an overpass and we now have to stay right. The tempo picks up and I stick with it. It seems like I'm in a good place in the middle of the pack. We make a sharp right turn on a small road. I cannot see what's going on in the front but it appears that things are splintering. As I make my way through the gals getting dropped I realize that the front pack has taken off fast and I am left behind! I scramble and try to find a wheel…there is none, just girls blowing up everywhere!
A mentor (experienced racer that gives us tips) goes by and I get on her wheel. I'm wondering if this is allowed. When I get the chance I ask and she says "not really but I won't say anything" but I tell her I'll stop. I push on hard and she now gets on my wheel. As I look ahead, there is a big lead pack and a smaller chase pack trailing behind. I sure hope Charity is in the first pack and I would love to catch that smaller pack for now.
It seems like I'm making progress but the small pack pulls away. Like Troy always says, you never know what might happen. I think of this as a triathlon and just try to hammer alone and hope for some breakthrough. I keep passing girls every few miles and wonder if I'll find someone to work with.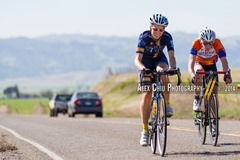 The mentor is still close and I hear her encouraging a girl to go with me. I start to slow down for that girl but the mentor tells me to just keep going and go after another girl up the road. I catch that girl and she seems to be able to match my speed. "Want to work together?" and she says sure and jumps on my wheel. The mentor pulls off so it's just the 2 of us.
Lap 1 comes to a close and I can see Troy waiting for me ahead. As I get closer, I give him a smile and shrug my shoulders. It's not as expected but I'm making the most of it.
I'm getting tired now. Lord, please let us catch that small pack! I motion for the girl to pull now. She says she's never raced before and is unsure what to do. I tell her that we just keep taking turns and keep trying to catch them. I find out her name is Aja.
We are right back on that same road where things blew up. It appears that the small pack is coming back! As we round a corner, there is a girl standing there with a course official and she looks like she just got up from a crash. She's looks fine and has the official with her so I keep pushing on.
Aja and I are working well and making great progress. Finally, we catch them…yeah! Thank you Lord! I grab a wheel and rest. There are about 7 girls in the pack. There is no way I'm helping pull this group for a while! I've got to recover some or I'll be toast. I can tell a few girls are getting annoyed but I try not to let it bug me.
We are in our last five miles now and I know the end is near. The girl that crashed comes by right behind a group of junior boys. Pretty impressive she caught us but is that legal?
We make the last turn to head home. I take a weak pull in the front to appease the group…I am purposely saving my energy and plotting my move. Here comes the 1K mark. When to go? I see a guy up ahead. Hmm, why not ride up to his wheel, pull in front of him, and use him to block for the rest of the girls?
I catch up and there is still 500 meters to go which is still a long way. Well better just go for it. I pull ahead of the guy and take off. Boy, there isn't much in these legs! Go, go, go! I have no idea what's going on behind me but hope I can hold some of them off. 400m, 300m, 200m…here come the wheels. Two girls go by but I keep digging. 100m! Another goes by…almost there! And, done! Wow, happy I could hold off about half of them. Thank you Lord! Glad that's done!
Go Charity! She finished an impressive 23rd in her first cycling race ever!