| | |
| --- | --- |
| | April 22, 2017 – Grass Valley, CA |
| | 5km |
| | 22:02 |
| | 1st Place, 40-49 (2nd Overall) |
| | Anna, Ariel & Robin Soares, Elizabeth Katsura, Lauren Langhofer |
The whole family is ready to run here at Christian Encounters Ministries. This is a very special place and the entire 5k is run through the ranch property.
CEM is a place for troubled youth. They come here, or are brought here, and live and work on the ranch for a couple years or so. The staff is a loving, serving group, that relies on Jesus for guidance and help in turning around lives. Two of our FCA Endurance Auburn teammates, Caryn and Suzanne, are full-time staff here.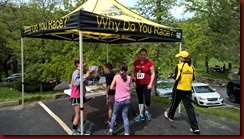 As runners roll in and we meet people at the FCA Endurance tent, I ask Charlie, the anouncer, how the turn-out is looking. "A little less than last year" he says, "but it's still 20 min until start time." I was really hoping it would be a record turn-out because because of all the lives I've heard touched by this place. 20 min is not much time, but we stop and pray for runners to keep coming.
Robin, Anna, Ariel, and I are ready at the start. Charlie announces that the turn-out indeed has exceeded last year! Thank you, Lord. He tells a little about the ranch. He eventually asks everyone who knows a young person that committed suicide to raise their hand and for everyone else to look around. It is shocking how many there are. He goes on to say, "This is why we are here. There are youth that need the love of Jesus." After a quick prayer, the race starts!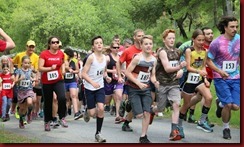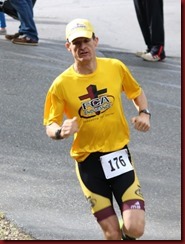 My achilles has been sore so I'm careful on the gravel section. I pass Robin and Anna is right ahead of me. Ariel is behind us. Up the first steep section, there are quite a few kids that went out fast and are breathing real hard now. I pull ahead. Then it's down and around, through beautiful narrow trails, over bridges and creeks.. it's an incredible setting here.
Around the lake I'm surprised that Anna is still close behind. Our first race together, head-to-head and I'm impressed that this 11 year old is pushing me!
I get a gap on her starting the next big climb, up through the ropes course area of the ranch. My achilles is getting sore so I stop to tighten my shoe. Anna is right with me again, "Great job, Anna! Pace yourself and have fun."
Mile 1: 7:41. Running along the canal now I try to pick it up and move up to 2nd place. My main focus is extreme appreciation for this event with all it's volunteers young and old. It's so much more than a race, it's a family happy to serve others, whether with Dixie cups of water, a big cheerful smile, or going the extra mile with you in the hardest point of your life.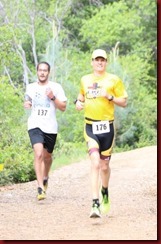 I see Pastor, Scott Gallagher, from my old church in Grass Valley! He prayed for me and helped me in one of my toughest years when I was in college. There are a lot of caring people associated with this place.
I'm about to turn-around and climb to the highest point. I hope to see Ariel as I head back. This is a tough course and she's by herself.. actually hoping she's made some running friends on the way.
Mile 2: 6:57. Up ahead is a young man in the lead. He wears an Agony Ride shirt (another fundraiser for this ranch) so I can assume he lives or works here. I really want him to do well. But I also try to catch him. I get real close as we climb, but then we hit the canal again and he picks it up.
We match pace for a while, while high-fiving some going the othe rway, until the long downhill to the finish. He really flies, with that young daring attitude, unafraid of the rocky turns and drops. I'm both happy for him and trying my best to catch him. At every tricky turn there is a cheering happy volunteer. The course is marked and supported well.
Mile 3: 6:34. We weave through the last scenic trail section before hitting the flat straight-away to the finish. These twist and turns were my last chance to catch him but he actually pulls ahead. We both sprint all out and finish 1 – 2, a few seconds apart.
I finish in 22:02. I'm really glad one of their own can claim the victory and I'm super happy with 2nd. And then I'm really surprised to see Anna come in only 4 runners behind me! Quickly followed by Robin. We all go out and cheer on the rest of the runners. Ariel comes in sprinting with 3 others. We all got pictures and awards and met some great people and made some new connections.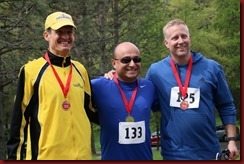 The best part of the day was getting a tour of the main lodge and then hearing the testimony of a young man about to graduate from the ranch. He was a guitar player without a father who saw his future playing gigs in bars and hanging with musicians with little hope. At his most rebellious, he had a radical encounter with Jesus one week during his stay at the ranch and after that everything turned around. The joy and hope in his voice was beyond understanding.
Thank you, Lord, for this opportunity today to see so much more than race medals and competition. I realize that this life we all live is a competition, one that can't be won alone. So thankful there is Jesus and those He sends to insure our victory.