Date/Location:

April 9th, 2017 – Lake Berryessa, CA

Distances:

Swim 1.5K – Bike 40K – Run 10K

Time:

2:51:29* (27:26 – 7:17 – 1:23:41 – 1:33 – 49:21)*Swim split long in results

Place:

1st/14

Teammates:

FCA TEAMMATES – Pete Brey
Other Teammates – Dave Campbell
Another early start. It's cold but not raining! After a quick breakfast, I head down to transition. Wow, the racks look full in here already! I see some folks leaning bikes up against fencing…guess I'll do that too. I find a great spot on fencing near the swim in and run out area. I see Dave Campbell. Great to see him here! We discuss what we are wearing. Dave measured the water at 56…ouch! With the air temp in the mid thirties, it's going to make for a cold day. Since Troy's race yesterday was so hard to watch with him and all the others dealing with the cold and rain, we decided that I should dress warm. I'm wearing a rash guard under my wetsuit. After the swim I'll take it off and put on a shirt, FCA bike jersey, arm warmers and jacket. I'll also slip on some tights, gloves and a beanie.
Now its back to camp to do some quiet time. I read Hebrews 11-13. It's Palm Sunday today. So important to remember Him and His sacrifice.
"Let us fix our eyes on Jesus, the author and perfecter of our faith who for the joy set before Him endured the cross, scorning it's shame, and Sat down at the right hand of the throne of God."
I am so grateful for His sacrifice and so glad that when I look to Him, nothing should make me afraid…including cold conditions! I read further…
"Never will I leave you; never I will forsake you. So we say with confidence, 'The Lord is my helper; I will not be afraid. What can man do to me?"
Yes, I have help today from Him. And even if it is hard, I can endure it!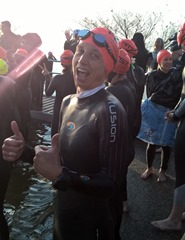 Down to the swim start to put on my wetsuit. The sun is shining which is so nice mentally especially after yesterday! Troy, the girls and I find Caryn Galeckas and Suzanne Hartley for prayer. I thank Him for His Word's promise that He is my Helper and Faith booster. They all pray that the cold won't be too bad. We also pray for Anna and Ariel and their races later today.
It looks like my wave is starting so I run down into the water and find a spot. The director says that this is the 39 and under wave. Whoops! I run back to Troy and put socks back on. One thing I learned from IM Tahoe, keep the feet warm as long as possible!
SWIM
Now it's my turn to go. I get a spot towards the front. It's a two loop course. The previous waves are already starting their second laps. Wonder how our waves will do when they merge. Ready, set, go! I jump in and the cold hits my face hard. I want to lift my face but I resist the temptation. There is no problem when I reach the previous waves. I actually am able to use them the sight to the first buoy. There seems to be plenty of space and I'm able to keep my head down a lot.
To the first turn buoy, my face has stabilized and I feel great! Thank you Lord! I am passing a lot of swimmers. It's hard to say who is in my age group because the 39 and under women have the same color caps. I get to the last turn buoy and I'm heading back to shore. Despite the many bodies, there always seems to be an open path. This is so similar to Tahoe. It's like God is opening up doors for me.
I start the second lap and continue to pass swimmers and find open paths. I am amazed that the Lord is making this so great especially since I've averaged about one day a week in the pool. The rest of the swim is great and I feel like I'm able to push hard to the shore. I cannot see my time as I get out. It seems to be in a weird mode. I keep my wetsuit on to my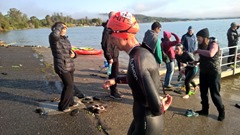 transition site…a lesson learned here a few years back. Watch is still weird. I cannot seem to make it switch from Swim to the T1 mode. Oh well, will figure out. I put it on my bike. As I pull off my rash guard, I realize my jogbra is loose…thank goodness it didn't come off with the rash guard. I try to fix it but my fingers have little feeling! This will have to wait until after the bike! I get all my gear on…I cannot see the time but I guess it's over 5 min (7 min in results!). Time to go!
BIKE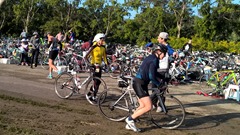 I run out of transition with bike shoes on and mount at the line. My Garmin isn't showing the bike portion…I swerve trying to fix it. Ooops, better be careful. Finally I press some buttons and it switches…but still cannot make it show MPH or time. Oh well, too cold and too late to do anyting about it. Focus on the road!
I exit the park and now the fun begins. It's sunny, yay…that and extra clothes take the edge off the cold. My legs feel sore and tired. I just got to push through anyway. I have no idea of pace so I just try to pass and look for women that appear to be in my age group.
I pass a guy with a Facebook jersey. As I veer back to the right side of road, I sense something. It's that guy trying to pass me on the right…fortunately we just miss each other…surprising both of us. I tell him that you must always pass on the left. I hope he heard me.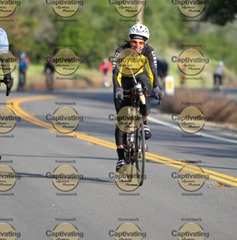 About 5 miles into the race, the sun starts to go away and it gets cold. Now, I'm so glad I took the extra time to put on clothes. A girl goes by fast and I make an effort to stay close but she's too fast and/or I'm too slow.
At about 10 miles in, I see the top guys coming back. Wow, they are hardly wearing anything and they look cold! Not too long after them I see Dave Campbell. He's looking strong but cold too.
Another girl passes me and I'm able to keep contact all the way to the turn around. Soon, I'm passed by another girl. I'm able to maintain contact through the climbs with both girls until the big downhill. I don't see them after that.
The sun finally comes out and it feels good! I get passed by a girl in white that I passed miles ago. It's hard to keep my head in the game but I know I have to keep trying.
Just a few more miles to go! I am looking forward to getting off the bike. I hope the run will feel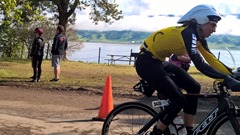 better! I see the girl in white pull over ahead. Her chain fell off…bummer…I hope she can get back on quick!
Finally, I turn into the park and head in to transition. It feels warm now so I take off the tights, jacket, arm warmers and beanie.
RUN
Yeah, I'm out of transition and heading out on the run. I'm able to get my Garmin in run mode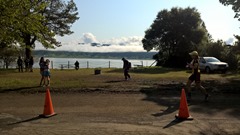 but still cannot see pace. I decide to restart my watch in regular mode so I can track my mile splits…I'll really need that info now. Now, I'm back in business! The distance will be a bit off (0.2) but worth the sacrifice.
Two fast girls pass me and within minutes they are way out there!
Mile 1.2 is 7:57. Feeling pretty stiff. Feet still feel frozen. I don't feel great but it's only the beginning.
I see a girl heading back now so I start counting. Dave coming back and looking strong. I tell him to "go chase down those young people".
Mile 2.2 is 8:05. Happy with that since it was on an mostly uphill stretch. Still feel stiff. Still counting places, up to 18 now.
It's downhill now to the turn…ahhh! At the turn around, I determine that I'm in 29th place. It would be great to move up to 20th but realistically with how I feel, it would be great to get up to 25th.
Mile 3.2 is 7:25. I pass one girl…28th! Now I've got to climb out of here. I see other girls coming the other direction. One of them looks fast.
I get another girl…27th! A girl I don't remember seeing flies by. I try to match her pace but she's just too fast…28th. A guy comes up on me and I'm able to stick with him.
Mile 4.2 is 8:00. That guys pulls me up to 27th. I can see 2 more girls ahead. I think I have time to catch them…hoping I don't get caught. More climbing.
Finally a downhill! I tell that guy that might have been the last big hill.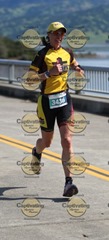 Mile 5.2 is 7:33. Happy with that split! Running out of time to catch those two girls. I try to push harder! The guy takes off and I cannot match him this time.
I catch one girl before we get to the park…26th. Coming into the park I'm so close to the last girl. I hear the crowd shout "beat her" to the girl and "go get her to me". So close…a guy pulls up alongside the girl and she slows. I pick it up and pass her. I hear the guy tell her to get me. I dig deep and don't look back. I don't know where she's at.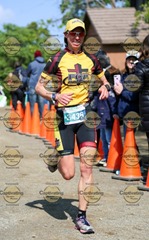 Mile 6.2 is 7:04. I sprint hard and get 25th! Yeah! Thank you Lord! Actually, I realize I didn't point up to Him at all in thanks and I feel convicted. Lord, this truly was a gift and I give you all the credit!!