| | |
| --- | --- |
| Date/Location: | May 25th, 2013 – Folsom, CA |
| Distances: | Criterium |
| Time: | 30 Min |
| Place: | Elite 5, 10th |
| Teammates: | Samuel Guzman |
The race is only 20mi away which is nice. It's only my 3rd bike race this season, and on the same course as the others. I arrive an hour before, register, and warm-up on the rollers. Time to start now. It's a smaller group (30). Part of the reason is that others, like my friend, Shayne, have already upgraded to Cat 4. I don't do many races so it will take me all year.
We get the usual "beginners" Cat 5 pep talk. Reminding us that you get the same amount of points (1) for winning as finishing last so don't do anything risky… we're not pro's, we all have to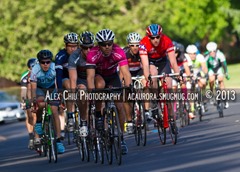 go back to work on Monday. My goal is to stay close to the front for safety and to place better in the end.

We do a neutral lap and then roll into the start. Everything is going well. I've been practicing my acceleration lately and eager to see if it helps me cover the breaks better. The group is not very eager. Only a few guys make attacks off the front.
Including my only Victory Velo teammate in the race, Sam. He takes off with another guy and I immediately sprint with another guy to bridge the gap…. without thinking first that maybe I should block for him instead (go slower to keep the group from catching him). Rookie move. However, the tests are working and I think my sprint technique is better. Although I'm pretty fatigued after each effort.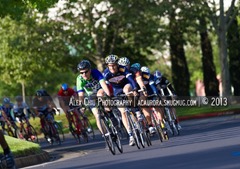 I'm excited and boosted a lot by seeing Robin and the girls now on the sidelines cheering loudly each time we come around turn #1. I spend the race working to stay close to the front as planned. I lead one lap but mainly stay in 2nd to 10th place… constantly looking for next rider that surges past the front so I can jump on. The group stays together, "Groupo Compacto", as the announcer says. It's not a scary race, no crashes, thank the Lord. On the last lap it's pretty fast and my legs are screaming. I just keep reminding myself not to give up yet, it's only a couple minutes, just push through the burn. I'm about 10th Into the final corner. I go wide and hear my teammate, Sam, behind me alerting, "In the gutter!". I give him room and he sprints by… all the way up to 2nd somehow! I push as hard as possible, my eyes closed some of the time because of the sting of the lactic acid in my legs. All I can do is maintain pace, passing a couple and getting passed by a couple.. I finish 10th. My best placing, but also the smallest field. The great part is that the Lord took care of me and I can say I gave everything I had. Whew! That's hard.. but fun, too :)

Race speed: 24.4mph ave, 30mph max
Last Lap 28.3mph ave, 30mph max