Date/Location:

May 5th, 2013 – Lake San Antonio,
Bradley, CA

Distances:

Swim 1.5k – Bike 40k – Run 10k

Time:

2:45:46 (28:02 – 1:28:59 - 44:15)

Place:

3rd / 96 (3%)

Teammates:

Olympic Distance: FCA TEAMMATES - Christy Floyd, David Brockman, Desiree Swift, Karen Nickel, Kevin Olsen, Vicki Creigh, Team Whitmore (Courtney Cardenas, Jamie Whitmore, friend)
Mtn. Bike: FCA TEAMMATES - David Fraser, Luke Llamas
Long Course: FCA TEAMMATES - Clyde Floyd, Cory Floyd, Jose Campo, Maria Hodges, Timothy Hess, Troy Soares; Team FCA Endurance (Kevin Olsen, Dan Perkins, Chris Anderson)
I'm waking up to a chilly, windy morning. What a change from yesterday when it was very hot for the Long Course and Mtn. Bike folks! I'm excited to be racing with my awesome Auburn friends and FCA Teammates, Desiree Swift and Karen Nickel. Both Desiree and Karen are going to make personal history today. This is Desiree's first Olympic Distance tri and Karen's first time swimming making it her first real triathlon.
THE SWIM
After Karen's (yellow caps) wave leaves, we all jump in to warm up. It's much warmer in the water than on deck…so much so that announcer Julie Moss (yes, same amazing gal that crawled to the Hawaii IM finish line) encourages us to just hang out in the water until it's time to go.
Okay, it's go time. I'm excited to see what I can do in the swim. I'm also hoping to see Karen and encourage her especially if she is in need. Ready, set, go! We run into the water and start swimming. I am squeezed between two girls and thankfully not getting smacked…but the choppy water is making me feel uncomfortable. I know once I turn at the first buoy, I'll be swimming into the wind and that will be even more uncomfortable. I'm reminded to pray and I pray that Karen is enduring this well. I seem to be in the top 3 but I'm not totally sure. One girl for sure is long gone.
We make the first turn and it's a doozy! Right away, it's difficult to sight the next buoy. Also, I take in some water which makes me want to panic. I just think of the Lord Jesus protecting me and I calm down. I'm looking for Karen among the struggling yellow caps. She's wearing a pair of my googles so I'm looking for those.
It's getting too hard to look around and I have to swim with my head down…and turn my head far back to get some air. I notice that I can actually sight for other swimmers by just looking through the water for feet and bubbles. It's a great strategy that helps keep me calm and relaxed. I just have to look up every so often to make sure I'm headed towards the next buoy. Thankfully I'm able to swim pretty straight. I'm kind of enjoying the chaos now…weird!
It seems like a very long time until the last buoy going out. I continue to try to find Karen but I figure I've missed her. I make the turn and head to the next buoy to turn and head back. I see Karen! Wow, she's already halfway through her swim and done with the toughest/roughest part! God answered my prayers in a big way…I'm really proud of her!
As I head back, it's nice to be pushed by the waves. As I'm enjoying the reprieve I run into another swimmer. It's a big guy and I stop and apologize. He doesn't seem to mind and we both keep going. I make a big effort to pay attention and look ahead.
The rest of the swim is great. I don't see any other gray caps like mine and wonder where everyone is…maybe there's a big pack ahead? No bother, I can now see the finish and kick it in.
I get out of the water and peel off my wetsuit. It gets stuck at my feet again as I try to kick my feet out. I quickly pull them out and sprint up the ramp. I see teammates Richard Craft and Nevah Frogozo cheering and I run over to give them high 5s.
THE BIKE - 40K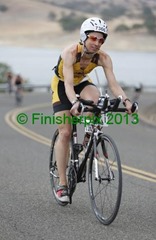 As I run to my spot in T1, I try to see if Desiree has left yet. The racks are a blur and it's hard to tell. I'll look for her out there. I exit transition and start to mount my bike. I hear volunteers telling me I need to run further along. Oops! What a rookie move not looking for the mount line! I run up to it and get on. It's tricky to get my feet into my shoes already locked into my pedals on a hill but am able to do it! Thanks Jesus! As I head towards Lynch hill, I see Troy and the girls cheering. I wave and smile.
It's not as crowded going up Lynch but more people seem a little shell shocked and are swerving across the road or totally riding to the left. I don't like to yell so I try to politely call out "on your left" loudly. An ambulance is trying to get down Lynch past the cyclists and runners going down by just flying down the center of the road. I move over as far as I can and he goes by. The siren is so loud, I can actually hear the warbling deep in my brain…ouch, that actually really hurts!
I make it to the top and try to pick up speed but the wind is really pressing back. I tuck into my aerobars and it helps some. Out the gate and up the next hill I see teammate Christy Floyd. "Great job Christy!". As I make my first big descent, I am shocked to see only 20mph on my Garmin. I try to go faster but there is no way! Wow!
As I turn onto Interlake Road I see one of our FCA signs with scripture/encouragement…love that! Going out, I try to stay in my aerobars and stay above 15 mph. I seem to be passing a lot of folks like I'm flying but my average speed is low. I try to encourage others and read the signs as I continue on my way.
Finally at 17K or so I hit the long downhill to 20K. I finally can fly! I see folks climbing back up on the other side and they look miserable. I'm reminded of Troy's advise to enjoy these moments and not to think of what's to come. Weeeee!
I make it to 20K and the turn around. Where are the girls in my age group? I've passed none and haven't been passed by any….weird! I soon see Karen and then Desiree. I shout out to the them but doubt they can hear. They both look very strong! I bet Karen is glad to be done with that swim!
My turn to head up that hill. It's not that bad but just a bit congested. I'm trying to kindly shout "on your left" and a few guys just don't seem to hear. A girl next to me tells me I need to really yell and demonstrates. One guy moves and I thank her for the help. As I shout and try to get by the next guy, nothing. Then I hear that girl shouting again for me and it works! Wow, that was so helpful!
My average is over 16mph…a far cry from last year's average but everyone is impacted by the wind. A few guys pass me like I'm standing still. One is a relay which makes sense. Still, no women have come passed. I push harder. I want to get back and run! On the way back, riders who are riding to the left just seem to move over as I come up. It's as if the Lord is parting the path(=
I see a guy walking with his bike and I stop when he says he has nothing to fix it. I start to open my bike bag and notice that he has a Schraeder value. "I'm so sorry but I don't have that kind of tube or equipment to fix that! There's a mechanic in a white van behind you keep your eyes out for him. Just keep going forward." I wish there was more I could do…I head out again.
Back into the park I go and climb over and up to the top of Lynch. Let her rip! I fly down with runners and some cyclists to my right. It's a tricky descent that way but the Lord just opens up the path for me to go once again.
I actually am able to pull my feet out of my shoes and put my bare feet on top…this is the first time I've been able to really do this…thanks Lord! I jump off my bike and run to my transition.
THE RUN
I see Courtney Cardeneous waiting for his wife Jamie Whitmore to finish the bike of their relay…he cheers me on and I smile back. I rack my bike and struggle to get my shoes on. I actually have to loosen one of them to get it on. I finally get going!
I exit transition and see Troy, the girls and teammate Clyde Floyd. It's so nice to see their smiling faces and hear the cheers! I feel stiff but so relieved to be off the bike! My shoes feel too loose and I debate on whether to fix that or not.
Mile 1 is 7:49. Hum, I thought I was moving faster than that! I decide to pull over and tighten my laces. I get going again and now it feel too tight…too bad, better too tight! I just try to ignore it. A relay guy flies by. I turn towards a girl I'm running near. Both have surprise on our faces. "Wow, he passed us like we were standing still! Amazing!"
Mile 2 is 7:48. I see Betsy Davis, WF race director Terry Davis' wife, running with a N.D. on her leg…N.D. stands for Nick Davis, her son. Nick was killed in a motorcycle accident in January. I was hoping to see her out here and give her a hug. I pull alongside and tell her she is an inspiration and give her a hug. We shed some tears. "You don't realize how many people you are helping. Some lose kids and run from God but you lost Nick and you and Terry are running to God. Thank you for your example!" She tells me to go ahead and I say goodbye. I seem to get a burst of energy going into the big hill. The first steep part is not that bad…I see the FCA signs with scripture and I'm lifted more. God, You are carrying me!
I'm passed by a relay gal and she's flying. I try to hang with her but she pulls ahead. It helps me pick it up a bit more.
Mile 3 is 7:46…uphill! Thank you Lord! I overhear a guy tell another that his foot hurts. I tell him that I will pray for him. He says thanks uncomfortably but hopefully in his heart the Lord is touching him. I see the 5K sign and tell others around me that we are halfway. I give thumbs up to the signs I continue to see.
Mile 4 is 7:28. Wow! Great! I start to hear footsteps behind me. I pick up the pace and try to stay ahead. The footsteps belong to a girl. I assume she's in my age group and match her pace. I hear someone call out "Go Maggie" and she gives a thumbs up. We approach the last hill and I tell her "last hill, almost done!" She tells me she is happy to hear that. She pulls ahead on the hill and sure enough I see a 36 on her calf.
Mile 5 is 7:15! Maggie is pulling away but I dig deeper to try to keep the gap small. We head down Lynch. Troy always says the race is over at the top and the downhill is just free speed. I push hard all the way down. My legs are maxed out and she remains ahead. I just smile knowing that the Lord is my strength…I won't stop trying!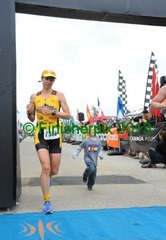 I wonder if Ariel will be waiting to finish with me. I know it always works out well and don't even fret. I enter the finish chute and can see Maggie grab a little boy from the sidelines. That is so sweet…just like me and my girls! As I make the last turn, I realize Ariel is not here…no worries, I'll see her after the race. I also see Maggie way in the distance finishing…and I see her little guy running all alone way back. I'm so sad for him. I catch him and slow down run in with him and encourage him. His mom is waiting for him at the finish cheering him on but it doesn't seem right. I hope he doesn't feel bad. I pull ahead a bit and off to the side of the finish to give them time together. Lord, please never let the racing become more important…it's just not worth it!
Thank you Lord for this race! I couldn't have asked for more!
Name

Race

Time

Age Group

Place

Swim

Bike

Run

TROY SOARES

LC
5:09:56
M45-49
5th
31:33
2:47:34
1:46:05
TEAM FCA ENDURANCE -
Kevin Olsen, Dan Perkins, Chris Anderson
LC
5:11:50
Open Male
4th
30:44
2:52:41
1:41:49

MARIA HODGES

LC
5:33:54
W25-29
1st
32:33
2:58:58
1:54:54
TIMOTHY HESS
LC
6:04:15
M45-49
56th
39:01
3:20:00
1:58:46

JOSE CAMPO

LC
6:29:01
M55-59
17th
37:36
3:04:55
2:33:58
CLYDE FLOYD
LC
7:15:02
M50-54
75th
43:48
3:33:48
2:46:54
CORY FLOYD
LC
8:05:02
M25-29
165th
38:26
4:09:22
3:04:03
LUKE LLAMAS
MTN.
1:12:45
M30-34
12th
10:20
44:41
15:08
DAVID FRASER
MTN.
1:46:45
M70-74
4th
10:54
58:52
28:00
TEAM WHITMORE - Courtney Cardenas, Jamie Whitmore, friend
OLY
2:30:54
Open Mixed
2nd
26:13
1:26:45
34:45
KEVIN OLSEN
OLY
2:44:20
M50-54
9th
24:45
1:26:15
49:49

ROBIN SOARES

OLY

2:45:46
M30-39
3rd
28:02
1:28:59
44:15
KAREN NICKEL
OLY
3:04:17
W30-34
21st
36:27
1:34:16
48:07
DAVID BROCKMAN
OLY
3:15:33
M55-59
17TH
37:59
1:34:15
54:44
DESIREE SWIFT
OLY
3:22:15
W30-34
50th
39:39
1:39:43
56:07
VICKI CREIGH
OLY
3:32:10
W45-49
30th
37:59
1:43:40
1:02:41
CHRISTY FLOYD
OLY
3:59:59
W25-29
101st
39:39
2:03:02
1:07:31