Date/Location:

May 19th, 2013 – Auburn, CA

Distances:

1K S - 40K B - 10K R

Time:

2:26:43 (24:44 – 1:17:51 – 41:50)

Place:

2nd OA, 1st in Age Group

Teammates:

Long Course: Karen Nickel, Jody Galvin; "Wet, Wheeled & Wild Relay" (Trish Sepulvedo, Sarah Conover, Mo Bartley)
Olympic Distance: Andrea Ivan, Dave Campbell, Troy Soares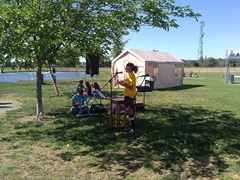 Yesterday's Iron Prayer with Jami Whitmore was so full-filling. After a great testimony, great music, talking with old friends, and checking out the new FELT frames that Mr. Felt brought for Jami, it was getting late. There wasn't time for the usual bike cleaning but that was ok, God was doing bigger things and He'll take care of us tomorrow.
Robin & I leave at 5:30am, meet Karen Nickel, and continue to ride to the race start at Rattlesnake Bar. We see Dave Campbell, Jim Silk, Jody Galvin, and Robin's "dream relay team" of Trish and Sarah (Mo waiting at T2). Karen and us pray.
It's a perfect morning. A new path created to the swim start is a nice new venue. The water is warm and the new start area is wider. Robin will start 15min after me. After a warm-up, I line up far right. Dave says he's going to draft me. Go!
Swim
I feel good and excited about the new, single-loop course. To the first buoy I have to share water with a guy on my left. After the turn I get free and have open water to my self. I prefer open water and not having to constantly follow someone or avoid someone. I tell myself, "I'll just swim strong, I don't need a draft.." but I know that drafting is an important strategy and I better try. After a few more minutes I look and see a swimmer 20 yds ahead. No one else is coming by so it's go-get-a-draft or nothing. I go for it… a big effort to sprint ahead… I catch him! Yes, now I can rest in his draft. He takes me to the far north buoy but then goes off course after we make the 180 turn. Usually I draft despite zig zagging but I can see he's getting farther and farther off line. Ok, it's just me to the finish.. Go! After a while I can see that I'm getting ahead of him and he's finally coming back towards the course. My swim is going really well. I'm ready to round the final buoy and.. a relay swimmer without a wetsuit goes flying by! For a second I think I'll catch a draft, but he's almost out of sight by the next minute. Quite a powerful show of swimming. I push to the finish, come out smooth and strip my wetsuit perfectly… except for the right leg… the "big" chips they had us use catch on the wetsuit. 10 more seconds and then I'm off.. running for the transition
Bike
Transition is great. Weather is warm so no need for jacket or socks. I'm a little slow in getting my feet on my shoes as I mount the bike but then I'm off.. determined to give it my all. It's a tough climb the first 6 miles. I'm breathing hard but also passing a lot of the duathletes which gives me milestones to go for each minute or so. The Shirland Tract switchbacks go well, and the final climb. Racing by the T2 / Finish Line area is exhilarating as many people are cheering. Being an Olympic distance race instead of the last 2 half-Irons I've done really makes me pick up the pace knowing it'll be over in 1/2 the time. I feel like I'm flying on the bike.
Up Lincoln Wy I'm glad to see the spectators out cheering. Doesn't seem like there are many ahead of me now. It's a treat to have started in the 1st wave. As I get older, usually I'm farther back in waves. But a small field allows us all to start together. So I'm having a blast racing near the front! At 15mi I pass the aid station and Doug Olsen, a High School friend, is working it and yells, "Come on Soares! You're in 3rd place". Wow, that's cool! Having someone cheering for me like that motivates me to surge ahead. A few more miles and I see Jim Silk, the champion 55yr old, just ahead. I pass him and he tells me there's 1 ahead. Going as hard as I can I see the leader, Chris, coming back from the turn. I make a good turn and now it's downhill. Yee haw! This is fun. I'm determined to close the 4min gap he has on me. I go back through Doug's aid station in 2nd place and fly down the hill looking for the leader. On Lincoln way I see Robin. Yay!! She looks happy and I'm glad to see that the swim went well and the bike is underway. Later I see Karen Nickel and am so excited that she finished her first 1/2 Ironman swim!!
I don't see Chris ahead but we're entering the technical portion which I know best by living here. I hope to make up time with tight fast turns and correct gearing. It goes well and I coast into transition, hopping off and running fast to my rack. Being only an Olympic distance, I can go without socks on the run. This makes a fast transition so I'm off on the run!
Run
I try but miss the first aid station water hand-off. I'm really going to need it by mile 1. For the first time I'm sprinting right off the bike. My hamstring has been an issue since I hurt it at the February Stampede race, but it's not hurting me now. I can feel it a little but it does slow me down. Onto the NID Ditch trail Robin and I run so often. It's great to run on your home turf. We know every treacherous section and every passing area. Around the corner and there's the Mile 1 aid station that our church will be volunteering at in a couple more hours. Right now it's the Placer High Band handing out fluids.. and they're doing a great job. I drink a whole cup and get splashed. It's already warming up quickly.
This is the great part, 1-1/2 miles downhill. I see Brad Kearns, previous race director and the best announcer in these parts. He says I'm 1-1/2 minutes behind. That's motivating even though I know he often gives extra kudos and it might be double that. Still, I have to give it my all. It's my home-town race and chances to win overall are so rare. I can't leave any doubt that I did my best. I run as fast as I can, which is a thrill because it's been months since I've run this fast. Thanks, God, for giving me an exciting race where I feel good and can go fast. 6:15 minute miles. Great!
I imagine that I'll see the leader coming out of Stu's Loop at the end. Sure enough, right as I pass the loop exit, I see him emerge from the trail. We smile at each other and immediately we both pick it up. I mark my watch and see 2:15 by the time I emerge from the loop trail. I'm starting to hurt now but this is the important up-hill section. I just have to remember that he is hurting, too. My goal is to gain 30 secs on him on the uphill. Almost to the top, I see him flying out on his 2nd loop. Wow! He seems farther ahead. I make the loop through the park, near the finish line, hearing the cheers and the announcing, and getting a very-appreciated boost from all the spectators. I make sure to get water at the T2 aid station this time. Now I sprint out onto loop #2 and check my gap to first place… 2:45! He gained 30 secs on me! No worry, anything can happen, maybe he went too fast and will slow down dramatically any minute. Along the NID Ditch again. I see a couple familiar faces now as others hit the run.
This 10k course is great because the 2nd loop doesn't go down to Stu's Loop but feels like a straight shot back to the finish area. Even though there is a steady climb at the end, it still feels like an easy sprint back since the lower section is eliminated. I get more water and Heed at the Mile 1 aid station and then rev-it-up on the descent. Trying to run just-barely-out-of-control. Now, the final climb. Thanks, Lord, for a great race. I won't give up and I won't look back… even though I think I hear footsteps behind me. I imagine 54 yr old, Jim Silk, poised to pass me in the last mile. Doesn't matter, I just have to go as hard as I can and that will be all I have. Rounding the park and hitting the soft grass I give the last effort in my legs. I sprint around the corner and there's the finish! Brad announces my name, I finish in 2:26, and the winner, Chris, is there to congratulate me. Brad starts telling the story of the time I stopped by my house in the middle of the race in order to get warm clothes. Of course he embellishes the story, adding that I also cleaned up the kids toys and made a pot of coffee before I got on the course again. Today, however, was perfect temperature and no injuries. I'm excited to get 2nd overall representing Auburn and even more excited to see if Robin can win her race overall. I pray and Thank God for another meaningful event and the privilege I have to participate.
| | | | | | | | | | |
| --- | --- | --- | --- | --- | --- | --- | --- | --- | --- |
| Name | Race | Time | Age Group | Place | Swim | T1 | Bike | T2 | Run |
| ROBIN SOARES | HALF | 5:48:00 | W35-39 | 1st | 36:16 | 2:08 | 3:27:03 | 1:14 | 1:41:18 |
| KAREN NICKEL | HALF | 7:02:09 | W30-34 | 2nd | 45:20 | 3:03 | 4:06:30 | 1:57 | 2:05:18 |
| JODY GALVIN | HALF | 8:38:26 | W30-34 | 6th | 59:14 | 6:32 | 4:43:13 | 2:11 | 2:47:14 |
| WWW RELAY – TRISH, SARAH, MO | HALF RELAY | 5:06:56 | WOMEN | 1st | 29:36 | 1:38 | TBD | 00:40 | 1:43:48 |
| TROY SOARES | INTL | 2:26:43 | M45-49 | 1st | 24:44 | 1:28 | 1:17:51 | 00:48 | 41:50 |
| DAVE CAMPBELL | INTL | 2:36:50 | M50-54 | 1st | 26:15 | 1:54 | 1:25:36 | 00:40 | 42:22 |
| ANDREA IVAN | INTL | 4:43:56 | W55-59 | 3rd | 44:57 | 7:23 | 2:03:31 | 5:28 | 1:42:36 |