6/24/18 – Pleasanton, CA

1.5km S – 40km B – 10km R

2:35:42 (28:50 – 1:51 - 1:16:17 – 1:16 - 48:07)

2nd Place, 40-44 (10th Female OA)

Teammates:

Int'l – Clyde Floyd (FCA), Dave Campbell, FCA Relay (Danielle Hess Davi, Tim Hess & friend)

Sprint – Anna Soares, Dave Fraser
Great to be back at this race with the whole family! Last year, Anna and I came alone while Troy and Ariel volunteered at a bike race at home.
I booked a hotel 2 miles from the start so Anna and I get up early and bike over. After waiting to get our packets, the transition area for the sprint race is packed! Anna gets help finding a spot from Francie Campbell. Dave, her husband, will be tearing it up today in the Intl with me for sure! I get set up and catch up with FCA Teammates Clyde and Tim Hess. Tim is doing a relay with his daughter Danielle and a friend.
I burned my right forearm on Friday with hot coffee that spewed out of my french press at home. I have it covered in a water-resistant bandage and an ace bandage. Troy helps me put on my wetsuit over the bandage to keep it from pulling off.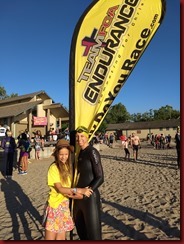 Anna and I meet Troy and Ariel for a pre-race prayer. As usual, we start with a few folks and we have a few more by the end of the prayer. More folks trickle in after like Tim and we pray with them too. We find out the race is delayed because there is no ambulance on-site. The ambulance actually broke down and we are waiting for the replacement. It's getting hot standing in this wetsuit. Troy, the girls and I huddle to pray for race director Ryan Coelho and that we could get an ambulance soon. God is good! Five minutes later we see it drive in the park.
Time to go! The swim begins and the waves begin with little time in between. Anna is off and hopefully feeling great! I get in a warm-up and make it to the start with just a few minutes to spare! This is a men's and women's 40-49 wave. I seed myself a few rows back behind some men. I don't want to get pummelled.
SWIM
Ready, set, go! My position is great though I do have to pause twice to let guys go ahead because they're running into me from the side. I'm not feeling as strong starting out as I did at Auburn a month ago. My left arm has been bothering me and I'm feeling it now. I hope that it gets better.
It's a long trek out to the first turn buoy. Despite the close proximity of the wave starts, it is pretty clear sailing. I can put my head down for long stretches and get some good momentum going.
The first buoy turn is good and now it's another long stretch. Some swimmers in orange caps fly by and I realize that they are from the last wave that started behind me. I am able to jump on the toes of a guy and hang on till the next buoy. I am really moving now and breathing hard. At the buoy I loose him but find another orange cap to cling to. Pretty soon, I'm alone again. The good news is I can see the finish, the bad news is that it's still far off and I'm tired. Another orange cap comes alongside and I match the pace. I think it might be Danielle. I'm still struggling to push now. I just need to hang on.
The shore gets closer and I'm able to find another draft in the home stretch. Pretty soon, the bottom is near. My guy is still swimming so I keep holding the draft. Once my hand hits the bottom, though, I get up to run, even though my guy is still swimming. I run up to shore and pull my wetsuit carefully off my forearm. The ace bandage is intact…yeah! I just about get the rest of my wetsuit off and kick it off my left foot. But it gets stuck on my right foot. Darn! I reach down and pull it off. Now, off to my bike!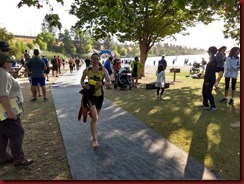 BIKE
This time I have my shoes on my bike. I'm hoping I can slide my feet in while riding. I haven't practiced so it's a risk. I run out of transition. I hear Troy cheering for me. I hop on my bike and am able to put my feet on top of the shoes as I ride up the short hill. Once I turn right and hit the flat part, I am able to slide one foot in at a time! Yeah, thanks God!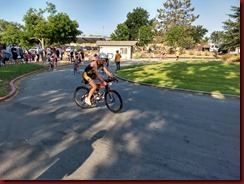 I get into my aerobars and try to get into a good grove. I feel pretty speedy for the first few miles but then I'm soon getting passed by a lot of guys and a few girls. Dave Campbell goes by and so does Dana Ginsburg. Dana is 53 and beats me every time we race. I try not to get discouraged and just keep pushing.
We go through some industrial areas, across Hwy 580 and up into the rural hills. I actually begin to catch up to Dave and Dana. I also pass a few girls in my age group and a few guys that passed me. It's a risk to push this long hill because I can tire myself out. The fast guys are now heading back on this same road. They are flying! I see a guy off to the side on the other side of the road with a CHP with some sort of issue with his bike. I'm wondering if he needs something. I soon see his bike shoe on the ground still attached to the pedal and crank. The whole thing fell off! Oh my goodness! Poor guy!
I see Dave and Dana heading back. The turn-around is ahead! Yeah! I make the turn and try to hammer. I'm feeling fast until I start getting passed. Yep, that's how it goes for me but not giving up!
I pass the guy with the CHP. He's got his shirt off now and you can see the road rash on his shoulders…ouch! The CHP is wrapping him up with some gauze. So glad he has help and that it wasn't worse!
Back through the industrial area I find myself alone. I turn on Isabel Dr and it's a long 3 miles to the next turn. I'm at Mile 20, only 5 more miles! I can do that! I'm sure Anna is done with her Sprint by now. I pray it went well for her. She's so grown up now that I don't have be so concerned with her safety.
I'm feeling tired. I think I could pull over and nap! Let's just get it done!
Finally I make it around this back loop and am just a mile from the park. I can see runners heading out. I look for Dave. He must be already through this part! I see a lot of fast girls. Wow!
As I pull into the park, I am able to slip my feet out of my shoes and put my feet on top. Yeah! As I hit the bike dismount line, I'm already ready to run! As I run to my transition area, Troy and Tim are cheering for me.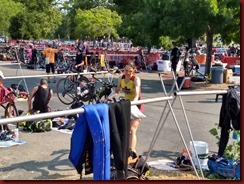 I ask Troy how Anna did. He says looks like 2nd place…yeah! I make a good transition and head out.
RUN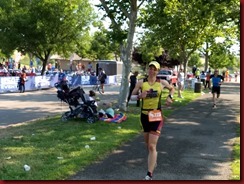 It's good to be off the bike but I feel tired. Heading out, part of me is already relenting…why push it if I don't feel great? Just keep moving!
Mile 1 is 7:59. I hope this gets better. There are no girls around me so it's really hard to get motivated.
I head for the "big hill". It's a short and steep hill followed by a flat out and back. This is were I can hopefully see some girls to chase down. Up I go, ouch! I run the whole way but it hurts at the top. I see Dana heading back and a few other girls. I can feel my competitive juices start going a bit.
Out and back and down the hill.
Mile 2 is a 7:58 average. Surprisingly I soon find myself nearing the 3rd mile. That didn't seem too long. I could do this loop again! Still struggling to push but feeling more excited. A guy flys by me and I know he's finishing up. Wow, impressive!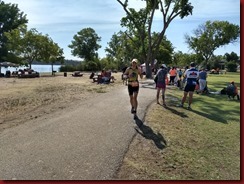 Mile 3 is a 7:51 average. Better!! I see Anna cheering and smiling. I ask her how her race went and she says great…2nd place!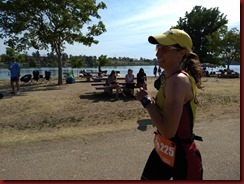 The next mile I feel really motivated to push. Thank you Lord!
I climb the hill a little faster this time. On the out and back I am closer to Dana and some other girls. I actually pass Dana's husband. On the way back, I notice a young girl moving along well. I think I'm safe from getting caught.
Mile 4 is a 7:48 average. Keeps coming down! Thank you Lord for turning things around for me mentally and physically!
I can see a huge crowd of runners ahead of me. I'm going to try to catch as many as I can.
At Mile 5, I'm maintaining a 7:48 average. So nice to be almost done!
I finally make it off the trails and into the grassy park area. I am pushing hard. Suddenly that young girl comes flying by me. I'm so close to the end that I just react. I dig deeper and pass her back. I tell her good job and try to keep pushing. It's still a bit of a stretch to the finish chute. Can I keep this up? Lord, I'm just going to keep trying. I am able to hold her off and finish strong. Thank you Lord! I didn't think I had that in me!