Date/Location:
3/17/19, Auburn
Distance:
40min (14mi)
Place:

10th (45+/55+ 3/4's)
9th (45+ 3/4's)
2nd (45+ 4's)

Teammates:
Chris DeMattei, Lance Loveday, Robin McKinney, Brian Rouse, Anthony Brantley
I had concerns for last week's race at Bariani and the Lord answered my prayers and kept me safe. Well, this week, I'm more concerned. I feel I should always do this race because it's in our back yard and put on by our team. It's my 4th one (2009 got dropped early,2010 4th & super exciting,2013 4th but barely hanging on).
This course cater's to my strong points of descending and cornering. But the technical, narrow turns behind the downtown businesses can bring disaster as well. A crash at 35mph can send you into a sidewalk curb, with multiple broken bones. At Monseraet 3 yrs ago I crashed at similar speed on a turn without sidewalks, landed on dirt and still broke 6 ribs and punctured a lung. I learned lessons from that crash, but the most important one was to slow down. Not the speed, that was fine, but to slow down in life. The Lord put this on my heart after that crash and it made sense. I had been too frantic the week before, and during that race, making quick decisions without being focused on the Lord. The hasty decision to pass on the inside of that turn without considering the sharper angle was my own fault. I have a lot of faults, that's why I need to be focused on God before, during and after a race. He helps me make good decisions and gives me the strength to carry them out.
This week wasn't one I'm proud of. Lost sight of God's plan a number of times, responded to people in anger, and wasn't joyful as I should be. Considering this leading into the scariest race of my season.. no, I do not want to dive through dangerous corners without the Lord.
I've repented, spent time with God, and apologized to family. They're fully supportive of me and all prayed for me. This morning the Lord reminded me with verses that He is my strength and refuge and it's not by my bow but it's the Lord who is the reason for victory. I'm committed to keeping my focus on Him throughout the race, listening to Him, and being concerned for others, as He is, not just myself. Others have fear, too. I will try to help them with prayer, advice or encouragement, and mostly with not crashing them out – that would be terrible!
I arrive early to be the first on the course. Robin is already there helping our Victory Velo team set up the race. She's done with her work and helps me by patrolling the Cherry Ave corner so I can take some fast runs at it. If she raises a hand it means there is a person, car or object in the way. Otherwise, I can go full speed through the blind turn. I descend the hill picking up speed fast and lean into the turn. I look into the turn, where I want to go, and refuse all the instincts to look at the fast approaching sidewalk on the other side of the road. Looking there causes the bike to go there. And if something does happen to cause me to go wide, like debris on the road, a slight mechanical issue, or a wrong angle taken because of another rider, I must fight to stay in the turn. Fighting means getting the focus back on the target and on God despite everything telling me I'm going to crash.
After a few runs, I hit one perfect, at full speed, and thank God for a great warm-up. I talk to some teammates and remind them to check their tires before each descent – a low tire is tragic in sharp corners. I head home to take care of some chores and come back for the race at 9am. I'll be able to make church with a fast change after the finish.
Robin & the girls are watching. The group is large with 3's and 4's. I'm surprised that I'll be racing with respected teammates like Chris DeMattei and Lance Loveday who I don't normally because they're 3's. I pray for safety, for success for my teammates, for no crashes and that I'll focus on God.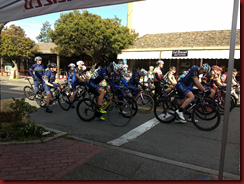 Go!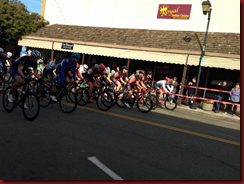 My strategy is still undecided. All week I've wondered if I should lead the descent on the first lap when others are still unsure of the lines and get a gap in hopes to fatigue the others. But maybe a surge in the corners before others get familiar causes extra risk of someone crashing. Plan B is to just take it easy a couple laps. On the Borland stretch before the descent, the decision is made for me. The large pack is tight and I'm boxed in. Smiling, and feeling God's closeness, I know it's Plan B, just descend with the group (28 mph).
Lap 1. 3:16. Teammate, Anthony, attacked on that first descent getting 10 secs ahead. I'm definitely intimidated by the 3's. I know I don't have the solid training coming into this and, as I told team owner, Dan Tebbs, beforehand, "I just have to figure out how to get up that hill 13 times with this group". The climb is tough and the descent is scary. I'm mid-pack and this time we go down faster (33 mph).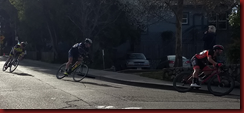 Lap 2. 2:46. 33 mph in the corner is fast for a pack. These riders are good. Different from the 5's 6 years ago. The talent around me is impressive. Being near Lance, Chris, and Anthony makes me nervous. I don't want to get in their way and should help them if I can. I make an effort to know where they are and give them a space to come out or a lead wheel when I can. Anthony leads and attacks often. He's strong and a fast descender. Chris D. is always in good position and can motor across the top. Lance makes an attack off the front, which I could never match, so I do my part to block the group as best I can. We descend (34 mph).
Lap 3. 2:52. The climbs are tough and the group stays large, but I'm able to get near the front. I'm breathing hard and wonder if I'll last but if I'm going to lead the descent, I have to be near the front to attack. I'm now following teammate Brian Rouse [who will go on to win the race]. This time I head down the hill in 4th (32 mph), but in the 2nd sharp corner I'm surprised when a guy passes on the inside. Definitely some daring riders.
Lap 4. 2:48. Ok, I've got to try to get off the front. On Borland, I make a move on the outside. Others go, too, but I get to the descent first, just barely. Whoosh! (37 mph) I feel 'G' forces push me down to the frame. A great left turn… followed by a right. Mind focused on God, eyesight focused into the turn. Feeling fast coming by the Victory Velo shop with the pack strung out behind. Robin and the girls are cheering loudly.. but it is very short-lived as Ron Fallon, right behind me, quickly sprints by at the line and the rest swallow me up, too, as we start the next lap. However, I know making them chase will add fatigue and help me later on..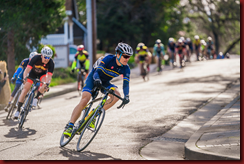 Lap 5. 2:51. I stay near the front again but this time another guy, Don Dumaine, attacks to Cherry Ave, and 2 follow. They really pull ahead as I try to navigate bikes throught the descent (31 mph).
Lap 6. 2:58. Don continues his attack on the climb and gets 7 secs ahead. I continue working hard to stay near the front near teammates Anthony and Brian. I'm with 4 guys descending (33 mph).
Lap 7. 2:42. Don is back now with the group. Again I descend behind a few guys (32 mph). About 1/2 way done now. I'm so thankful for my cheering family. The girls call out that "God's got your back!" which is so true because I surely can't guarantee a safe exit from these corners.
Lap 8. 3:08. This time Anthony and another guy, James, attack the climb and get 9 secs ahead by the top of Cherry Ave. I descend in a tight pack of 4 (32 mph), and, as always, am just glad to get to the bottom without falling. I'm not concerned that they are still 8 secs ahead.
Lap 9. 2:51. We start to gain on them by the next descent. Again I come down in a group but push the speed a little more (34 mph). The pack has gotten smaller.
Lap 10. 2:52. The last faster descent helped. 3 laps to go. I'm feeling good, and thanking the Lord for being with me and keeping riders safe. The pack is together on the climb. The group is slowing, conserving energy, but If I'm going to finish well with my weak sprint, I need to keep them pushing. Anthony and James are back. I'm setting a faster pace. I'm behind the leader, Anthony, across Borland. I'm tired but I need to attack the descent. I pull-around and get there first. Through the first turn (35 mph), maintain across, hug the 2nd turn, and keep pushing up the straightaway to the line. With Brian Rouse on my wheel I cross first for my first ever prime!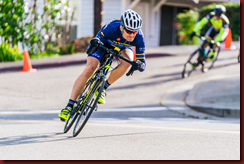 Lap 11. 2:57. 2 laps to go! I'm breathing hard. I need to conserve. Which means following guys in the turns, which is getting scarier. As the race progresses I notice guys going wider on the turns… it seems fatigue is causing them to lose some focus. If they judge their line wrong and hit the brakes, it can disrupt my line. On this descent (29 mph) a couple guys have some close calls. With the Lord's help I'm staying focused.
Lap 12. 2:56. On the final lap, everyone ramps it up and I get stuck about 15 back in the climb. The pace across Borland is painful but the Lord keeps me on a wheel. I'm going as fast as I can and fortunately stay on that wheel. This is much different from the cat 5 races I've done here in the past.. they weren't so eager to hit the descent first. This group knows how important that is. I move up to 12th as we turn onto the descent. I pass a guy right before we soar down and through the hard left (34 mph). I see some sketchy corrections but I force my eyesight to stay on my line. Clean turn. Into the 2nd turn, the guy in front of me loses focus, hits brakes and goes wide. I stay on the inside and move into 10th. A clean exit and now sprint for all I'm worth. Thank you, Lord, that I'm on my teamamte, Anthony's, wheel. Others are coming up on me but I stay with it and finish 10th right behind Anthony.
Lap 13. 2:34. Wow, that was the fastest lap by 8 secs! Exhausted but exhilirated! Thank you Lord for getting me through that safely. I'm so thankful because I didn't deserve it but God is faithful and answered my prayers. I hear that 2 riders did crash in the last turn right behind me. I pray that they are ok. After congratulating teammates and prayers with family, I change and am excited to get to church to worship Jesus – I'm so thankful!