| | |
| --- | --- |
| Date/Location: | 3/9/19 – Auburn to Granite Beach |
| Distance: | 31K (Approx 19.5 Miles)* – *GPS cut out on watch |
| Time: | 3:19:11 |
| Place: | 1st (40-49 Females); 4th Overall Woman |
| Teammates: | 5 Mile: Anna Soares; 50K: Ardelle Seely |
I've been at the starting line of this race 4 years in a row! Each year it seems to get harder to get pumped up for this race. I'm not very excited about being on the trails for over 3 hours. I do know God's creation will be beautiful out there even with the mud I'll likely find.
I see Troy and the girls off from home before 7am. Anna is racing the Chanoko 5 Miler in Granite Beach at the same time I start my race up here in Auburn and Ariel has her last duathlon in the Happy Kids Du series. We pray together before we part ways. So comforting! Troy tells me that they will communicate with me on our walkie-talkie app Zello. The girls did the same for Troy in the last mile of his marathon at Napa last week. I'm looking forward to hearing about the girl's results while I'm running! I drive myself to the start just a few miles from home this year.
At the starting line I run into Ardelle Seely from our track group. So nice to see her smiling face! She's doing the 50K! Wow, I have great respect for those going that distance! Seems so much farther than my 31K! Funny how ultra folks continue to try to convince me that the longer distances are easier. Not going to happen! Sure, you are running a slower pace, but you are out there for a really, really long time. To me, the time spent on the trails seems much harder than the actual pace. Last year I put my goal time between 9:34 to 10:08 pace. I'll see what happens today. Hope to be below 10:08 pace!
Ready, set, go! The first 3 miles is basically downhill so I want to capitilize on it and use gravity and put some fast miles in the bucket. Got to be careful not to overdo it and wipe myself out! Two women are ahead of me. One is only wearing shorts and a tank top! The rest of us seem to be wearing gloves and beanies. I guess she's cold resistant!
Just after 2 miles, I hit Stu's Trail. After running on asphalt and packed gravel, it's the first trail we run on. It's good practice before the technical stuff comes. I'm averaging around 8:10 pace.
Going down Cardiac Bypass is tough with small boulders but I get into a good grove. I run past the picnic bench where Troy and the girls set up an anniversary breakfast overlooking the canyon below. A runner in front of me enjoys the view as well and takes a quick snapshot of the scene.
Soon we merge with Cardiac trail and continue down. I hit a patch of mud and feel myself slipping. It's a scary moment where I think I'm about to tumble down the hill. I recover and immediately thank God for His protection!
I make it to the river and am averaging 8:20 pace. Funny to be at a slower pace at the bottom of the hill but the terrain on the way down was not smooth. I pass a woman and now I'm in 2nd. Soon after a guy passes me and he's flying.
This part of the trail along the river to Rattlesnake Bar is my favorite. I don't feel like I'm enjoying it as much as I like because I am really too focused on not getting stuck behind someone, or worse, someone getting stuck behind me. I also am feeling fatigue from two nights of not getting enough sleep.
The guy in front of me snaps some more pictures on our way. I'm pretty amazed how quickly and smoothly he takes the shots! I hear Troy on Zello tell me that Anna was first female overall and that Ariel has a half mile left to go in her race and is in a close 2nd. Yay! A little later I hear my phone ring and I think it's from our caregiver agency… possibly with an issue concerning Troy's dad, Al (Pappy), at home. I don't answer it because they are supposed to call Troy next.
Miles 4 and 5 have some tough climbs. I go from 8:23 to 9:00 to 9:27 pace. 10:08 pace is not too far away! I hope I can hold on. I remind myself to focus on the Lord.
Miles 6 and 7 are pleasant and with few climbs. My pace goes up to 9:33 and then back down to 9:31. There is a woman getting closer and I am feeling pressue to stay ahead. I start to think more about myself and results. I feel tense. There are quite a few runners doing a training run in the opposite direction. They are very gracious and pull over. They will have to do this a lot in the next several miles. It must be a bit frustrating!
I make it to the PG&E hydro electric station. The trail is wide, flat and smooth. The woman is right behind me now. I try to use this flat spot to pick it up to bring my pace down a bit. As I'm about to hop back on the trails to Rattlesnake bar, there are two gals cheering. "Yay, it's the 2nd and 3rd women". In my heart, I am not really happy but groaning. I hardly even notice my favorite little spot, Avery's Pond. I'm just pushing to stay ahead.
I make it to Rattlesnake Bar and the trails narrow further. I tell the gal behind me to let me know when she needs to pass. I just sense she's itching to get around me. She cheerfully says no and that it's a good pace. I feel more stress. I further feel stress as I wonder why I haven't heard from Troy on Zello. Hoping nothing went wrong at home with Pappy
Soon, we hit a mud bog. This spot is always muddy so I'm not totally shocked. This spot is wide. The gal goes by and takes off. I tell her good job and feel some relief. However, I am not being happy for her or having joy in my heart. I'm at mile 9 and at 9:34 pace. I stop at the aid station to get my bottle filled up and tuck in my shoe lace on my right foot.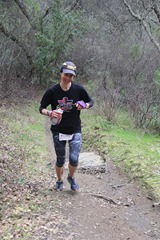 Trying to stay ahead of 10:08 pace is obviously a loosing battle. By mile 12, I'm at 9:54 pace. I must be approaching the Meat Grinder. I never really know where it is exactly.
The next mile is a tough climb that ends at an aid station. I smile to the volunteers as I pass on aid. I notice they have Coke. I hope to see that at future aid stations.
I've been ahead of the guy taking pictures but he passes me. Soon I come upon the guy who flew by me at mile 4 and pass him.
I'm now at 10:07 pace at Mile 13 and feel pretty discouraged. I come around a corner and loose my footing and fall down. It's not a bad fall and nothing seems hurt but it shakes me up emotionally. I just feel like quitting. I start to tear up and get mad. I could walk and call Troy to get me but I ask the Lord to help me to just keep going and just keep trying. Lord, I need you!
Mile 14 and 15 are technical and must be the Meat Grinder. I'm at 10:26 pace, ugh! I am trying to get my legs moving but it's just really hard. The legs are really hurting now. The photo guy pulls away. He has an amazing ability to run these tough sections. Another girl passes me. Forth woman now but maybe some of those girls ahead are doing the 50K.
Just past mile 16 I'm at Doton's point parking area. There is an aid station there and I grab Coke. I see the girl that just passed me come out of the bathrooms and head off towards the 50K turn off. The camera guy also takes the 50K route. So maybe I'm the 3rd girl? I'm wondering why I haven't heard from Troy and I've convinced myself that something happened with Pappy. I pull out my cell phone and call him. I don't get him but he calls me back. I told him I was worried that something happened and he tells me everything is ok. I tell him it's so hard and that my legs are hurting. He assures me that that is normal for the end of a marathon effort and to just keep pushing through. I tell him I'll see him in 20 min because I have 2 miles to go.
My watch tells me I'm at 10:38. I'm so discouraged but I just keep pushing and asking God to keep me focused, keep pushing through the pain and help me have a better attitude.
It seems like the end of the race is near! I'm surprised because I'm just over 18 miles. This is supposed to be close to 20 miles. Sure enough the finish is near! I'm so ready to be done but worried I missed some of the course somehow. I don't see Troy and the girls as I approach the finish. I didn't think I would be done yet! I cross the finish. I ask the TBF race folks if my distance of 18.6 is correct and they say 19.5-ish so close enough. Well, thank you God for helping to finish this tough day! I love You!
Soon the family comes running over and gives me big hugs. So nice to be reunited!
Follow-up: After looking back on Strava I discovered that my watch's GPS failed the last 4 miles of the run. I actually averaged around 10:13 pace! While I thought I was going signiificantly slower than last year, I was actually going faster! Out of all 4 years, this was my second fastest time! Thanking God for a great result and asking Him for forgiveness for my bad attitude. Lesson learned, keep persevering for Christ and you might be pleasantly surprised! Thank you Lord for an improvement over last year! And, Troy and the girls were talking to me on Zello. The connection must have been bad and I never heard their encouragement and results of Ariel's exciting race. Another lesson to never assume the worst!