| | |
| --- | --- |
| Date/Location: | 12/12/20 Sacramento |
| Distance: | 10K |
| Time: | 55:49 |
| Place: | TBD |
| Teammates: | Anna & Troy Soares |
"5, 4, 3, 2, 1, Go!" mom yells. I start running on a small path, with Anna and Dad in Riverbend Park. I'm doing my first 10K; it's called the Elf Run. Sadly, it is virtual, that's why I'm running with Anna and Dad. Mom will meet us at the finish line. We are still doing the race where it was initially, which is Sacramento. The race starts in Riverbend Park next to Eppie's Great Race memorial and ends on a smaller version of the Golden Gate bridge. Dad, Anna, and I turn onto a long bridge called the Harold Richey Memorial Bridge. Many people are running, walking, or biking. Some cross-country runners pass us. Dad tells us about the Eppie's Great Race. Finally, we get to the end of the bridge.
The bridge is connected to a bike path. While running on the bike path, I began seeing numbers on the ground at every half mile. My dad told me that they were telling you how many miles until you reached Sacramento. He said when the numbers on the ground say eight, I would be at the bridge. Before we reach mile one, Anna and I take a restroom break. I don't have to go, but the next bathroom is a long way away.
Next to the bike path, there is a small dirt path. Sometimes I run on it because there is no room on the bike path or I accidentally start running on it. We start talking about Wyatt's race and how he would be running much more than me. He would be running about 17 times more than me. He would be running 100 miles.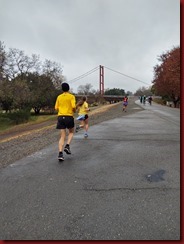 At mile 3 I began to feel a little tired. Anna and Dad motivate me by telling me at Mile 4 ½, I would get to eat my honey gel. Anna and Dad start to joke around. They talk about, what if some were to lie on a bench and sleep then catch up to the people in front. Anna decided to do that. She lied down on a bench until we just passed, then she got up after about 10 seconds and ran after Dad and me. When we get to another bench; she does the same thing. This time Dad gets a picture.
I'm feeling more tired now. The miles and ½ miles are going by really slow. I have reached mile 4. There's a bathroom there. Dad asks me if I have to go. I tell him I don't. Anna reminds me that it's only ½ mile until I get to eat my gel. I keep looking for the 9 ½ marker, because that means I can eat my gel. The trail is shady now. Finally, I get to the 4 ½ mile marker. I get to drink my gel. I open up my gel and start eating it. It's honey and it tastes so good especially after running for a long time. I keep eating it slowly, because it's hard to eat something while running. There are a couple short hills. They're small but feel big. Dad tells us to run down the hills and coast up the other side, so we don't waste energy. Anna starts talking to this lady. We pass the lady. Anna tells us that the lady was doing a marathon and that there was a virtual marathon going on.
I look up on the path and see someone in yellow. I realize it's mom. It's starting to get less shady. Now it is less shady. I have reached a ½ mile. I run under a bridge. I can see the "Golden Gate" bridge. I start running faster. The bridge gets closer and closer. I get on the bridge. I can see where I'm supposed to finish. Anna runs ahead to get a picture. I'm right behind her. I sprint. The finish line is right in front of me. I cross it.
My time is 55:49.