block goes here
| | |
| --- | --- |
| Date/Location: | 7/4/2020 Auburn, CA |
| Distance: | 5K (just under) |
| Time: | 26:04 |
| Place: | 7th? (Male) |
| Teammates: | Cossentine: Bailey & Matty; Gallo: Emily, Enzo & June; Ganzenhuber: Gannon, Steve, Zachary; Nickel: Ben & Ellie; Soares: Anna, Ariel, Robin; Anna, Bernie, Krista & Julie Sopky; Mona Baughman, Caryn Galeckas, Suzanne Hartley, Jennifer Wright |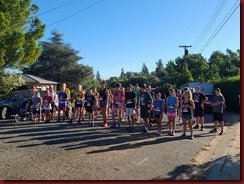 Usually we're in San Diego on the 4th but because of the coronavirus we're in Auburn and the blessing in disguise is that we get to participate in Karen Nicke's Firecracker 5k which gathers food for the Interfaith Food Closet. Robin and the girls are excited because they've never done it like I have the 2 years I wasn't able to go to San Diego.
The loop is an easy-to-follow, but not so easy-to-run, familiar route around the Skyridge Neighborhood. The Nickel's mark the course with lots of personal touches. Registration looks very official and social distancing for coronavirus is in play.
Unfortunately, my right heel is really bothering me and I can barely jog for a warm up. But I will do what the Lord allows me to do.
Some of us gather and pray, trying to keep our hearts and minds on Jesus, especially when the competition of racing can distract us.
Karen plays the National Anthem on the banjo. It's a special moment.
Now it's time to start. There will be some fast running ahead with 4 Placer High School runners, 2 HS runners from Stockton, and Baily Cossentine (a national champion pushing a baby stroller). Go!
Oscar and I start off and quickly end up mid-pack. On the climb up Maidu Rd, I meet the runner next to me, Scott and we encourage each other. Oscar is annoyed I think that we aren't running faster, but this is as fast as my foot can go. Scott and I talk about running, training and run training with dogs. I pass Ariel and Ellie running together. Down the long hill, up the other side and now the short steep "50 yds of fun". My foot won't warm up but the Lord is good and I believe I'll run again without pain one of these days.
In the neighborhood I pull ahead of Scott, but near the finish he's able to catch up and it makes for a great finish… even though he did beat me by a toe.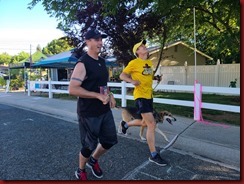 We got to cheer a lot of friends today and then afterwards cheered the younger kids in the "1 Mile" race.
God is great, today is great, and we still live in a great country with great heros that gave us our freedom!